Oklahoma State University Hall of Fame 2023
Thursday, April 27, 2023
Media Contact: Mack Burke | Associate Director of Media Relations | 405-744-5540 | editor@okstate.edu
The Oklahoma State University Alumni Association honored four new members of the OSU Hall of Fame at a ceremony on Feb. 10 in the ConocoPhillips OSU Alumni Center.
Burns and Ann Hargis, Cecil O'Brate and Maj. Gen. Michael Thompson all received the university's highest honor. The award celebrates outstanding lifetime achievement in society and professional life.
V. Burns and Ann Hargis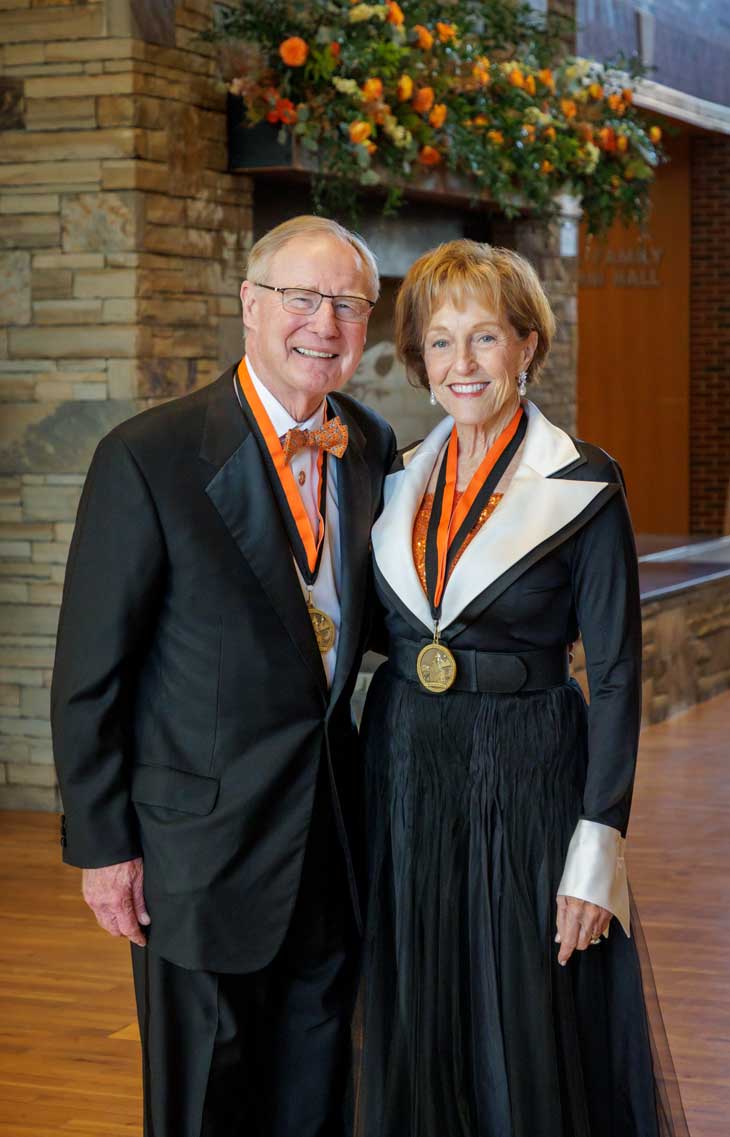 V. Burns Hargis graduated from OSU in 1967 with a degree in accounting. Following graduation, Burns earned a law degree from the University of Oklahoma. Ann Hargis received an honorary doctorate from OSU in 2019 for her dedication to health and wellness. She holds degrees in math and Latin from the University of Texas.
Burns and Ann served as the 18th president and First Cowgirl of OSU from 2008 to 2021. They enthusiastically united the broad OSU community of students, employees, alumni and donors behind Burns' bold vision of a modern land-grant university that cuts across disciplines to better prepare students for success. The results of their efforts have been historic.
"Thank you to the Board of Regents who took a chance, a big leap, to give us an opportunity to be here and make a difference."
— Ann Hargis
Under Burns' leadership, OSU saw record enrollment and record fundraising, with pledges and cash surpassing the $1 billion Branding Success campaign goal nearly two years ahead of schedule. In total, OSU raised more than $2.2 billion in private support and added more than 82,000 new donors during his time as president.
OSU's giving has focused on student scholarships, faculty and other vital resources and programs. Burns also oversaw a construction boom and beautification initiatives that transformed the Stillwater campus.
The Hargises were active across campus, interacting regularly with OSU's diverse student body. Strong proponents of wellness, they led OSU's initiative as America's Healthiest Campus. They also took OSU's story of success to alumni around the world.
"We are honored to be inducted into the OSU Hall of Fame."
— Burns Hargis
Ann Hargis was instrumental in developing and launching OSU's nationally recognized pet therapy program, Pete's Pet Posse, and is an active participant with her therapy dog, Scruff.
As president, Burns held several leadership positions related to intercollegiate athletics, serving on the NCAA, Football Bowl Championship and Big 12 Conference boards. Burns was only the second OSU graduate to lead the university as president. Before coming to the university, Burns had a long and distinguished legal and business career, while Ann worked for several years in the information technology industry as well as advertising and marketing.
Burns and Ann have two children and three grandchildren. They are both life members of the OSU Alumni Association.
Cecil O'Brate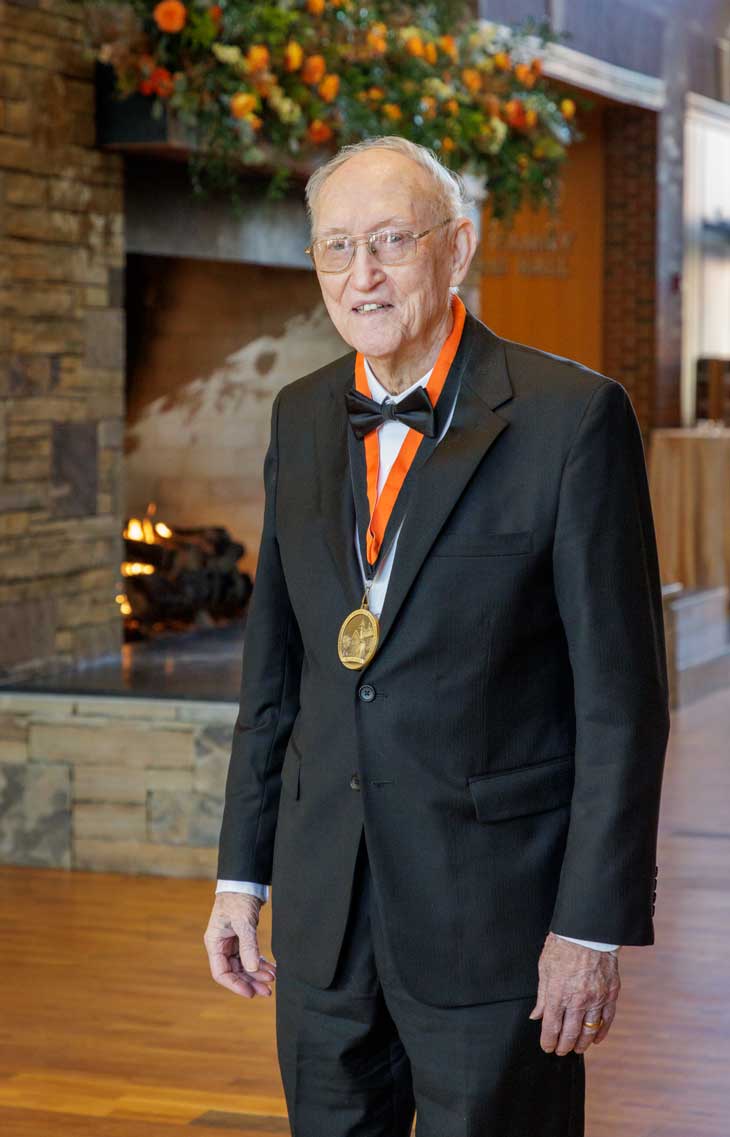 Cecil O'Brate attended what was then known as Oklahoma A&M College from 1946-48 and received an honorary doctorate of humane letters from OSU in 2018.
As a child of the Great Depression, he worked diligently to provide for his family. During the time spent at his grandparents' farm in Hamilton County, Kansas, he met the love of his life, Frances Cole. The two of them have been married for 75 years. Along with meeting Frances, he also discovered his love for farming and ranching.
While working on the farm, O'Brate saved money for college. In 1946, he headed to Stillwater to attend OAMC and study structural engineering. Two years into his degree, he was given the opportunity to farm 3,000 acres alongside his grandfather and ultimately decided to put college aside.
After years as a farmer and rancher, O'Brate purchased Palmer Manufacturing and Tank Company. O'Brate bought the company when it had only two employees and a few pieces of equipment, but he turned it into a business with millions of dollars in annual sales. After selling in 2013, O'Brate repurchased the company in 2018 and is still in the tank manufacturing business today.
In addition to owning Palmer, he began investing in oil and gas in 1984, which resulted in American Warrior Inc., one of the largest independent oil and gas producers in Kansas.
O'Brate has donated to numerous charities to help those less fortunate, often focusing on children. In 2013, the O'Brate Foundation was established to provide college scholarships and life skills training for students who are graduates of the foster care system or from households with income below the poverty level. Since then, the O'Brate Foundation has provided over $6 million in scholarships to approximately 600 students.
"When I l left OSU, I never dreamed that I would be back. It is such an honor to get to come back to Stillwater."
— Cecil O'Brate
In 2018, O'Brate donated $35 million to OSU Athletics for the new baseball facilities that now bear his name.
Now at 94, Cecil and Frances O'Brate reside in Garden City, Kansas, and are proud parents of four boys: Patrick, Michael, Steve and Mark; eight grandchildren and nine great-grandchildren. Most recently, he has focused on development in his community of Garden City.
Maj. Gen. Michael C. Thompson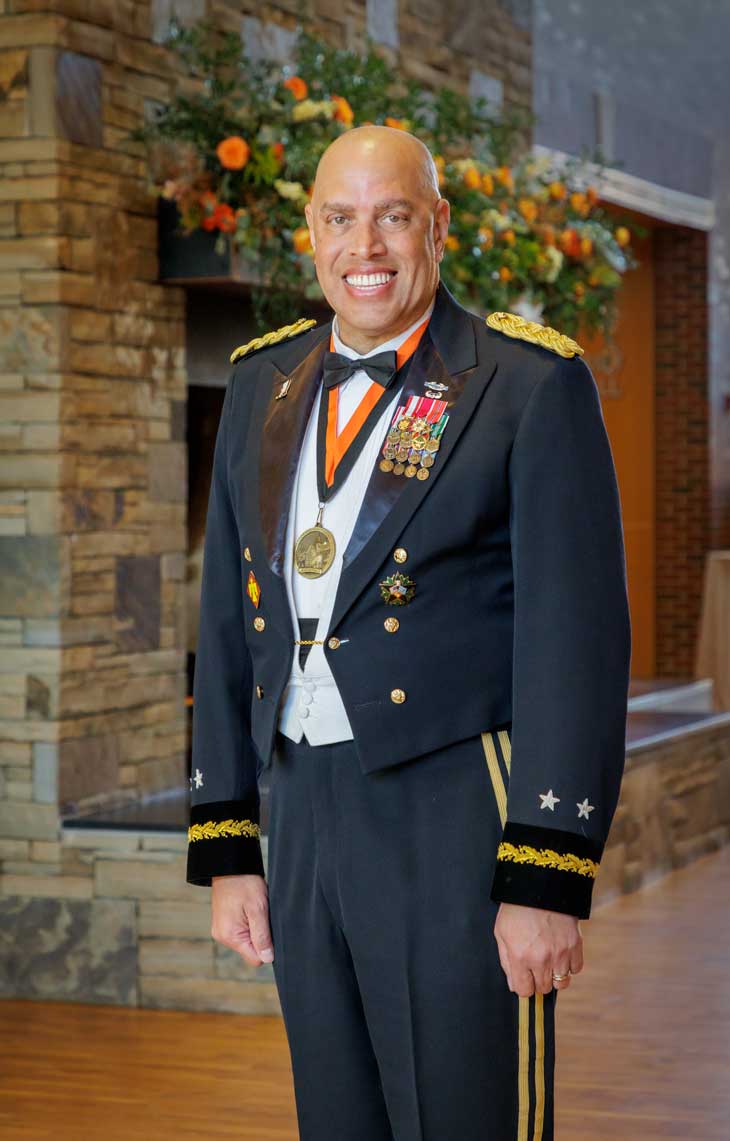 Maj. Gen. Michael C. Thompson graduated from OSU with a master's degree in natural and applied science in 1998. He earned his bachelor's degree in corrections and criminal justice from Langston University in 1995 and a second master's degree in strategic studies from the U.S. Army War College in 2007. Thompson is also a graduate of the FBI National Academy and the United States Secret Service Executive Seminar.
Thompson joined the Oklahoma Army National Guard in 1983. He was later commissioned to second lieutenant in 1986 through the Oklahoma Military Department Officer Candidate School. In previous assignments, Thompson commanded at the company, battalion and brigade levels. He was deployed in support of Operation Iraqi Freedom in 2003 and 2008.
As a citizen soldier, Thompson had a distinguished 28-year career with the Oklahoma Department of Public Safety (DPS). Thompson joined DPS as an Oklahoma State Trooper in 1990. He concluded his DPS career by serving as commissioner of the Oklahoma Department of Public Safety and Cabinet Secretary for Safety and Security from 2011 to 2017.
In 2017, Oklahoma Gov. Mary Fallin appointed Thompson as adjutant general for the Oklahoma National Guard. He served as the top military advisor to the governor and commanded the Oklahoma Army and Air National Guard from November 2017 to November 2021.
Thompson was inducted into the Oklahoma Law Enforcement Hall of Fame in 2019 and received the Governor George Nigh Lifetime Achievement Award in 2022. He also served as the deputy director for the Oklahoma State Bureau of Investigation in 2022.
Thompson and his wife of 38 years, Debbie, have two children who are combat veterans of the U.S. Army and the Oklahoma Army National Guard. Their oldest son, Brandon, is a West Point graduate. Their youngest son, Jared, flew helicopters in Afghanistan and graduated from the OSU College of Osteopathic Medicine. They also have a daughter-in-law who is a combat veteran and is currently a major with the U.S. Army.
"Institutions l like Oklahoma State University deliver promise, and I am so grateful to be here and be a part of this."
— Maj. Gen. Michael C. Thompson
---
Photos By: Genesee Photo and Gary Lawson
Story By: Jillian Remington | STATE Magazine