The Dolese Effect: 10 years after its announcement, major gift continues to make an impact throughout CEAT
Thursday, April 27, 2023
Media Contact: Mack Burke | Associate Director of Media Relations | 405-744-5540 | editor@okstate.edu
It has always been about the students.
When Dolese — Oklahoma's largest supplier of ready-mix concrete, crushed stone, gravel and sand — was looking to give back to the community, it focused on higher education.
The private company planned to donate much of its stock to the university foundations at Oklahoma State University, the University of Oklahoma and Kansas State University. Given it was profitable, Dolese would then buy back stock each year.
Still, in its first meeting with OSU, the company wanted to know what the money would be used for.
OSU's College of Engineering, Architecture and Technology leadership had an answer in mind. Every dollar would directly benefit students.
"The Dolese gift has been a catalyst for growth for our engineering programs," CEAT Dean Paul Tikalsky said. "It has given us the flexibility to try new things and discover ways we can best support our students."
Dr. Tikalsky has seen the gift materialize since becoming dean in 2012. In fact, securing the funds was one of his first tasks after taking the job at OSU.
"Through this gift, we've not only been able to create a bright future for numerous engineering students, but also ensure our company remains true to our Oklahoma community and gives back to each Dolese employee for their service to the company."
— Mark Helm, president and CEO of Dolese Bros. Co.
OSU's portion of Dolese stock was originally valued at roughly $70 million. In 2022, $1.3 million was bought back by the company, a number that fluctuates year-to-year depending on company profits. The agreement is expected to last in perpetuity.
"Our mission to improve communities has its roots in the legacy of Roger Dolese," said Mark Helm, president and CEO of Dolese Bros Co. "It shows in his development of this charitable partnership that helps increase the number of engineering graduates from each school.
"Through this gift, we've not only been able to create a bright future for numerous engineering students, but also ensure our company remains true to our Oklahoma community and gives back to each Dolese employee for their service to the company."
Roger, son of co-founder Peter Dolese, led the company for 58 years until his death in 2002.
Although Dolese does not employ many engineers itself, it was a profession Roger had great admiration for, which was his motivation to give to CEAT.
He hoped the gift would increase the number of engineers in the workforce. OSU has done its part to make that vision become a reality.
Scholarship support has made the most impact in how the Dolese gift supports students. It's been a driving force behind helping more people attend OSU and ultimately walk across the graduation stage.
Since 2012, the number of undergraduate engineering degrees awarded each year has more than doubled. During that time, degree production for mechanical and aerospace engineering has increased 151%, a figure exponentially higher than the university average of 28.6%.
Industrial engineering as well as electrical and computer engineering have also seen huge boosts in degree production with 207% and 84% increases, respectively.
"The growth of our engineering programs over the past decade has been remarkable," said Dr. Jeanette Mendez, OSU provost and senior vice president. "And the scholarships and other student programs funded by the Dolese gift have certainly played a part in that. I'm so glad we have been able to fulfill Mr. Dolese's goal of increasing the number of engineering graduates in the state."
Last year, over $1 million of Dolese funds went toward direct scholarships that included CEAT Scholar awards, need-based applications, national merit scholars and other STEM scholarships.
Another $152,500 was awarded as global study scholarships. Each of these awards is significant, as none was worth less than $2,500.
The CEAT Scholars program in particular, which used the Dolese funds to match other donors resulting in a combined impact of $722,935 in 2022, has seen significant growth in recent years.
Elevating the Student Experience
Molly Hoback is a CEAT Scholar and OSU senior studying architectural engineering. The program completely transformed her college experience, including allowing her to go on a 10-day study abroad trip to Finland last summer.
She said her time in Stillwater wouldn't be complete without being involved.
"The CEAT Scholars program is not only a scholarship; it is a platform to enrich our college experience," Hoback said. "It's connected me to other motivated CEAT majors and allowed me to do so many more things that I simply would not have gone out and done on my own."
Hoback has been impacted by the Dolese effect in more ways than one. She is also involved with Parker Engineering, Architecture and Technology Experts and CEAT Summer Bridge, which both helped ease her — and countless other students' — college transition.
These two programs wouldn't have been possible without Dolese's generosity. PEATEs are upperclassmen mentors who live in Parker Hall, a residential hall designated for CEAT students.
Hoback is one of nine PEATEs who work to create a community feel, help residents build relationships with each other and provide general guidance.
"Parker was a small community where we all could support each other through the struggles of college and freshman-level engineering classes," Hoback said. "I applied to be a PEATE because they made the dorm a home for everybody my freshman year, and I really wanted to contribute and make it better."
Summer Bridge, meanwhile, lends a helping hand to freshmen before they even start their classes. It's a three-week preparatory program for students who plan to study a CEAT major.
Students can become accustomed to the rigors of CEAT coursework with academic review, mock exams, orientation seminars and engineering design projects. Preparation for Calculus I, specifically, is a focus.
The program is a factor in helping students navigate college, and even has the potential to help them shorten time to graduation depending on their level of math readiness.
Hoback participated in Summer Bridge as a freshman, and her experience motivated her to become a program counselor, a role she held for two years.
"Summer Bridge really set me up to succeed," Hoback said. "The program helped me get familiar with campus, meet new friends and mentors, and get acclimated to the rigors of college. By the first day of the classes, I was still nervous, but I felt prepared."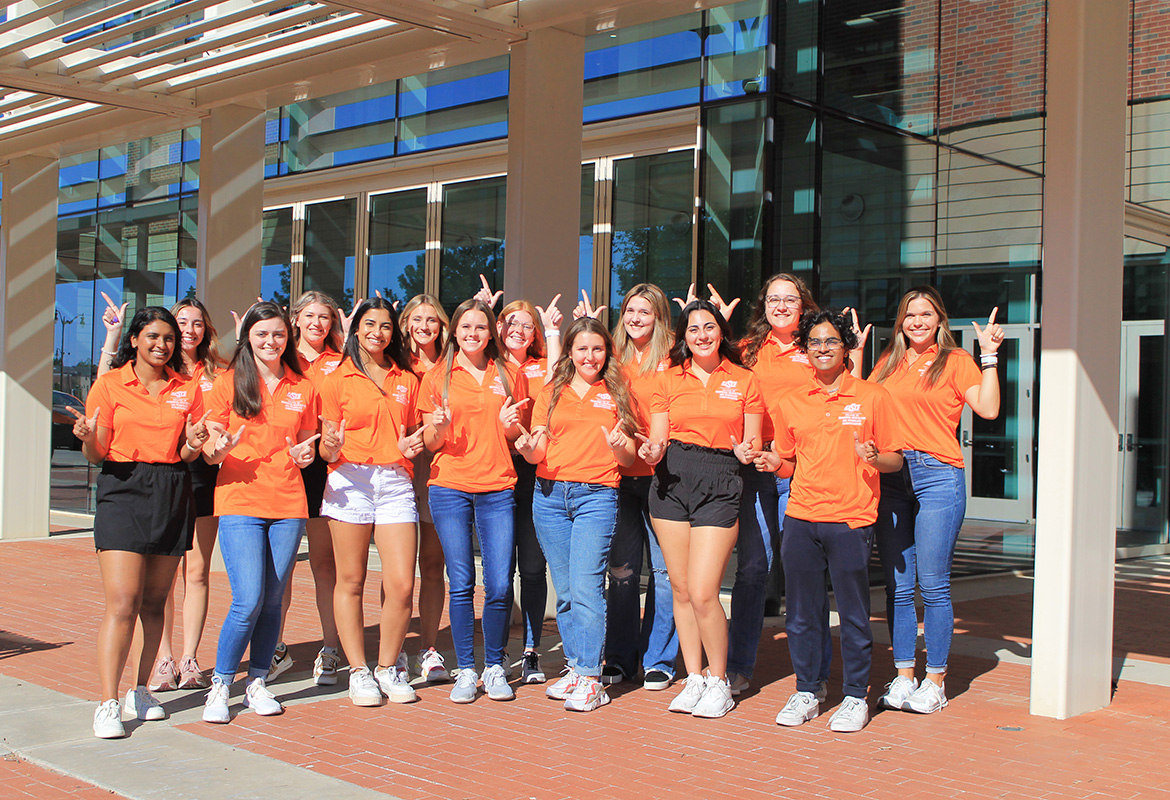 Developing Future Engineers
Dolese's role in increasing CEAT's student success rate isn't just limited to students in their first year. The Dolese gift allowed the college to host student-led discussion and tutoring sessions. They were so beneficial that the sessions are now university-funded.
CEAT has even benefited future generations of engineers by holding K-12 STEM summer camps.
Current OSU students work with second-eighth grade students, while young professionals and graduate students mentor ninth-12th graders to hopefully cultivate an interest in a future STEM career. The camps, which were started with Dolese funds, are now sponsored and funded by the U.S. Department of Defense.
"Not only are these programs beneficial to the attendees, but they also give our students a chance to hone their communication skills," Tikalsky said. "They have to figure out how they can explain thermodynamics in a way that anyone can understand."
Along with the academic impacts of Dolese's gift, OSU research efforts have benefited, too. For more than a decade, numerous undergrad research positions and assistantships have been created.
For example, student work at the Bert Cooper Structures and Materials Laboratory has all been funded by Dolese. Fittingly, the lab's primary focus is research related to concrete.
Students working at the lab, such as Josephine Lee, a senior studying civil engineering, gain a new understanding and appreciation of the industry. Lee has been involved with the lab since her freshman year.
"Concrete is such a widely used material, it is important for us to understand how to improve it," Lee said. "The skills I've learned working there, along with the relationships I've built with other engineering students at the lab, will definitely be valuable in my future career."
Even 11 years after the gift was made, the Dolese effect continues to make an impact throughout CEAT. And the ripples won't stop anytime soon.
"Engineering is everywhere — from Dolese concrete to my desk chair," Tikalsky said. "This gift has been an instrumental part of our college's success. Dolese continues to change lives at OSU and beyond, and its impact shouldn't be overlooked."
---
Photos By: Provided
Story By: Grant Ramirez | STATE Magazine