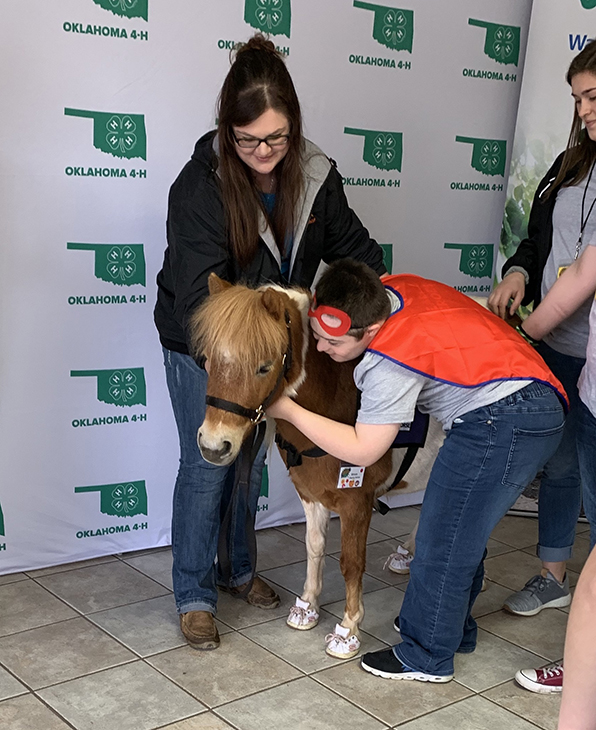 Although this was the first time Alex Watts attended Special Clovers Camp – Super Health Heroes, he already is making plans to come back next year.
Watts was one of 13 campers who participated in the third annual Special Clovers Camp – Super Health Heroes, which took place recently at Saints Grove Camp east of Stillwater, Oklahoma.
"I was a little nervous to start with, but I'm fine now," said 8-year-old Watts, a Comanche County 4-H'er. "I have three Clover Buddies and they're all nice."
When asked what his favorite part of camp had been up to that point, he said it was when they did yoga, although he also liked singing camp songs, hiking, tye-dyeing a pillow case, as well as the food.
"I'm pretty flexible at yoga," he said.
For many 4-H'ers, going to camp is just one of the things they love about being a member of the Oklahoma 4-H Youth Development Program. However, for some club members, 4-H camp has not always been a possibility.
Fortunately, Special Clovers Camp has changed that for club members with special needs around the state, said Cathy Allen, 4-H curriculum coordinator at the State 4-H Office at Oklahoma State University.
"This is our third year for Special Clovers Camp and it just keeps getting better," Allen said. "The campers have a great time, make new friends and develop wonderful relationships with their Clover Buddies."
Clover Buddies are 4-H'ers who go through a selection process and then receive special training. When camp starts, the Clover Buddies are paired with a camper to assist them with all aspects of camp.
Marty Montague, Extension educator, agriculture/4-H Youth Development and county Extension director in Choctaw County, said the 4-H program focuses on teaching citizenship and giving back to their communities.
"These Clover Buddies are heroes to these campers," Montague said. "Serving in this role allows them to quit thinking about themselves and focus on the campers. It also increases their responsibility level because they have to meet the needs of the campers. All the things they learn here at camp are skills they'll use for the rest of their lives."
Josie Frazier is a 4-H'er in Choctaw County and is serving her second year as a Clover Buddy.
"Last year changed my life," Frazier said, referring to her experience at Special Clovers Camp. "I love the campers and this experience will help me later in life because I want to become a teacher."
Pushmataha County 4-H'er Bryse McClain said she has enjoyed the time interacting with the campers. She said she wanted to be a Clover Buddy because her mom works with children with special needs.
"This is such a great experience to have. It definitely can change your outlook on special needs kids," McClain said. "I definitely want to come back next year as a Clover Buddy."
Twelve-year-old Shelby Counterman is no stranger to attending Special Clovers Camp. This was her third year as a camper.
"I really like this camp a lot, especially the insect zoo," said the Rogers County 4-H'er. "We do different things each year and I like hanging out with my Clover Buddies."
Diana Watts, Alex Watts' mom, said her son has wanted to go to camp but most camp opportunities do not meet his needs.
"Our experience at Special Clovers Camp has been so positive. I was nervous, he was nervous, but he's already said he wants to come back next year," she said.
Everyone also participated in team-building activities such as 9-square; Hungry, Hungry Hippo; various art projects; puzzles and a nature hike.
A special treat for the campers on the last day of camp was having an opportunity to meet Breadcrumb, a therapy miniature horse owned by former Cleveland County 4-H'er Kylie Stowers.
"My love for using miniature horses for therapy work came from my time growing up in the 4-H program, where I was able to incorporate the horse project and community service project into one. Due to this, I was extremely honored when I was asked to take my therapy miniature horse, Breadcrumb, to the Special Clovers Camp this year," Stowers said. "One of the best feelings in the world is seeing the kids' faces light up when they see a miniature horse, not only inside the building, but wearing pink Build-A-Bear tennis shoes. Seeing the 4-H'ers walk away with smiles on their face because they were able to hug and kiss Breadcrumb is a feeling I can't really explain."
Allen said one of the H's in 4-H is health, and this camp focuses not only on physical health, but emotional and social health, as well.
"Our goal is to make this a great experience for everyone involved and I believe we did that," Allen said. "The campers, as well as the Clover Buddies, already are talking about coming back next year."
Special Clovers Camp was funded with a Healthy Habits grant from the Walmart Foundation and National 4-H Council.
Story by Trisha Gedon