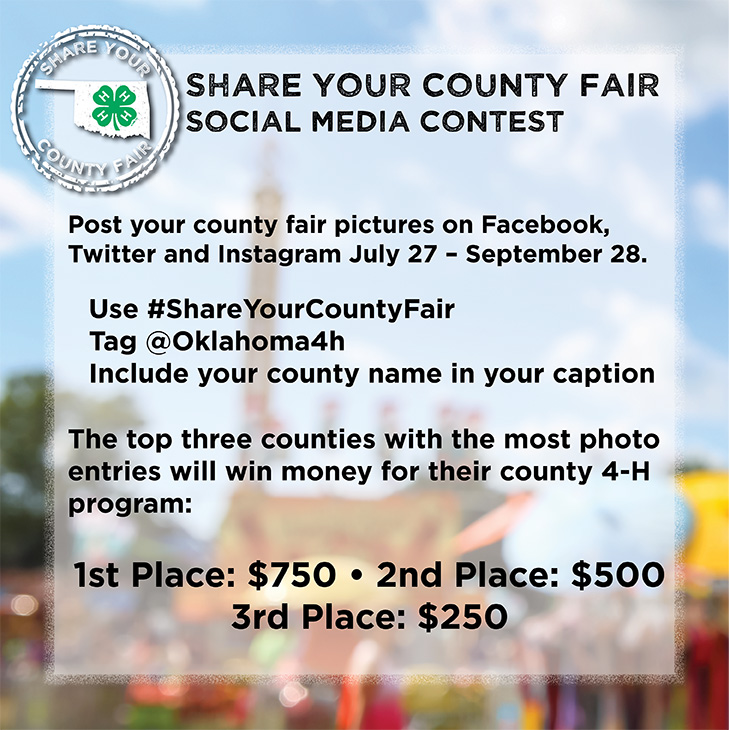 Snap, click and win in 4-H county fair social media contest
Tuesday, July 10, 2018
Oklahoma 4-H'ers can win some easy cash with a snap… of a camera, that is.
For the second straight year, the Oklahoma 4-H Foundation is promoting the Share Your County Fair social media contest, which challenges 4-H'ers across the state to take photos at their county fairs and post them to social media.
The county with the most photos will win $750 for the local 4-H program. Counties with the second and third most photo entries will earn $500 and $250, respectively.
"The Share Your County Fair contest not only helps raise awareness about the 4-H program in our county, it also encourages people to come out and enjoy our county fair," said Blayne Arthur, executive director of the Oklahoma 4-H Foundation.
Photos should be posted to Facebook, Twitter and Instagram with the hashtag #ShareYourCountyFair and tagged @Oklahoma4h. Be sure to include the name of the county in photo captions.
Eligible entrants may enter once a day and must use a public social media account. Posts to private accounts will not count. All photos must be the property of contest entrants.
The deadline for submitting photos to designated social media outlets is 11:59 p.m. Sept. 28.
For more information, visit http://4h.okstate.edu/share-your-county-fair and contact the nearest county Extension office.
Story by Leilana McKindra