Former 4-H'er reunited with lost record book 60+ years later
Thursday, February 14, 2019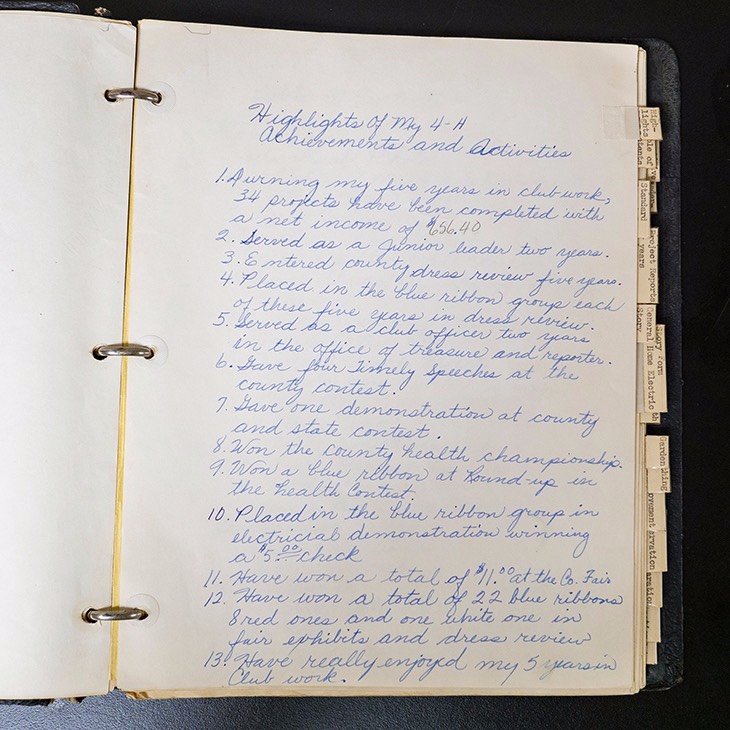 Social media. Everyone knows it can be a powerful thing. High school friendships from yesteryear have been renewed. A lost piece of jewelry has been reunited with its owner. Some even claim they have found true love.
And now, thanks to the perseverance of an Oklahoma State University Cooperative Extension 4-H Youth Development educator, an octogenarian living in Paramount, California, has been reunited with the 4-H record book she compiled as an active 4-H'er in Bryan County more than 60 years ago.
The journey to reunite the record book with its creator, Leona (Johnson) Stahovich, began when 4-H educator Elizabeth Witt found it in the Pushmataha County OSU Cooperative Extension office.
"I found it on top of a filing cabinet along with some other old binders. I asked my secretary, Shelly Stevenson, what it was and why we still had it," Witt said. "She said they'd tried to locate Leona a few years ago but weren't successful. They'd also worked with the Bryan County office, but nothing ever came of it. Upon opening the book and discovering how old it was, along with the pictures it contained, I felt like it was a prized possession, an antique and piece of history. I felt if it had been my grandmother's record book, I would've been beyond thrilled to have it returned. It was obvious Leona had worked extremely hard on it."
Witt said that was when she decided to turn to social media for help. She took some pictures of it to see if anyone might recognize her name or face from a group photo taken when she attended State 4-H Roundup. The post was shared numerous times and luckily, someone from the Durant area provided Witt with Leona's married name.
"I searched Facebook for a Leona Stahovich and located an older person who resembled the young woman in the photos from the record book. I sent her a message through Facebook, but it didn't appear she was very active on her page," she said.
Still determined to locate the former 4-H'er, Witt then looked through Leona's friends on Facebook and sent messages to those with the same last name, thinking they could be her relatives. The next day Witt received a message from someone who indicated Leona was her husband's grandmother. Witt then asked if she could contact her by phone.
"Her granddaughter-in-law said she'd already called Leona to tell her what was going on and said Leona was very excited," Witt said. "We connected by phone that same afternoon and spoke for about 45 minutes. The whole process took less than a week. I found the book on Monday and was talking to Leona by that Thursday. Social media is amazing."
Witt also connected with the University of California Cooperative Extension to see if they may be able to assist in getting the book back to Stahovich. She located Dawn Fuller, 4-H program coordinator for Los Angeles County, who was able to return the book in person.
"Leona is truly a pioneer in many ways – cutting her own path in life. She was, and still is, bold, smart, funny, fiery and a woman who knew what she wanted to do in life and then accomplished it," Fuller said. "She is fascinating and adventuresome and someone I was honored to meet and spend some time with."
Fuller also acknowledged so many of Stahovich's generation are now gone and their stories will be lost. This record book is one way to preserve those stories for the younger generations in her family.
Stahovich, now 83, said she is thrilled to have her record book back and has already shown it to several friends.
"I'm just amazed that someone would care so much about me and take the time to find me from the checkerboard life I've lived," she said. "I'm so grateful to Elizabeth and Dawn. My son and daughter-in-law even flew in from South Carolina to be here when Dawn came to bring the book. Joe, my son, read through it twice while he was here and told me he was so proud of me."
Thumbing through the pages of her past, Stahovich said the record book brings back so many fond memories of her life in Oklahoma. She finds it amazing that many of the things she did as a member of the Cobb 4-H Club, such as gardening and canning, are things she still enjoys today. The oldest of 11 children, she grew up on a 160-acre farm in Cobb, Oklahoma. All of her siblings also were involved in 4-H.
"We lived on a working farm where we milked cows, raised pigs and chickens, sold cream, grew a garden and canned. My 4-H leader was Mrs. Doug Duke," she said. "She had more patience with me and wanted me to excel. Because of her, I did. She took me under her wing."
Stahovich recalls making an apron, as well as canning some peaches for the fair. She said that helped her pay for school clothes and that all of her 4-H experiences were valuable.
"We learned to set the table and they taught us everything we needed to know to be a homemaker," she said. "I moved to Redondo Beach, California, in 1953 and graduated from high school in 1954. One week out of high school I went to work for the telephone company. I think I was hired because of all of my 4-H experiences. I was there for 41 years and I know what I learned in 4-H helped me have a successful career."
Stahovich also said she attended State 4-H Roundup on the then Oklahoma A&M Campus in Stillwater, Oklahoma. She earned her trip to 4-H Roundup by winning the beauty and health contest in Bryan County. While at 4-H Roundup, she was named the state winner in the electric team demonstration, as well as the state winner in the beauty contest. In addition to these awards, 4-H Roundup holds another special memory for her.
"I got my very first kiss at Theta Pond," she said.
Having an opportunity to step back into her past has been a wonderful experience for Stahovich and she is thankful to Witt for taking the time to track her down and to Fuller for returning the book in person.
"My 4-H experiences are very dear to me and I can share them with my family now that I have my record book back. I'm so thankful for that," she said.
Story by Trisha Gedon