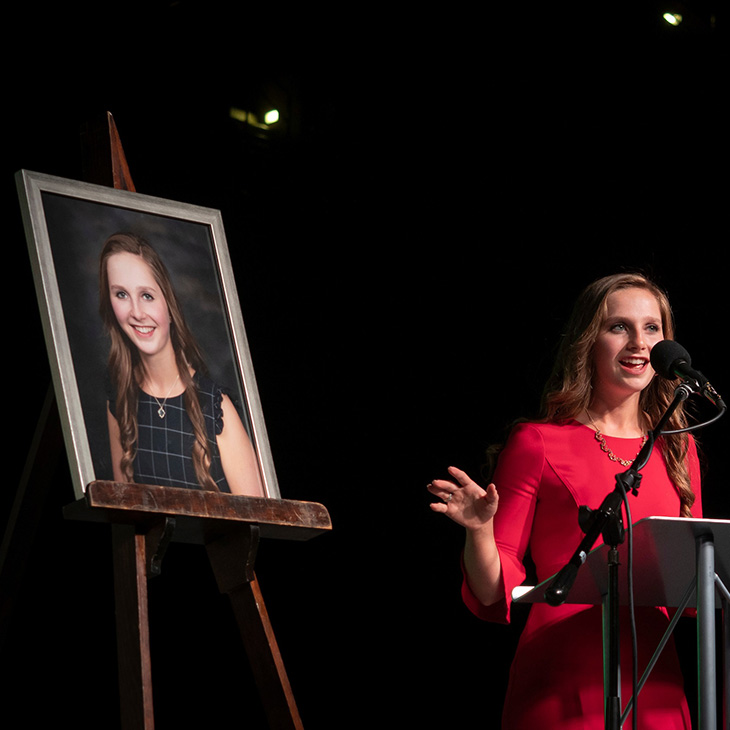 Stephens inducted into Oklahoma 4-H Hall of Fame
Thursday, August 15, 2019
Growing up on her family's third-generation farm, Madison Stephens just wanted to ride her pony and go to ballet class, which were her two favorite activities. She joined 4-H Cloverbuds at the age of 7 and waited patiently, or not so patiently, until she was old enough to join her older sister in the Custer County Horse Club.
"I loved riding, but I had so many other interests," said Stephens, a resident of Weatherford and member of the Weatherford Sr. 4-H Club. "I tried performing arts, food, public speaking and fabrics and fashion."
All of these different experiences not only created great memories and incredible learning opportunities, but also paved the way for Stephens to earn the highest award a 4-H'er can achieve at the state level. During the 98th State 4-H Roundup that took place at Oklahoma State University, she was inducted into the Oklahoma 4-H Hall of Fame. She received a $2,500 scholarship sponsored by Oklahoma Ag Credit. She also was elected president of the State Leadership Council.
In the early years of her 4-H career, her passion for performing arts grew following a performance in "The Nutcracker" during her first year as a 4-H'er. She also acted in a skit and performed a piano solo for Share the Fun. From there, she was hooked on 4-H. Her performing arts project included classical ballet and skits, and she also was active with speeches, leadership projects and her activities with the horse club, all of which lead to a well-rounded 4-H career.
"With my choreography and acting experience, coupled with 4-H leadership skills, I was asked to organize and direct group skits for Share the Fun. I researched and wrote four scripts," she said.
Following the closure of the school where she took ballet lessons, Stephens nearly gave up on performing arts, but decided instead to use those hours she'd spend on ballet to redirect her focus. This was the beginning of two new endeavors.
She founded the Custer County Performing Arts Club and began volunteering with the Weatherford Elementary School honor choir. For four years she has served as an assistant to the director for a 40-student honor choir. Her duties include practicing songs, coaching memorization and directing choreography. Never one to miss an opportunity to talk about all things 4-H, she also uses this time to talk to the director and parents about the wonderful opportunities available through 4-H.
Her dedication and leadership with the Custer County Performing Arts Club has led to some incredible opportunities and unforgettable performances.
"After placing second in the Hydro Free Fair Parade, I used the $200 to start Party with the Princesses. To help increase visibility and attract different people to the county fair, I planned a princess tea party," Stephens said. "Our club also received a $500 4-H Enhancement Grant which we used to produce the play 'Anne of Green Gables.'"
She also was instrumental in garnering another grant and wrote an original play about the Oklahoma Land Run.
She said her experience with "Ann of Green Gables" was a great learning experience and helped her avoid obstacles she had encountered previously. She recruited members of the Performing Arts Club, along with the Horse Club, to teach Oklahoma history to more than 600 students through the plan, land run reenactment and hands-on workshops. She also produced an interactive living history program with 4-H'ers taking on roles to share Oklahoma's Land Run history with out-of-state and international guests visiting the Oklahoma Land Run Monuments in Bricktown in Oklahoma City.
Throughout her 4-H career, Stephens has taken on many different leadership roles and held offices on the club, county, district and state levels. She also serves as a State 4-H Ambassador and has represented Oklahoma on many 4-H trips. She is a previous state record book winner, scholarship recipient and last year was named Hall of Fame Top 10.
"The 4-H organization and the amazing people I have met through it have truly inspired me to be proactive and work hard," Stephens said. "4-H has taught me that if I put my head, heart, hands and health together, there's no telling how far I can go. 4-H has taken me to unexpected places and experiences in leadership, citizenship, public speaking and performing that no other youth organization could do."
She is a senior at Weatherford High School and is the daughter of Brian and Michelle Stephens.
MEDIA CONTACT: Trisha Gedon | Agricultural Communications Services | 405-744-3625 | trisha.gedon@okstate.edu