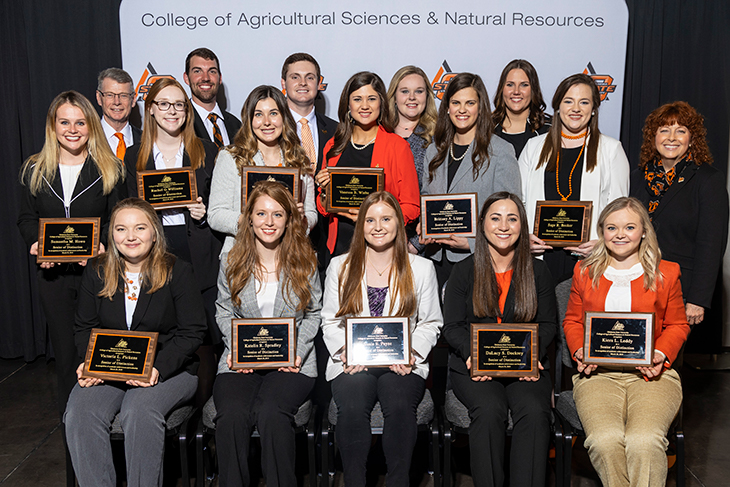 CASNR awards more than $330,000 in continuing student scholarships at annual banquet
Friday, March 29, 2019
The Oklahoma State University College of Agricultural Sciences and Natural Resources awarded over $330,000 in scholarships to more than 150 students at the annual CASNR Scholarships and Awards Banquet March 28.
The scholarships, made possible by the generosity of CASNR alumni, friends, faculty and staff, are part of the $1.7 million in total scholarships students will receive during the 2019-2020 academic year from the college and its academic departments.
Others recognized Thursday included students, faculty and staff for their accomplishments and contributions to CASNR, as well as alumni for their success in the industry.
"It is an honor and a privilege to award scholarships to help fund their CASNR experience," said Dr. Cynda Clary, CASNR associate dean of academic programs. "The banquet is our time to congratulate and recognize our outstanding students, faculty, staff and alumni for their hard work and accomplishments each year. CASNR Week is our opportunity to celebrate our college and everything we represent. With students and faculty from all over the world, our college is comprised of a diverse group of individuals whose different strengths make CASNR special."
Sage Becker was named the 2019 Louis and Betty Gardner Outstanding Senior. Becker is an animal science major from Keota, Iowa. Additionally, Cathy Mapes was recognized as the 2019 Charles and Magda Browning Outstanding Freshman. Mapes is an animal science major from Alva, Oklahoma.
CASNR recognized 15 Seniors of Distinction. Of the 15, five were honored with the Dean's Award of Excellence (indicated by an * in the list below).
Sage Becker*, Keota, Iowa, animal science
Haden Comstock, Stillwater, Oklahoma, animal science
Jordan Cowger, Kansas City, Missouri, biochemistry and molecular biology
Clay Daily, Fort Gratiot, Michigan, animal science
DaLacy Dockrey, Shawnee, Oklahoma, agricultural economics and accounting
Samantha Howe*, Sulphur, Oklahoma, animal science
Kiera Leddy, Stockholm, South Dakota, agricultural communications
Brittany Lippy, Manchester, Maryland, animal science
Jessie Payne, De Soto, Kansas, food science
Victoria Pickens*, Sand Springs, Oklahoma, entomology
Charley Rayfield*, Blairsville, Georgia, food science
Katelin Spradley, Cuba, New Mexico, agricultural communications and animal science
Megan Trantham, Boise City, Oklahoma, agricultural communications and agribusiness
Vanessa Wiebe, Hooker, Oklahoma, agribusiness and agricultural communications
Rachel Williams*, Grapevine, Texas, biochemistry and molecular biology and microbiology
Four CASNR faculty members were also recognized for their teaching, advising and mentoring of undergraduate and graduate students. Their names, awards and academic departments are:
John Michael Riley, Early Career Award for Excellence in Teaching, Department of Agricultural Economics
Jon Ramsey, Excellence in Undergraduate Student Advising and Mentoring Award, Department of Agricultural Education, Communications and Leadership
Gail Wilson, Excellence in Graduate Student Advising and Mentoring Award, Department of Natural Resource Ecology and Management
Penny Weeks, Award for Excellence in Teaching, Department of Agricultural Education, Communications and Leadership
Finally, two CASNR alumni were recognized for their outstanding achievement and early success in their careers within the agricultural and natural resources industries. Their names, hometowns and current careers include:
Travis Bradshaw, Burlington, Oklahoma, agricultural education B.S. '04 and M.A. '18, agricultural education instructor and FFA Advisor at Burlington Public Schools
Cortney Cowley, Omaha, Nebraska, biosystems engineering B.S '09 and agricultural economics Ph.D. '15, agricultural economist in the Regional Affairs department at Federal Reserve Bank of Kansas City at the Omaha branch
CASNR believes in the value of hands-on education and the importance of having a well-rounded student experience. The college's award-winning faculty members are dedicated to developing students and are passionate about adding value to the total educational experience. With 16 majors, a variety of study options, plus more than 60 student organizations, CASNR is committed to expanding minds and inspiring purpose. Learn more at casnr.okstate.edu.
By Quay Owen