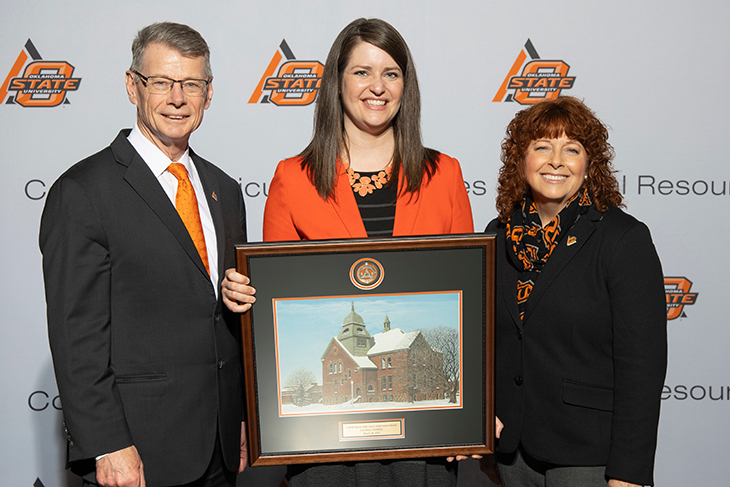 CASNR honors Cortney Cowley with Alumni Early Career Achievement Award
Tuesday, April 2, 2019
Oklahoma State University's College of Agricultural Sciences and Natural Resources Alumni Board recently honored Cortney Cowley of Kennard, Nebraska, as a 2019 Early Career Achievement Award recipient at the 2019 CASNR Scholarships and Award Banquet.
The award winners are selected by the CASNR Alumni board for their outstanding achievement in the early years of their careers.
Cowley serves as an agricultural economist in the Regional Affairs department at Federal Reserve Bank of Kansas City at the Omaha branch.
"Whether in the classroom or in the workplace, Cortney Cowley has always achieved excellence," said Lewis Cunningham, CASNR Alumni Board president. "Cortney still finds time to serve on the Scholar Development and Undergraduate Research Advisory Board and actively assists students applying for major national and international scholarships and awards."
Cowley is a two-time graduate of the OSU College of Agricultural Sciences and Natural Resources. She earned her doctorate in agricultural economics in 2015 from Oklahoma State University after receiving her master's degree in civil engineering from Colorado State University in 2011 and her bachelor's degree in biosystems engineering from OSU in 2009.
While at OSU, Cowley served as an agriscience ambassador and held the Frank Lucas Agricultural Policy internship. She was named the 2009 outstanding engineering student, the Dean Fred LeCrone award recipient and a CASNR Senior of Distinction. She also received the Morris K. Udall Scholarship in 2007 and the Harry S. Truman Fellowship in 2009.
In her current position, Cowley conducts research related to farm economy, agricultural finance and natural resources and is a contributor to the bank's Economic Review research journal. She also is tasked with writing for the tenth district's Survey of Agricultural Credit Conditions and accumulating the Federal Reserve System's Agricultural Finance Databook.
"My colleagues in the Omaha Branch of the Federal Reserve Bank of Kansas City know that, on Fridays, I wear orange," Cowley said. "My orange is a symbol of my pride to be an OSU alumna but also my gratitude for the experiences I had as a student. With the comprehensive and interdisciplinary education, I received in CASNR, I was fully prepared for my career."
Since graduating from OSU, Cowley has been an actively involved in the BAE department and serves on the BAE alumni and donor relations committee. Through her involvement, she helps champion and donate to a scholarship for biosystems engineering students. Cowley also mentors CASNR students who apply for national and international scholarships and awards.
CASNR believes in the value of hands-on education and the importance of having a well-rounded student experience. The award-winning faculty members are dedicated to developing students and are passionate about adding value to the total educational experience. With 16 majors, a variety of study options, plus more than 60 student organizations, the college is committed to expanding minds and inspiring purpose. Learn more at casnr.okstate.edu.