OSU honors Austin Kenyon as 2019 distinguished agriculture alumnus
Tuesday, October 29, 2019
It has been said Oklahoma State University alumnus and former Oklahoma A&M Board of Regents member Austin Kenyon "bleeds orange and black," a memorable phase that sums up his longstanding commitment to and support of the university's land-grant mission.
The Dover, Oklahoma, native's impressive career achievements and contributions to education and society were recognized during Oct. 25 ceremonies in Stillwater, where Kenyon was named a 2019 recipient of the OSU College of Agricultural Sciences and Natural Resources Distinguished Alumni Award.
"As a freshman, Austin played basketball under Coach Henry Iba, which I think would make any of us bleed orange and black," said Gary Clark, OSU senior vice president and general counsel.
When Kenyon first enrolled in 1956, it was to pursue a veterinary medicine degree at Oklahoma A&M College. When he graduated in 1961, having changed his major to horticulture, Oklahoma A&M had become Oklahoma State University.
Kenyon went on to earn a master's degree from Iowa State University and then returned to OSU as a faculty member. But it was when Kenyon joined Greenleaf Nursery as production and general manager for his friend John Nickels in 1966 that his career really took off. Kenyon would go on to serve as Greenleaf president from 1977 to 1988.
"During his time, Greenleaf grew into one of the largest wholesale nursery operations in North America, opening facilities in Texas and North Carolina," said Randy Davis, Greenleaf's current president. "Austin would eventually become part-owner of the company."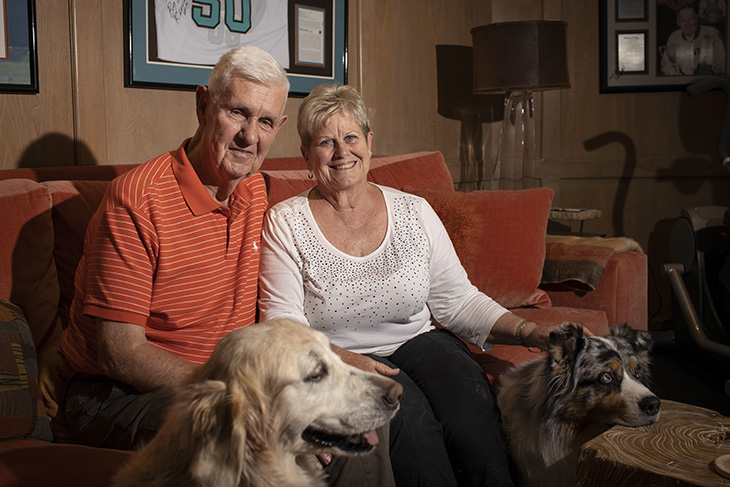 As the business grew, Kenyon showcased an eye for talent and interest in others that let him know who had the makings of a great employee, such as a then 16-year-old high school student named Randy Davis. By the time Davis was 17, the teenager had planned to go to college locally, as it was all he could afford.
"Austin started talking up Oklahoma State," Davis said. "He actually took time out of his busy schedule to drive me to Stillwater, which was pretty awesome. He introduced me to the horticulture professors and showed me around campus. It was an unbelievable day."
Greenleaf helped Davis financially, allowing him to attend OSU. He went to work for Greenleaf after graduation. The rest, as they say, is history.
Kenyon's passions extend beyond Greenleaf, of course. His work as a rancher and cattle breeder is recognized as having contributed to the genetic excellence of America's Brangus herd. He was a leader in the cutting horse industry until a few years ago, and has enhanced the experiences of students involved in the OSU Equine Program with donations of saddles and equipment.
"Austin is kind of a quiet guy, not really outspoken," Clark said. "I was speaking with someone who had served on the Board of Regents with him and was told people listened when he spoke because they knew it is important. Austin got his points across."
Kenyon and Greenleaf Nursery recently made a significant contribution to OSU's Greenhouse Learning Center. The grand opening was celebrated in August and the new center is preparing career-ready professionals to enter the horticulture industry. Clark said the new facility is "going to be a real game-changer for our students."
In addition to his service on the Board of Regents, Kenyon has been an OSU Foundation trustee. And in pure "bleed orange and black" fashion, he has been a proud OSU athletic season ticket holder since 1974.
MEDIA CONTACT: Donald Stotts | Agricultural Communications Services | 405-744-4079 | donald.stotts@okstate.edu