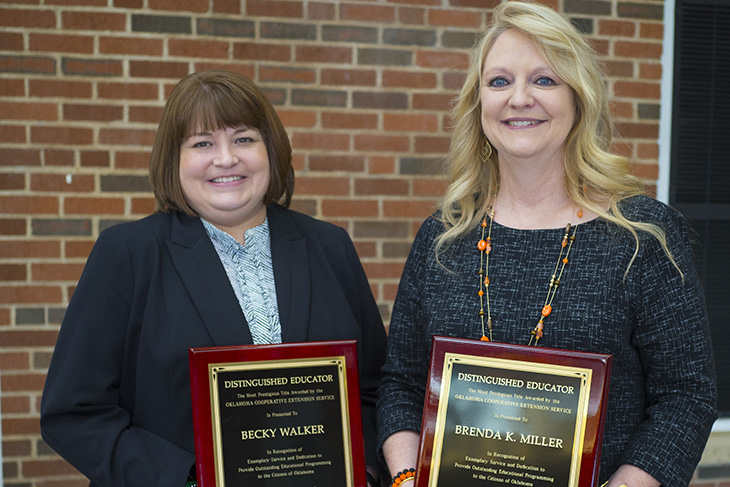 Becky Walker named 2019 Oklahoma Cooperative Extension Service Distinguished Educator
Wednesday, January 23, 2019
Becky Walker often sees the world through green-tinted lenses, and that has been a good thing for Oklahoma youth given her role as the Pontotoc County Extension Office 4-H Youth Development educator.
Walker's 20-plus-year commitment to helping Oklahoma youth develop lifelong skills and a better awareness of public service was honored recently by the Oklahoma Cooperative Extension Service, which named her a 2019 recipient of the organization's Distinguished Educator Award.
The Oklahoma Cooperative Extension Service is one of two state agencies administered by Oklahoma State University's Division of Agricultural Sciences and Natural Resources, and is a key part of the university's state and federally mandated teaching, research and Extension land-grant mission. The agency has a presence in all 77 counties, working at the local, regional and statewide levels.
For Walker, the OSU brand and iconic 4-H clover emblem are representative of many of the things she feels have given her life and career its direction.
"I truly have been a 4-H member for life, and my family members have been lifelong users of the Cooperative Extension Service," she said. "My goal has always been to ensure all the clientele I serve have the same positive experiences with this organization that I have had."
Oklahoma 4-H is the official youth development arm of the Oklahoma Cooperative Extension Service. Though some default to an image of younger kids when thinking of 4-H, the teenage years are a particular age group in which Walker has shown both an abiding interest and longstanding success.
"We all know the teenage years can be tough for those going through them, but the teen years in 4-H can be an amazing time if we can create a sense of belonging, show how anyone can be a leader no matter a person's personality type and then provide opportunities for the teenagers to discover themselves through participation in 4-H activities," she said.
Each month, Walker provides an educational program that focuses on life skills, goal setting, teamwork, personal development and, of course, social and friend time. An OSU Cooperative Extension 4-H educator since 1997, Walker cannot remember many meeting at which she did not provide a program highlighting the aspects listed previously.
For example, Walker's 4-H YES program required the teenage participants to be trained in nutrition for senior adults. They visited nursing homes, nutrition sites and groups of retired individuals. The 4-H'ers reached more than 800 people.
Another of Walker's favorites is the Taking Hammond to Higher Heights program. Pontotoc County 4-H'ers first did safety assessments at Harris Park, located in a predominantly lower-income neighborhood, and then worked with the City of Ada to paint park equipment, weed the basketball court, repaint the lines and add new metal basketball nets.
"We worked with church pastors in the neighborhood to get kids to the park on Sunday afternoon after church for some games and social time with our 4-H teen leaders," Walker said. "We also purchased new basketballs, kickballs and other equipment for the churches. Our whole goal was to do something in the community and encourage youth and families to get outside and play."
Walker is always quick to give a shout-out to 4-H adult volunteers.
" I would never have accomplished and carried out so many programs without their support," she said. "They are my partners and I walk right along beside them as we carry out important work in our communities."
Walker has served as the Pontotoc County Extension 4-H educator since 2002, and previously served as Cleveland County Extension 4-H educator for four years. She has served as both president and vice president of the Oklahoma Association of Extension 4-H Agents professional organization, as well as other leadership roles within OAE4-HA.
"Each year I have the opportunity to see new young Cloverbuds arrive at our office, timid and clinging to mom's leg and by the end of the year, they are running into the office, hugging Ms. Becky and eager to learn something new," said Janna Kelley, Pontotoc County Extension director. "By the time these same 4-H members are nine, they are ready to give a speech, do a poster, participate in community service and go on to be leaders in the program."
The old cliché says one cannot go home again, but Kelley has had numerous opportunities to interact with 4-H'ers who have graduated from the program and returned to the old home front.
"They come to the office to see their mentor and friend who has taught them so much about life and helped make them successful," Kelley said. "I also get to see members who have become parents and are enrolling their children in the 4-H program, because they want their offspring to have the positive experiences they had as children. Becky is a big part of this cycle."
A Cowboys alumna, Walker earned her bachelor's degree in agricultural communications from OSU in 1994. She earned her master's degree in agricultural education from OSU in 1996.