OSU students examine evidence in killer wasp case
Monday, August 31, 2020
An Oklahoma State University professor goes to great lengths to ensure his students are engaged in his lectures, even to the point of causing himself a little pain.
Students in Wyatt Hoback's class this semester – ENTO 2003 Insects and Society – watched closely as he intentionally let a cicada killer sting his arm as part of a recent classroom demonstration.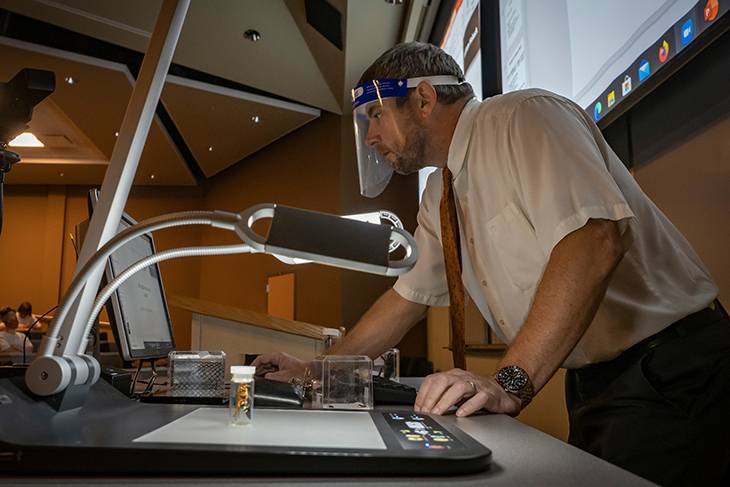 A cicada killer, or Sphecius speciosus, is a large, solitary wasp common to Oklahoma. It is not an Asian giant hornet, or Vespa mandarinia, which has dominated news headlines and social media lately as a non-native species with a bad reputation. Hoback's demonstration addressed the confusion.
"The best way to educate students that videos they see online of the 'worst pain ever' often are dramatized," said Hoback, associate professor in OSU's Department of Entomology and Plant Pathology. "The sting of a cicada killer is surprisingly mild. It feels a little electrical and hot, but not as bad as a regular bee sting, and the pain only lasts about 10 minutes."
Hoback, who has been teaching at OSU for six years, said he stings himself nearly every semester as part of his teaching method.
"Insects are animals, too, but many people fear or dislike insects because they're afraid of the unknown," he said. "Doing things like letting myself get stung allows students to better understand the fascinating natural world and begin to ask questions."
He said it is important to understand how cicada killers are different from the murder hornets. Cicada killers specifically sting cicadas and use them to raise their offspring, while a murder hornet is smaller but attacks many kinds of insects and feeds them to its offspring.
Entomology and Plant Pathology Department Head Phil Mulder said Hoback does a tremendous job with his students.
"He uses everything at his disposal to engage the students in his class," Mulder said. "He is a godsend to our department and to our major. He has helped me grow the major from three students to now nearly 80 students. He definitely goes above and beyond for the students in his classes. He's truly a great professor."
MEDIA CONTACT: Trisha Gedon | Agricultural Communications Services | 405-744-3625 | trisha.gedon@okstate.edu