Boy Scouts work on merit badge at OSU's Insect Adventure
Tuesday, August 25, 2020
A group of Boy Scouts have made some creepy, crawly, new friends.
Working toward their next merit badge, Troop 802 of Stillwater took a bug's eye view of insect studies during a visit to Oklahoma State University Extension's popular Insect Adventure. Educators had to adjust the experience a little this year due to pandemic health concerns.
"We're just getting our doors back open after everything shut down during the COVID-19 pandemic, so it was great to have this group of Scouts come to the Insect Adventure. They were great with wearing their masks and social distancing," said Andrine Shufran, director of the Insect Adventure. "We've worked with scout groups in Stillwater for years to provide learning opportunities for earing merit badges. I've even had scouts who are working on their Eagle Scout call and want to do a project here because of their previous experience with the Insect Adventure."
Troop Scout Master Dan Shoup said OSU's Insect Adventure has long been a part of his group's programming.
"This is almost an annual event for us, and we've always had an outstanding experience," Shoup said. "We're fortunate to have OSU in our backyard and the ability to work with world-leading experts in many fields, including entomology. This is an outstanding opportunity that many Boy Scouts don't have available."
Spencer Yannuzzi, a member of Troop 802, said he enjoyed his time at the Insect Zoo and The Botanic Garden at OSU.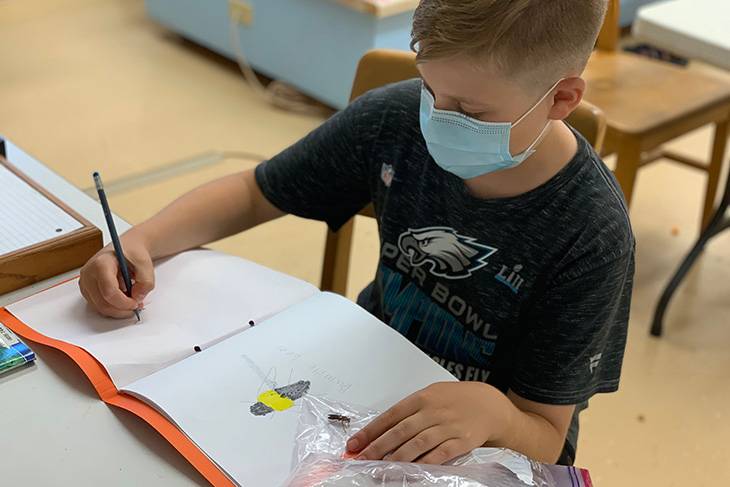 "We got to collect bugs at the OSU Botanic Garden and look at them through a magnifying glass. We also got to draw pictures of them," Yannuzzi said. "We collected beetles, grasshoppers, bees and a wasp and we learned what different insects eat.
Although he enjoys learning about arthropods, Yannuzzi said it is impossible to prioritize what he likes best about being a Boy Scout.
"It's a great program," he said. "It's fun to learn new stuff and make friends."
Sandy Mueller, who serves as Troop 802's committee chair, said the Scouts were able to observe live species of insects in their habitats at the Insect Adventure. The boys also discussed hazards associated with exposure to ants and bees, and they made a scrapbook of the bugs they met.
Shufran said she and her crew have been working on the facility by painting, refinishing and cleaning out storage areas, as well as maintaining the health of all the insects. She also has been helping with informational videos that are available on the OSU Insect Adventure's YouTube channel.
"One of the main things we try to do at the Insect Adventure is help people understand that insects aren't bad and actually are vital for human survival. We can't live without them," Shufran said. "Insects are the most interesting, fascinating and diverse things on our planet. They aerate the soil and are part of the food chain. People are surprised to learn that ant species alone outweigh all human being put together."
OSU Extension's Insect Adventure is the only live petting zoo of its kind in the state. More information about the Insect Zoo is available on its website.
The Insect Adventure is open to the public the first and third Saturday of each month from 10 a.m. to 2 p.m. The pandemic is restricting visitations to 15 people at a time, and masks and social distancing are required, Shufran said. Currently, the Insect Adventure has about 30 species of insects for public viewing.
MEDIA CONTACT: Trisha Gedon | Agricultural Communications Services | 405-744-3625 | trisha.gedon@okstate.edu