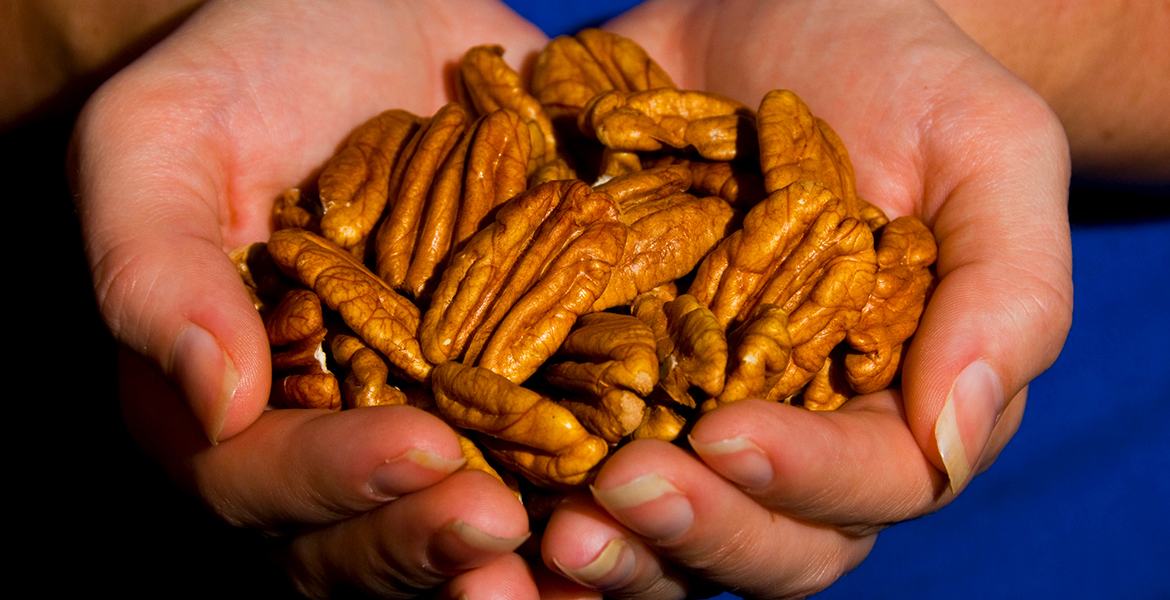 Technology allows pecan producers to continue learning
Tuesday, July 7, 2020
Thanks to technology, Oklahoma State University Extension continues to deliver valuable, research-based information to state residents. Oklahoma pecan growers are encouraged to take advantage of these opportunities to learn more about what is going on in the pecan industry.
Becky Carroll, OSU Extension associate specialist, fruit and pecans, said even though the Pecan Management Course was canceled due to the COVID-19 pandemic, the information is still vital.
To help pecan growers access this pertinent information, Carroll said she is hosting the Pecan Topics Zoom Program.
"We held our first Zoom workshop in May, and it was well received," Carroll said. "The workshops are geared toward both novice and seasoned growers. What we cover in the Zoom workshops coincides with what currently is going on in the growing season."
The next Pecan Topics Zoom Program is slated July 10 at 1 p.m. Those interested in the workshops need to email Carroll at becky.carroll@okstate.edu for a hyperlink to preregister. The one-hour workshops are free to attend, but preregistration is required. Information also is available on OSU's Oklahoma Pecan Management website and the Oklahoma Pecan Management Facebook page.
Topics for the July meeting include leaf sampling for fertilizer recommendation, pecan weevil monitoring and control, water requirements of pecan trees, use of Mesonet for pecan growers and crop updates after June drop.
Additional Zoom workshops and tentative topics include:
Aug. 7 - How to determine nut development stages, crop load management.
Sept. 1 - Wildlife depredation, orchard floor preparation for harvest, stink bugs and aphid control.
Oct. 2 - Equipment needs for harvest, how to know when to harvest, sanitation.
Nov. 6 - harvest operations, postharvest, proper storage.
The Zoom sessions for May and June were recorded and can be viewed online. Carroll said the workshops, if needed, may continue through December and into 2021.
Louis Morton, who owns J & L Pecans in Stratford, Oklahoma, purchased the 1,400-tree orchard with his wife, Jamie, about a year ago.
"We were looking to diversify our operations when this opportunity came up," said Morton, who also runs a hay and cattle operation. "We're pretty new to growing pecans so we'd signed up for the Pecan Management class offered through OSU, but that was canceled due to the pandemic. I'm new to Zoom, but I'm really enjoying the meetings and Becky (Carroll) has done a great job getting industry specialists together to share great information."
Morton said he especially enjoys receiving timely information regarding the current growing season.
"This real-time information is so important to the pecan growers in Oklahoma. We're a community of growers brought together to learn," he said. "This is real people with real questions in a round table setting and it's great to get on the same page with other pecan producers. There's nothing quite like a pretty orchard. Hay and cattle are work for me, but growing pecans is a lot of fun."
Caleb Stone has been producing pecans in Lincoln County for six years. He wanted to participate in the Pecan Topics Zoom Program to continue learning about the crop.
"The meetings I've attended so far have really affirmed some of the decision we've made regarding our orchard," Stone said. "This is a great way to learn how to deal with problems in the orchard and keep up to date with the industry."
Stone said he likes the format of the Zoom meetings and they provide a place for growers to ask questions throughout the growing season.
"It was good to be able to ask questions about the impact of the April freeze and how it would affect tree health and the potential crop for this year," he said.
Carroll said she is working to incorporate into each of the Zoom sessions issues or questions that are coming into OSU Extension educators.
"If people are asking about these things, it's certain other growers are likely having similar questions," she said. "While some businesses can shut down during this pandemic, the agriculture industry doesn't stop. Producers need valuable information that enhances their operations and we hope the pecan growers across the state are getting the answers they need through these workshops."
For more information, contact Carroll at 405-744-6139 or becky.carroll@okstate.edu.
MEDIA CONTACT: Trisha Gedon | Agricultural Communications Services | 405-744-3625 | trisha.gedon@okstate.edu