Thinning a forest canopy can pay off big for landowners
Monday, August 10, 2020
Landowners with forested acres can reap some of the most significant benefits from property improvement, creating something of a woodlands wonderland that can promote economic opportunities or just feed the urge to get back to nature, Oklahoma State University experts said.
By thinning the forest canopy, more sunlight is allowed to penetrate down to ground level, thereby diversifying the number and types of flowers, shrubs and grasses that grow there. This provides better habitats for wildlife and livestock alike.
"The diversity allows a landowner to manage for many different possible land-use objectives, often on the same acreage, especially if prescribed fire is used to maintain the open woodland," said Dwayne Elmore, OSU Extension wildlife specialist and professor with the university's Department of Natural Resource Ecology and Management.
Elmore recently spoke about canopy cover land management on OSU Extension's agricultural television program SUNUP. Among the topics covered in the video segment was the benefit of turning a forest understory into grazable acres.
By thinning a forested canopy – called silvopasturing – cattle, goats, sheep and other livestock can consume the grasses growing where once they did not. This can help producers stretch operational feed dollars while livestock benefit from lifesaving shade protection in summer heat and wind breaks against cold winter blasts.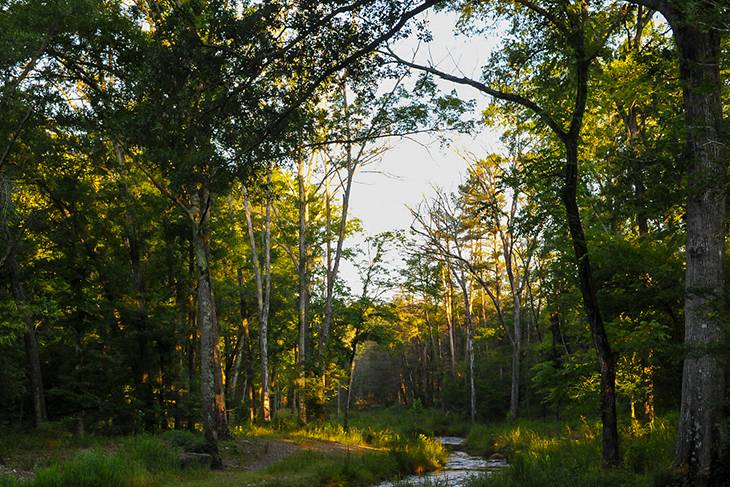 "Livestock also can help clear underbrush if that is a management objective," Elmore said. "Think of it as a squad of four-legged brush-trimmers who work for food and who eventually provide an even greater return on the producer's investment when they are sold."
Many types of wildlife seek out diverse woodlands as well. For example, white-tailed deer can be found almost everywhere in North America, but they prefer to bed in areas with thick cover that provides protection from predators and the elements. Oklahoma deer prefer flowering plants but also forage on other types, including shoots, leaves and native grasses. They also eat acorns and fruit such as blackberries. Turning a forest into such a woodland is like opening a buffet line.
The wildlife being attracted is not limited to deer. Thinning the canopy cover can potentially attract turkey, quail, songbirds, monarch butterflies and even box turtles. This can lead to additional economic opportunities and enjoyment for property owners.
"In recent years, hunting leases have become increasingly lucrative for many landowners," said Brad Bain, McCurtain County Extension director and agricultural educator. "Additionally, they may receive interest from bird watchers, wildlife and nature photographers or school groups interested in field trips to the property."
On the other hand, a landowner might simply be interested in environmental stewardship. Oklahoma is part of the wintering range for many species of migratory birds.
OSU Extension fact sheets provide detailed information on many woodland opportunities and are available online and through all county Extension offices.
"Whether you're in the state's Cross Timbers region, the heart of Green Country or deep in southeastern Oklahoma, thinning the forest canopy can make your property more versatile and valuable as a resource," Elmore said.
MEDIA CONTACT: Donald Stotts | Agricultural Communications Services | 405-744-4079 | donald.stotts@okstate.edu