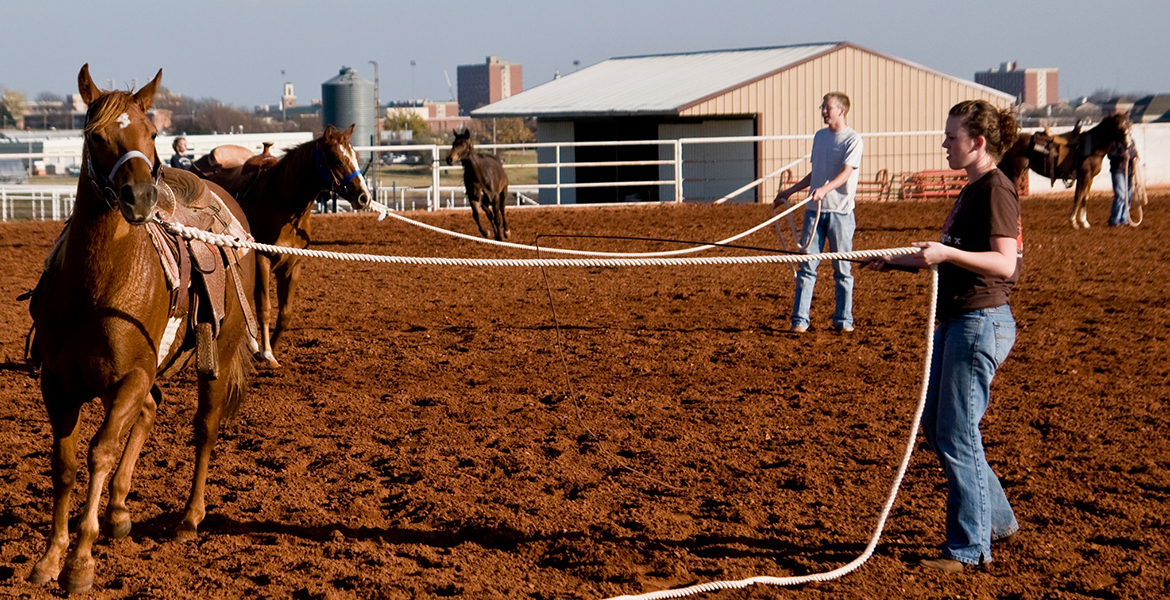 Physical conditioning important for previously idle horses
Thursday, May 14, 2020
In movies it is not unusual to see a cowboy ride his horse forever, through all types of weather and terrain. In reality, horses are equine athletes that must be properly conditioned to perform as needed.
"The general design of an equine conditioning program, especially for horses that have been relatively idle for months heading into warmer weather, is similar to those designed for people: Start slowly and work toward more intense and more skill-specific activities," said Kris Hiney, Oklahoma State University Extension equine specialist.
Before beginning an exercise program, it is important to make sure the horse is ready to begin conditioning, Hiney said. Examine hoof condition and determine if hooves need to be trimmed or shoes reset. Evaluate the horse's body condition. Determine whether or not feeding programs need to be adjusted to either encourage weight loss or provide additional calories to support the training program. Check tack fit as well. Changes to the horse's topline caused by weight change or muscle loss can alter saddle fit.
"Always evaluate the horse's soundness," Hiney said. "While some stiffness may accompany aging or disuse, any lameness should be addressed by a veterinarian."
Research has shown pastured horses maintain a higher level of fitness than their stalled counterparts.
Goals should be designed specifically for each horse. For example, conditioning for trail riding will differ from those needed for barrel riding. Conditioning programs for horses depend on the availability of someone to ride or train the animal and should be tailored with a timeline in mind.
Hiney suggested other guidelines:
Begin with low-intensity exercise, ideally multiple sessions a week rather than one extensive session on the weekend. Low intensity lets a horse manager more easily monitor how conditioned the animal is aerobically while guarding against fatigue of tendons, ligaments, bones, joints and muscle.
Heart rate can be a good indicator of fitness improvements. Aerobic conditioning for horses is built up by exercising at levels that require heart rates around 150 beats per minute or less. Keep records about how quickly the horse's heart rate returns to resting values after exercise periods. This will help determine the length of future exercise sessions and lessen muscle soreness and injuries that worsen muscle and tendon fatigue.
Proper shoeing and exercise surfaces with cushioning will help a previously idle horse guard against excessive stress on bone, tendons and ligaments.
Owners should look for signs of muscle soreness that can accompany a new training program. Changes in attitude – such as pinned ears, wringing tails, shortening of stride or change in willingness to move forward – can be signs of animal pain.
It is important to remember that aerobic fitness in a previously idle horse may come back more quickly than the conditioning of the equine's skeletal system and tendon and ligaments.
"While bone injuries caused by fatigue are not common, they can be an issue with young horses or intensely exercised animals such as racing horses," said Dr. Rosslyn Biggs, OSU Extension veterinarian and director of continuing education for the university's College of Veterinary Medicine.
Bone tissue responds to use by altering both its density and shape in response to the stress placed on it. Research has shown that short periods of cyclical loading – multiple short-duration sessions of moderate-to-intense exercise – is preferred over long periods of galloping, she said.
Biggs said training a younger riding horse can help develop tendon quality and minimize the degenerative effects of training at older ages. Horse managers must be watchful because the musculoskeletal system in young horses is more susceptible to injury.
Stress is required to increase a horse's fitness, but too much, too soon, will cause physical failure in the animal. With a properly managed training pace, the horse should be able to work harder, longer.
More information on topics of equine health is available at the OSU Extension website. With warmer weather fast approaching, horse managers also may want to watch the OSU Extension video, "Is It Too Hot to Trot?" on OState TV.
OSU Extension is one of two state agencies administered by the university's Division of Agricultural Sciences and Natural Resources and is a key part of OSU's state and federally mandated teaching, research and Extension land-grant mission.
MEDIA CONTACT: Donald Stotts | Agricultural Communications Services | 405-744-4079 | donald.stotts@okstate.edu