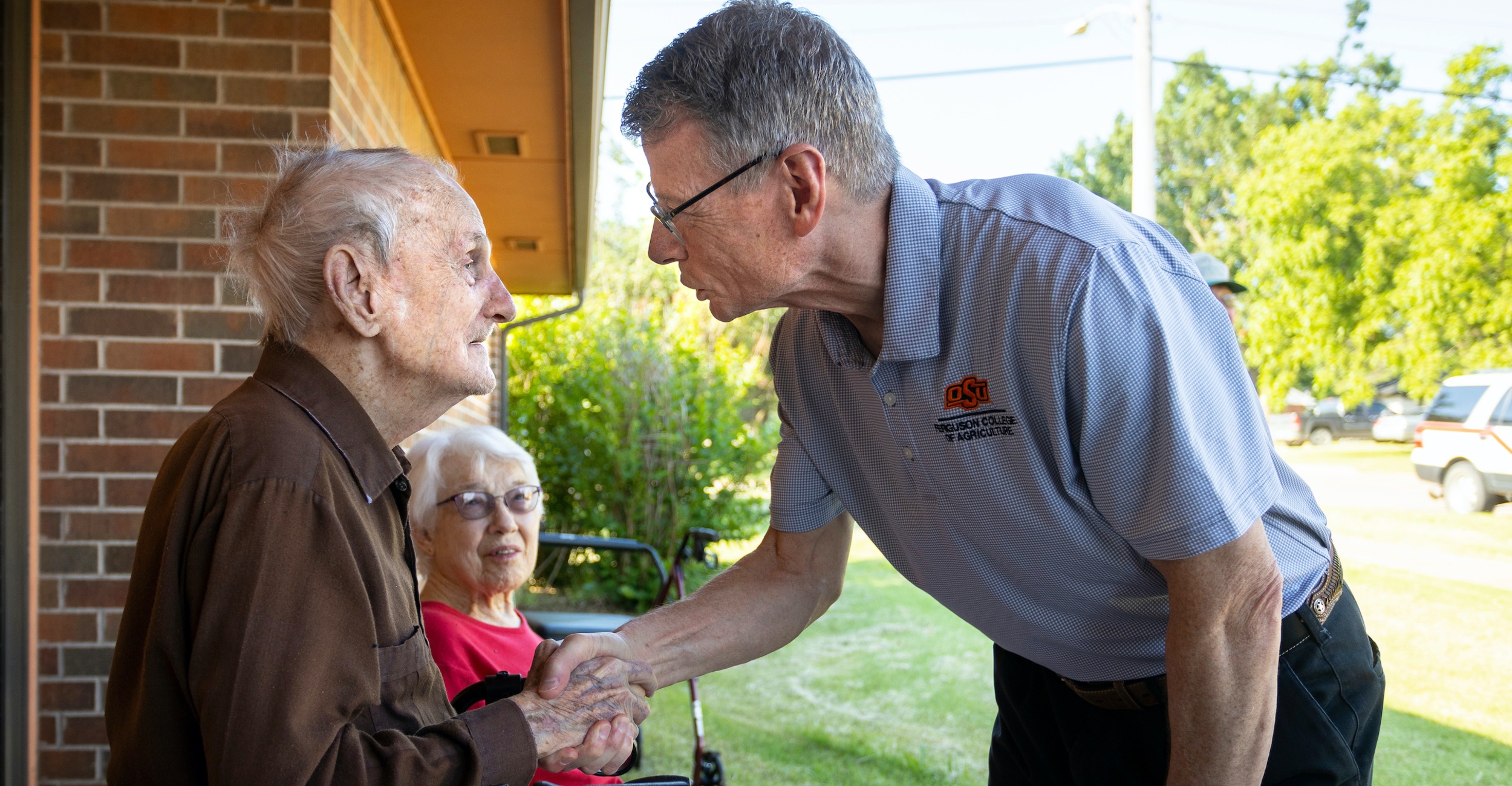 Retired OSU professor honored with Dr. John Gilbreath Day
Wednesday, June 23, 2021
Media Contact: Gail Ellis | Communications Specialist, Copywriter | 620-515-2498 | gail.ellis@okstate.edu
The City of Stillwater has proclaimed June 19 as Dr. John Gilbreath Day in honor of Oklahoma State University retired poultry science professor John Gilbreath. The World War II veteran was recognized with an official city proclamation at his home in Stillwater on June 19 – his 105th birthday.
Thomas G. Coon, vice president and dean of OSU Agriculture, joined representatives from the City of Stillwater and the American Legion to award Gilbreath the proclamation. Gilbreath also received an honor parade from city police and fire personnel.
Gilbreath earned a bachelor's degree from what was then Oklahoma A&M College, as well as a master's and doctorate from Louisiana State University. He served as an assistant professor at the University of Arkansas for six years before joining the OSU animal science faculty to specialize in poultry science.
During World War II, Gilbreath served as an air traffic controller in the U.S. Army Air Corps, known today as the U.S. Air Force. He worked on a U.S. Army airstrip on the island of Tinian in the South Pacific, a base that housed B-29 bombers flying missions to Tokyo.
Gilbreath was provided information about a particular B-29 named the Enola Gay, located at a second U.S. Army airstrip on Tinian. Its contents and mission were top secret, but on Aug. 6, 1946, the plane became the first to drop an atomic bomb as a weapon of war, targeting the city of Hiroshima, Japan.
Gilbreath received a Quilt of Valor from the Quilts of Valor Foundation in recognition of his military service in 2020.