From 4-H to Ferguson: Oklahoma 4-H members find their home at OSU
Tuesday, July 27, 2021
Media Contact: Jami Mattox | Ferguson College of Agriculture | 405-744-8061 | jami.mattox@okstate.edu
The 4-H Roundup is an event that Madison Deeds looks forward to each year.
The Garber, Oklahoma, native is now a senior in the Ferguson College of Agriculture majoring in agricultural education, but she recalls overnight stays in the Kerr Drummond dormitory, dances on the tennis court and friendships solidified during her first Roundup.
These experiences gave her a glimpse of what life would be like as an OSU student.
"When I enrolled at OSU, I didn't even take a tour because I had been here so many times for Roundup," she said. "There was nowhere else I wanted to go. 4-H really brought me to my home."
This year's 4-H Roundup marks the 100th year for the event. Set to kick off Thursday, July 29, the event will bring hundreds of 4-H members from around the state to the OSU campus for two days of activities designed to celebrate 4-H's values of leadership, service and hands-on learning.
Ferguson College of Agriculture senior Erick Moreau will attend this year's Centennial Roundup as a student worker. Erick and his twin brother, Ethan, both recall tagging along with their older brother, who was a 4-H member, as they went to stock shows, quarterly meetings and other 4-H events. It was Erick's experiences in 4-H — first as a member, then as a leader ­— that informed his decision to attend OSU.
Erick said his first Roundup, which was also his first visit to the OSU campus, left him in wonder.
"It was like nothing I'd ever seen before," he said. "You can't beat it."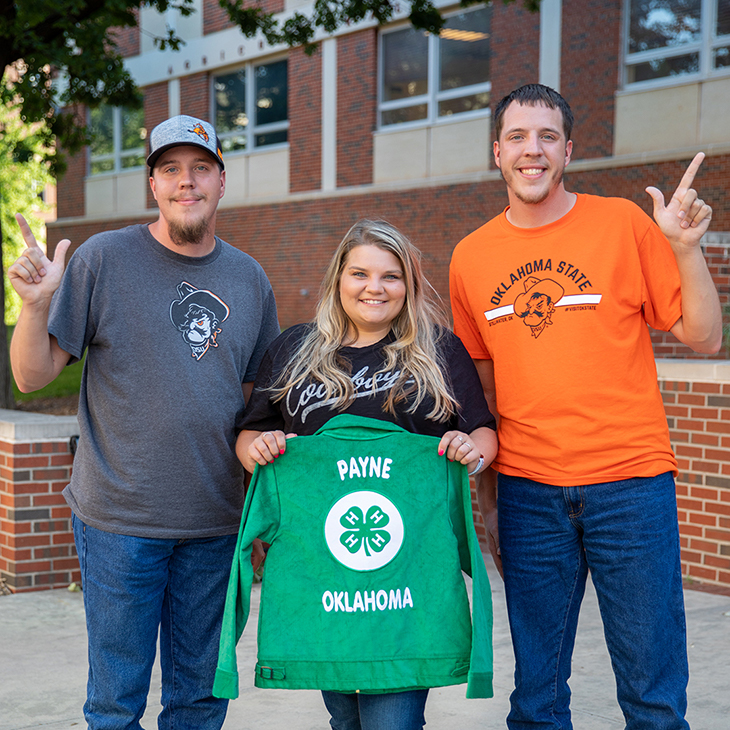 4-H had a great influence on Erick, from his first project of collecting soda pop tabs to help raise funds for the Ronald McDonald House, to his time spent in leadership roles within the organization. His position as a 4-H reporter helped shape his decision to major in agricultural communications at OSU.
"From my 4-H experience, I fell in love with taking pictures, taking videos and writing for my county, so I figured ag communications was a great choice for me," he said.
Ethan's 4-H journey also influenced his decision to attend OSU, and he is currently a senior majoring in plant and soil sciences. Ethan recalls going to the local county fairs and viewing all the different exhibits. As he grew older, his interest in land judging grew through 4-H.
"Land judging got me interested in soil and how the land works, which has led to my major and to doing an internship with the Natural Resources Conservation Service," Ethan said.
When Deeds entered the Ferguson College of Agriculture, she thought her 4-H days were behind her. However, after arriving on campus, she learned of the Collegiate 4-H organization within the college. She attended the weekly meetings and served the organization as an officer. It was through Collegiate 4-H that she began working in the state 4-H office and, in the summer, would teach workshops covering subjects like healthy living, STEM and more to 4-H youth across the state.
"That really pushed me to want to become an agricultural educator," Deeds said. "My passion for agriculture and my passion to teach came together hand in hand. Continuing in collegiate 4-H has given me so many opportunities."
Roundup is the culmination of a year's worth of hard work and dedication for Oklahoma's 4-H youth. It's an opportunity to learn, connect and grow through networking and experiences with old and new friends. And for students like Deeds, Ethan and Erick, it's a chance to see the OSU campus and find their fifth H: a home.
"There are definitely some familiar faces on campus that I've known through the 4-H program," Erick said. "I usually have classes with some of my 4-H friends. It's interesting to see how many people I know through 4-H in Ferguson."
---
The Ferguson College of Agriculture emphasizes hands-on learning and a well-rounded student experience. The college's award-winning faculty members are dedicated to developing students and are passionate about adding value to the total educational experience. With a diverse set of majors and study options, plus more than 60 student organizations, the college is committed to expanding minds and inspiring purpose. Learn more at agriculture.okstate.edu.