Landscape architecture students design and construct seating for Centennial Garden
Wednesday, June 15, 2022
Media Contact: Jami Mattox | Agricultural Communications Services | 405-744-7063 | jami.mattox@okstate.edu
Students accustomed to working with colored pencils in quiet studios got their hands dirty for a class project. Using power tools like drills, sanders, circular saws and nail guns, landscape architecture students took their outdoor seating designs off the paper and into the shop using reclaimed and recycled materials.
Qing Lana Luo, professor in the OSU Department of Horticulture and Landscape Architecture, said her sustainable construction course is designed to give students a deep knowledge of both the theory and practice of sustainable architecture.
"There are large-scale examples of environment re-use projects where landscape architects will take a space, such as the underside of a highway overpass, and transform it into a functional space like a skatepark," Luo said. "In this class, we use a focused object in manageable scale (outdoor seating), and students get to apply concepts they learned earlier in the semester."
Each student was tasked with designing a chair using retired materials, otherwise known as used materials that can be repurposed to create a new product without harvesting new raw materials. This umbrella term can refer to any material ranging from lumber to metals and plastics.
Students voted on their three favorite designs, and the winning designers became team captains who helped lead their classmates through the project.
Daisy Shadley, a landscape architecture junior and team captain, said it was a welcome change of pace to trade her ruler and protractor for safety glasses and a tape measure.
"I remember being scared of using power tools," Shadley said. "My favorite part about being a team captain was helping my classmates gain confidence so they could feel the empowerment that power tools give you."
Jake McTee, a landscape architecture junior and team captain, said he had limited knowledge on sustainable construction prior to taking the class, but is happy to have gained the critical thinking skills necessary to design with sustainability in mind.
"The hardest part of the entire project was sorting through the retired materials and selecting boards that could be repurposed without compromising quality," McTee said. "Even though building with used materials can present unique challenges, it's more rewarding to know you've created something useful while reducing environmental impact."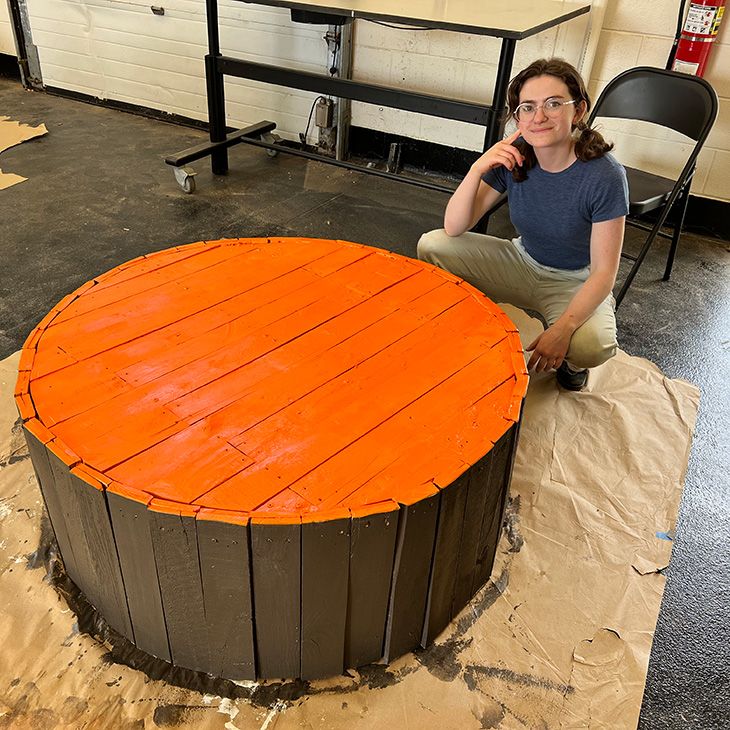 Beyond gaining an understanding of how sustainable practices can be implemented in landscape architecture, Luo said students gain soft skills that will follow them into their careers.
"I love seeing the great partnerships form in each group," Luo said. "They help each other problem solve and make design adjustments during the build."
Connor Moses, a landscape architecture junior and team captain, said he was thankful for the experience that came with leading a team.
"My biggest takeaway from this experience is that you should always trust your teammates, regardless of their experience level," Moses said. "The insight you can gain from fresh eyes is invaluable."
McTee said using primarily retired materials is what made this project creatively challenging.
"It's very common in the industry to have a colleague that has something they're going to throw out or additional materials left over from a jobsite," McTee said. "Professor Luo encouraged us to go for those materials before buying new. Not only does that keep the cost down for the client, but it also reduces jobsite waste and overall carbon footprint.
Shadley said it was refreshing to have a tangible final product because most of the time, the final project for her classes is still just an illustration or landscape plan on paper.
"It's so rewarding as a student to see something you designed in class be brought to life and implemented in the real world," Shadley said.
The outdoor seating projects are set to be installed at the OSU College of Veterinary Medicine's Centennial Garden (also known as the Toxic Plant Garden) once the revitalization project is completed.
---
Story By: Hunter Gibson