Farmers invest in New Frontiers with commodity donations
Wednesday, October 12, 2022
Media Contact: Mandy Gross | Senior Manager of Strategic Communications and Special Projects | 405-744-4063 | mandy.gross@okstate.edu
The Oklahoma State University New Frontiers campaign, which will help build a state-of-the-art teaching, research and Extension facility for OSU Agriculture, is creating unique opportunities for supporters to give back to the university.
With the option to donate commodities, farmers can invest in the future of agriculture.
Richard and Melodee Wuerflein of Kremlin, Oklahoma, and Keith and Marlene Kisling of Burlington, Oklahoma, became New Frontiers major gift donors when they donated commodity crops.
Richard Wuerflein returned to Kremlin to take over his family farming operation after graduating from OSU in 1977 with a degree in agricultural economics. Successful in his operation, Wuerflein said he has been blessed to support different scholarship and campaign funds, but this was his first time to give grain.
"We had a couple of good years and had extra bushels of soybeans," he said. "Once I found out I could roll my grain to the OSU Foundation through the local co-op store, the process was simple."
Gifting bushels of soybeans through Farmers Grain Co., Wuerflein later made an additional donation in support of Alpha Gamma Rho to name a space in the new building.
"After transferring ownership of the grain, which was immediately sold to support the New Frontiers campaign, I found out AGR was trying to name a room, so I decided I could donate two years in a row and help finish out that project," he said.
With Wuerflein's support, AGR named a group study room on the second floor of the New Frontiers Agricultural Hall. Wuerflein said he hopes the room will be a useful resource for students to study and interact with one another.
In addition, Keith and Marlene Kisling gifted wheat from their operation to the New Frontiers campaign and named the Keith & Marlene Kisling Family faculty office on the second floor of the new facility.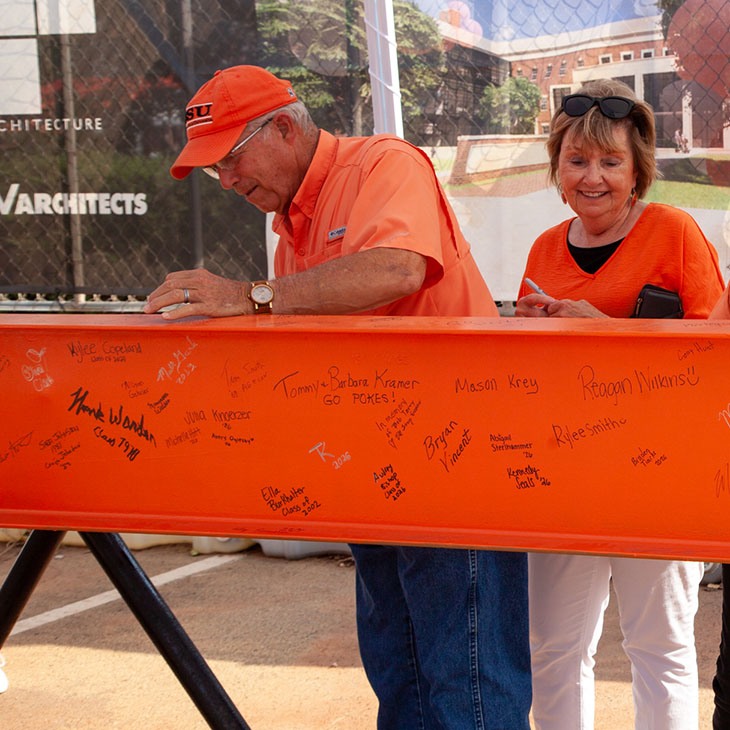 A 1970 OSU agricultural education graduate, Keith Kisling was teaching in Burlington when a local farmer asked him to take over a farming operation. Kisling and his wife established the Kisling Family Farm in 1975 and produced a variety of crops before retiring.
"Farmers are cash poor and asset rich; that's why it can be so difficult to get farmers to donate," Kisling said. "It makes sense to donate a commodity. It doesn't have to be wheat or soybeans; it can be any crop."
Kisling said the New Frontiers Agricultural Hall will not only improve the quality of teaching, research and Extension in agriculture, but it will also be a useful tool for recruiting students, faculty and staff.
"New facilities tend to draw in new people," he said. "If you look at the current Ag Hall when you drive by, you can tell it's dated. New Frontiers is going to be a fantastic facility, and the new labs and classrooms are going to make a huge difference."
With the support of commodity gifts and other donations, the New Frontiers campaign reached its $50 million fundraising goal in record time. It is recognized as one of the fastest capital campaigns at OSU and the first academic capital campaign of this magnitude to reach its fundraising goal prior to the building opening.
"The variety of support we have received shows just how generous our alumni and friends are and that they believe in investing in the future of not only our OSU Agriculture family but also the state of Oklahoma," said Thomas G. Coon, vice president and dean for OSU Agriculture. "Although we have surpassed our fundraising goal, we will continue to raise support for the project to enhance our teaching, research and Extension efforts."
Donna Koeppe, vice president of administration and treasurer for the OSU Foundation, said it could be advantageous for farmers to donate commodities versus writing a check or giving cash.
"If a farmer sells grain and gifts the proceeds to the OSU Foundation, the income recognized from the sale is ordinary income to the farmer, subject to self-employment tax," she said. "Donating the commodity instead of the sales proceeds may mean that the farmer will not recognize any income for the commodity itself, which means the producer may pay no self-employment tax on the value of the gift. The producer may still be able to deduct the expenses associated with the donated commodity."
To learn more or donate agricultural commodities to the New Frontiers campaign, farmers can contact the OSU Foundation at 800-622-4678 and consult their tax advisors to understand potential benefits.
The New Frontiers campaign was launched in January 2020 to build a new state-of-the-art facility for OSU Agriculture. The New Frontiers Agricultural Hall, expected to open in fall 2024, further advances teaching, research and Extension efforts that are critical to the state's economy, citizens' safety and quality of life. By advancing OSU Agriculture and its programs, New Frontiers is fostering innovation to help feed the world.
Story By: Alyssa Hardaway | alyssa.hardaway@okstate.edu