Poli Sci and Philosophy double major Payton Dougherty named an Outstanding Senior
Friday, May 7, 2021
Media Contact: Jacob Longan | Coordinator of Communications and Marketing | 405-744-7497 | jacob.longan@okstate.edu
Payton Dougherty of Yukon, Oklahoma, was recently recognized as one of 22 Outstanding Seniors for 2020-21 by the OSU Alumni Association.
The Political Science (Honors) and Philosophy double major also minored in Law and Legal Studies and got involved with organizations ideal for someone with her eyes set on law school.
"In my time at OSU, I served as the Student Government Association Supreme Court Chief Justice, a CAS Senator, member of the CAS Student Council, and the Moot Court Coach and first-ever Diversity Director of the Oklahoma Intercollegiate Legislature," Dougherty said. "I've also tutored at the OSU Writing Center throughout college, and I co-authored a paper while working as a Political Science research assistant about World Trade Organization dispute settlement proceedings."
Although Dougherty made the most of her time at OSU, she said the pandemic did stymie her senior year plans to some degree.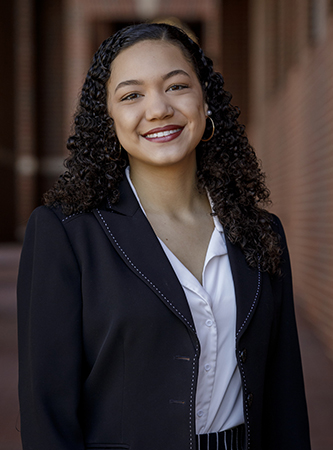 "It's hard when college as you've known it ends earlier than expected," Dougherty said. "I can't help but regret the times I turned down opportunities because I thought they would come up again, but this has shown me how much more important it is to never take anyone or anything for granted."
She went on to say that in fact her favorite time at OSU actually began during the pandemic when her best friend, Destinee Adams, asked her to "help plan a Black Lives Matter demonstration on campus."
"After organizing a Juneteenth rally and protest for black lives on library lawn, we and three other Black seniors went on to found OK State Stand United — a grassroots campus movement and independent platform for student advocacy," Dougherty said. "We used input from marginalized people at OSU to create the foundation for a new university-wide DEI [Diversity, Equity and Inclusion] plan, which we've worked with faculty and staff to develop throughout the school year."
Dougherty is taking what she learned in class and on campus into her next venture: a public affairs fellowship at VOX Global DC. Looking back over her years in Stillwater and the array of experiences she's had, Dougherty offered some advice to her freshman self.
"Stop holding back, and let yourself live. Don't underestimate what you can do with the right people by your side, and be grateful for every moment with them," Dougherty said. "OSU has shown me what a real community looks like, and I hope to find a community again when I move to Washington, D.C., after graduation."
Story by: Elizabeth Gosney, College of Arts and Sciences graduate student