CAS associate dean Borunda named American Physical Society fellow
Thursday, October 26, 2023
Media Contact: Elizabeth Gosney | CAS Marketing and Communications Manager | 405-744-7497 | egosney@okstate.edu
On Oct. 19, the American Physical Society announced its newest cohort of 153 fellowship recipients. Among them was Oklahoma State University physics associate professor Dr. Mario Borunda.
Borunda, who serves as an associate dean and senior inclusion officer for the College of Arts and Sciences, is one of just 10 APS fellows ever selected from OSU.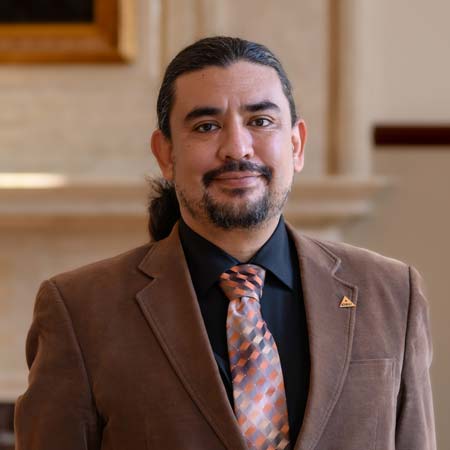 "[He was chosen] for providing tireless leadership on numerous national diversity initiatives, bridging between APS, the National Society of Hispanic Physicists and the Society for the Advancement of Chicanos/Hispanics and Native Americans in Science, and disseminating effective practices for improving the climate in physics," APS stated.
Since 1921, the APS Fellowship Program has recognized those making outstanding contributions to physics research, application, education and leadership. Fellowship selection is considered exceptionally prestigious and exclusive; no more than one half of one percent of the society's professional members is chosen for the honor each year.
"I am very pleased that Dr. Borunda's work at the national level in opening opportunities in physics for all has been recognized by APS," said Dr. Keith Garbutt, interim dean of the College of Arts and Sciences. "The college is fortunate to have as our SIO a scientist with a national reputation for tireless work in inclusion. We congratulate him on this well-deserved award."
Borunda earned bachelor's degrees in physics and mathematics from the University of Texas at El Paso and a Ph.D. from Texas A&M. He spent almost four years at Harvard as a postdoctoral research associate before coming to OSU in 2012.
In a field teeming with accomplished people, Borunda is "thrilled to be recognized by his peers for election to fellow."
"This honor is an opportunity to reflect on these organizations' work supporting people who are traditionally excluded from physics," Borunda said. "It is also humbling because I never assumed working with diversity-centered organizations would be rewarded. From the college's point of view, for the senior inclusion officer to be recognized at the national level for their work on diversity and inclusion is terrific. I hope it brings more credibility across all our work to improve the climate in all CAS units."
In addition to his teaching, research and CAS leadership role, Borunda served on the APS Committee on Minorities from 2018 to 2021 — including committee chair — and was elected to the APS Forum on Diversity and Inclusion's executive line in 2022.
"Several people mentored me in my career, and I wanted to do the same with students from underrepresented backgrounds," Borunda said. "One of my goals has been to ensure that my program is welcoming for all people, including those traditionally underrepresented in STEM disciplines. Fortunately, my department heads over the years — John Mintmire, K.S. Babu, Dave McIlroy and Flera Rizatdinova — have encouraged me to perform this service to DEI efforts and recognized the value of that work."
To learn more about APS fellowships, visit the American Physical Society website.