OSU alumnus creates new technology aimed at revolutionizing at-home infusion treatment
Friday, January 29, 2021
Mitchell Berenson left corporate medicine in 2008 with the goal of creating strong IV infusion programs in rural hospitals. His Dallas-based company, Community Infusion Solutions, now works with 40 hospitals in 22 states, and, with the help of OSU's entrepreneurial program, he's launched a new product that could revolutionize in-home infusion treatment.
Home infusion therapy allows patients to administer medication directly into the bloodstream without leaving their homes, and can be used to treat a variety of conditions, from cancer to neurological conditions or disorders of the nervous system. According to a study by the National Home Infusion Association, in 2019 home infusion and specialty providers cared for more than 3 million patients in the United States, representing a 300% increase since the last industry study in 2008.
"The compliance rate for patients infusing in the home is about 35 percent," Berenson said. "We're talking about people who leave the hospital, many of them very ill, and only 35 percent of them take their medicine the way they're supposed to. That's why the readmission rates into hospitals are so high — in some cases, almost 50 percent.
"For so many chronic diseases, like diabetic foot infections, bone infections and rheumatoid arthritis, each has prescribed IV infusion therapy that can be done at home, but if the patient is not compliant with the doctors orders, the diabetic foot infection will turn into an amputation, then an infected stump, and then death. Unfortunately, it's that clear and tragic," said Berenson.
"In fact, Oklahoma has the second highest lower limb amputation rate tied to diabetes, and Mississippi has the highest rate, which is why Community Infusion Solutions launched there in 2008 has since reduced readmission rates for such diseases as much as 300%."
The new device, called IV Ensure, uses remote monitoring to help patients monitor their health and improve compliance and health outcomes. Berenson said the device will help prevent problems from spiraling out of control and chewing up precious health care resources.
"If you can reduce readmission rates and that cascading effect that creates a lot of health care consumption, then it means more health care for other people."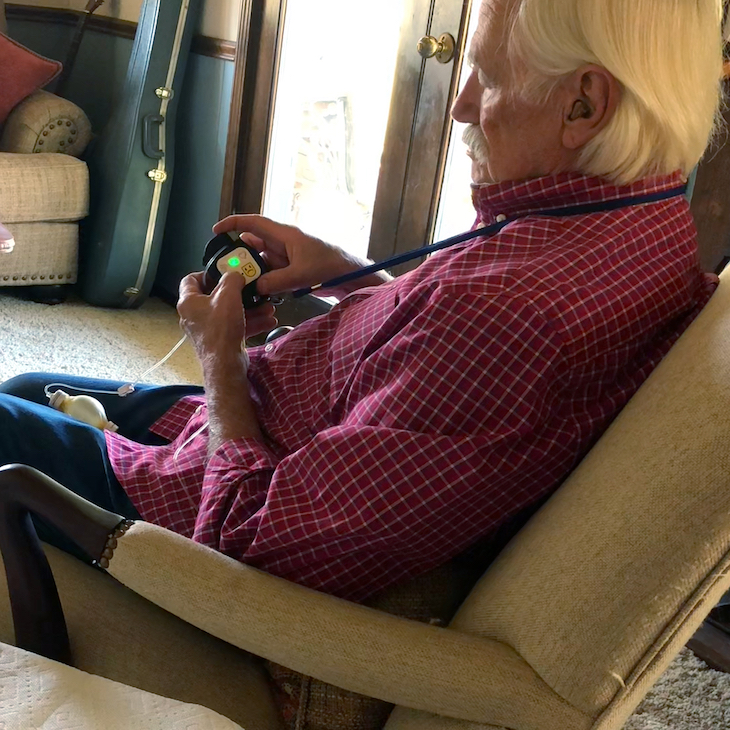 Berenson said the product has major potential for rural areas in particular, but the scope of the patient compliance is global and his vision is, too.
"In rural areas, it's a real challenge because patients often go to the big cities. They get life-flighted or transferred there to see a specialist. But when they return to the rural environment, often they will be very challenged there.
"People always ask me, 'That's a very narrow niche; how on Earth did you come up with that idea?' The answer is when I was working at the Children's Hospital of Oklahoma, I saw children who were in the hospital who would get relief — very sick children who would get stabilized and end up going back to rural Oklahoma where they would pass away. They simply couldn't survive once they went back home."
The issue, he said, was in a lack of continuity of care. For many patients, leaving the hospital is not the end of treatment, and follow-through can mean the difference between life and death.
"For rural patients getting treatment in big cities like Dallas, the continuity of care hasn't been there when they return home, so patients have really struggled. So that's why we started Community Infusion Solutions — to address that."
Community Infusion Solutions joint ventures with rural community hospitals to develop and manage their outpatient IV infusion and oncology programs. Berenson said the company has developed 80 programs, created a 90 percent culture of patient drug adherence rate, and delivered $70 million in cash flow for rural hospitals to date.
Berenson said IV Ensure was the next logical step in his quest to improve health outcomes. One of the first steps he took to getting his product off the ground was going back to his alma mater, Oklahoma State University.
"I'm an entrepreneur, a serial entrepreneur, but I've never worked on a piece of biotechnology before, from FDA approval to patents and all these other pieces," Berenson said. "So, when this question came up of what my next step would be, I went back to the people that I trusted, who I knew had integrity."
Fellow OSU alumni Stuart Kennedy, an entrepreneur; Brent Kisling, executive director of commerce for the state of Oklahoma; and Matt Bowler, the head of OSU's MBA program, offered Berenson counsel. Bowler also linked Berenson up with David Thomison, a clinical professor of entrepreneurship at OSU.
"It honestly felt like I was pitching [Thomison], like you might see on Shark Tank or something," Berenson said. "David is such a wise man. After about 15 minutes, he said, 'I want our students to get an opportunity to work on this project and help you with the financial plan and model for this product.' I was just blown away."
After working with Thomison and four OSU students on the groundwork to bring the product to market, IV Ensure now holds three patents and is in the final stages of beta testing. The company aims to launch the product within the first quarter of this year and is in discussions with insurance companies in Oklahoma and other states to cover the product.
Bowler said he was eager to connect Berenson with resources at OSU, both for the opportunity it would afford students and to see Berenson's vision become reality.
"The impact of IV Ensure is going to be huge for multiple stakeholders including caregivers, insurers, and most importantly patients," Bowler said. "As MBA director, it is wonderful to see our Spears alumni like Mitchell Berenson making such great contributions and bringing our Spears MBA students along with him in that success. Relative to the innovations that we work with in the MBA program, this is one of the most exciting because of the life improvements it will bring to patients. For our students, especially the four students working on this project, it is wonderful to get to make such a contribution to society through this project."
Berenson said he couldn't have made his vision a reality without his Cowboy connections and the lessons he learned while making them.
"So much of the success we've had within our company, and myself professionally, is tied to my activity at OSU from '94-96."
In particular, Berenson mentioned such important lessons from OSU as one from Dr. Kent Olson, professor emeritus of economics, who told him that health care is not an unlimited resource.
"[Olson] said if you squander it, then some people aren't going to get it at all. And that is a perfect example of rural America," Berenson said.
"When I was at Oklahoma State, I had this philosophy that if you had your palm open and your hand up, Oklahoma State would fill that. You didn't have to ask; it would just happen. This is just yet another example. To say that I feel fortunate to be involved with OSU and have that relationship is truly an understatement."
MEDIA CONTACT: Mack Burke | OSU Editorial Coordinator | 405.744.5540 | mack.burke_iv@okstate.edu
Melissa Flynn | IV Ensure media relations | melissa@melissaflynnpr.com