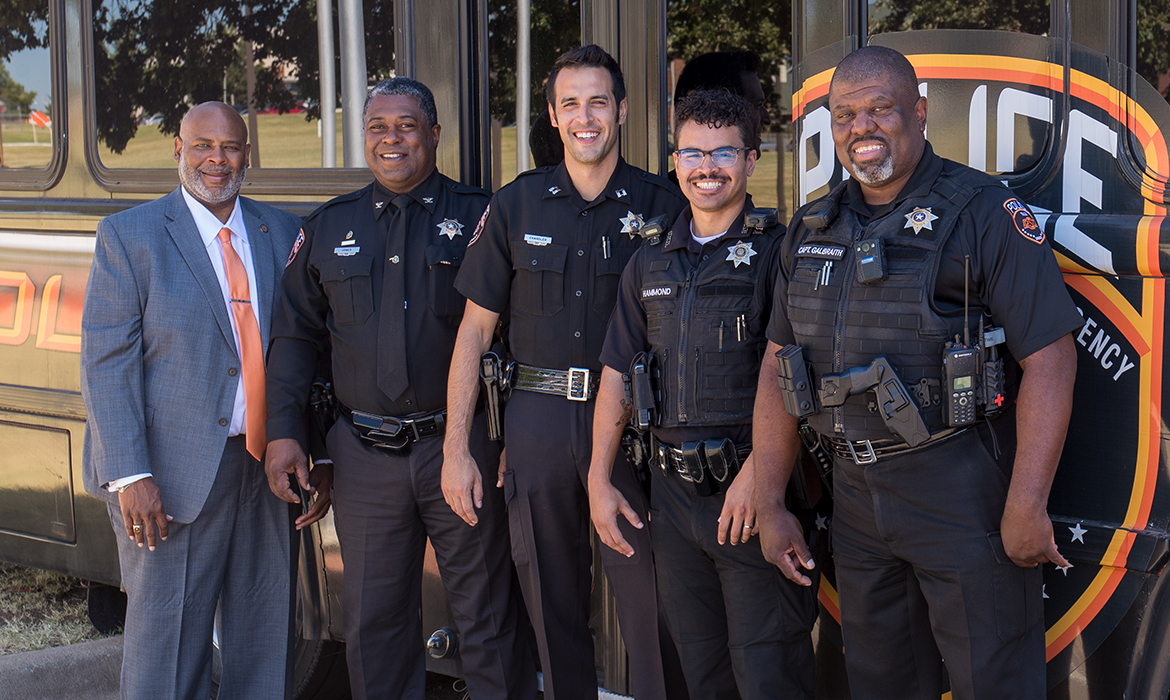 OSU alumnus fulfills dream; joins OSUPD ranks
Monday, November 29, 2021
Media Contact: Mack Burke | Editorial Coordinator | 405-744-5540 | mack.burke_iv@okstate.edu
With love for his community and a deep desire to serve, Cole Hammond has always wanted to make a positive difference in the lives of those around him. Now, he's able to put those feelings into action as a new member of the Oklahoma State University Police Department.
Originally from Bartlesville, Hammond came to OSU in 2014 as a freshman studying sociology. He fell in love with the community-oriented campus. As he began to plan for life after graduation, he realized he didn't want to leave behind that closeness. He began to explore careers where he could dedicate his life to helping people and still have a sense of camaraderie. His search led him to pursue a career in law enforcement.
"Law enforcement was something I was exposed to as a child," Hammond said. "My mom worked as a child protective services investigator, so I got to know a lot of the guys in my local department really well. Seeing that they were such a good group of guys helped me to have a positive perspective on law enforcement. It was a profession I respected a lot and wanted to be a part of."
He wanted to stay in Stillwater and work for OSUPD right after graduation, but there were no openings in the department. For two years, he worked with DHS and child welfare before he saw a job posting for OSUPD.
"OSUPD just drew me in," he said. "Being a student, you really see the officers everywhere. They are so approachable and willing to help. It's different than in a city; it's way more community-oriented so, of course, that really drew me in."
Although he has had such a positive experience with law enforcement, Hammond recognizes that's not the case for everyone, particularly other people of color. It's one of the reasons he believes diversity in the department is so essential.
"I know there are some towns in Oklahoma that might not be as diverse or have as diverse departments," he said. "But when people come to our campus, they see different officers and people in this department. Having that diversity helps in every facet of life, whether it's surrounding yourself with a group of friends or promoting that in the workplace. It teaches you to interact with and respect people with different viewpoints and cultures."
Hammond is still finishing up his training, but he loves his work. One of his favorite parts of the job is how visible and active officers are on campus, particularly through the Community Engagement Officer (CEO) initiative. The initiative pairs officers with different groups on campus to act as liaisons and resources with the goal to build a trusting relationship between the department and community it serves.
"I know there are officers with the Native American Student Association, Asian-American Student Association, LGBTQ+ groups and more," Hammond said. "We want to make sure that each diversity group is represented well on campus."
Hammond is excited to be paired with the African American Association on campus.
"I feel that being a minority in this country as well as a police officer has a lot of benefits, especially when I see younger kids with different skin colors," Hammond said. "I want them to see me and realize there is room for all different people in this profession."
The CEO initiative reflects the heart of OSUPD to prioritize diversity not only on campus but also within the department, with a new statistic showing that 33 percent of the department is diverse.
"The leadership of OSU command staff is among the most diverse you'll see anywhere, particularly on college campuses," said Dr. Jason Kirksey, vice president for institutional diversity and the chief diversity officer at Oklahoma State University.
The department is dedicated to providing the best possible police service to the OSU community, Chief Leon Jones said, and a part of guaranteeing that goal is fulfilled is making sure all people are represented and comfortable with the force.
"We want to make sure we are creating diversity for people, period," Jones said. "We want people to feel comfortable talking and coming to us. If they see we are diverse and trying to do everything we can to make sure everyone is represented, it can help them trust us and feel more comfortable."
Hammond said that commitment is evident every day.
"I've felt nothing but welcome in my hire and training and being a part of this department," he said. "I've seen openness and encouragement working with anyone who comes in and is qualified, regardless of what they look like. Being a part of this community, this Cowboy family, and being there to serve is really satisfying."
Story By: Kylee Sutherland | kysuthe@okstate.edu