Oklahoma State University College of Education, Health and Aviation (EHA) faculty and administrators recently reconnected with the OSU Belizean doctoral cohort for a special alumni reception held in Belize City in February. The trip was planned in conjunction with several other activities, including the Consortium for Belize Educational Cooperation conference which designs, develops and implements collaborative programs and activities to address higher education needs in Belize.
"The trip was purposeful and productive," says John Romans, EHA dean. "We were excited to offer an opportunity for the cohort to come together years later.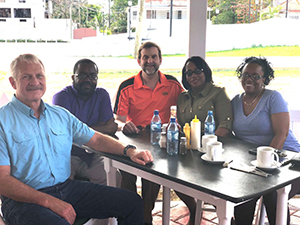 The relationships they have formed and the work they are doing is extremely significant. Even more so, it's rewarding for our college to continue to be a part of the on-going efforts to further educational resources in Belize and inspire leadership internationally."
EHA launched the doctoral cohort in 2007 to meet the need for an advanced degree option for Belizean students who wanted to pursue a career in higher education. The graduate program provided students with access to advanced curriculum, faculty expertise and research opportunities that were otherwise unavailable.
The educational journey has certainly paid off for these students. The knowledge and experience they gained throughout the program has allowed them to pursue prominent careers within Belize's educational system. They are truly an impressive group, occupying impactful roles as principals, superintendents and members of the Ministry of Education (MOE).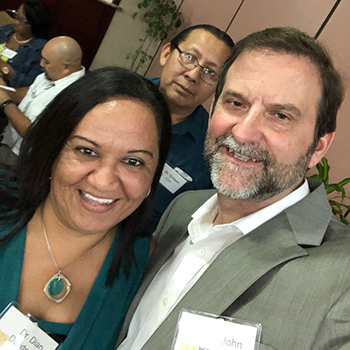 Carol Babb, cohort graduate, serves as the Chief Education Officer for the Belize MOE. As one of the highest ranking members of the MOE, Babb has supported literacy programs countrywide to increase literacy rates, implemented school improvement plans to increase the quality of education offered to students and overseen the opening of four new schools.
College representatives made the trip to Belize to not only recognize the outstanding achievements of these graduates, but to also encourage educational initiatives in high-need areas. As part of the trip, Dean Romans and EHA faculty members, Dr. Harris and Dr. Tutaleni, visited Ocean Academy, the first and only high school on the island of Caye Caulker. The college has supported the school's mission for many years. In May 2014, an EHA class delivered and installed a brand new computer lab for Ocean Academy as part of a service-learning project.
Another highlight of the trip was strengthening alumni relations. Cohort members connected with Claudia Humphreys, a 1985 College of Agricultural Sciences and Natural Resources alumna who opened up her home to the group. Humphreys and her husband Gary are long-time OSU supporters. This trip and EHA's partnerships in Belize complement Humphreys' passion to further educational opportunities and the OSU brand throughout the country.
"As leaders in education, it is rewarding to see our graduates become innovative contributors to educational systems across the globe," Romans said. "I'm excited about future international possibilities and expanding the Cowboy family."