NASA award to bring earth and space science to Native American communities
Thursday, February 18, 2021
Native American communities, storytelling and earth and space curriculum are set to combine in one ambitious project made possible through a $3.3 million National Aeronautics and Space Administration (NASA) cooperative agreement with Oklahoma State University College of Education and Human Sciences.
Funding from NASA's Science Activation program will unite three of Oklahoma's Native American communities with OSU professors to develop curriculum on earth and space science, technology, engineering and math (STEM) lessons, said Dr. Kat Gardner-Vandy, principal investigator of the program and assistant professor of aviation and space in the School of Educational Foundations, Leadership and Aviation. While many such curricula exist, Gardner-Vandy believes this is one of the first formal earth-sky curriculum to highlight Oklahoma's diversity of Native American culture that will result in curriculum that meets Oklahoma state standards.
"Our goal is to work with individual nations and collaborate with them," said Gardner-Vandy, who is herself a member of the Choctaw Nation of Oklahoma. "In Native American culture, it's important to include elders, the community as a whole, culture and language into education efforts."
The program, titled "STEM Pathways for Native Americans: Bridging Native Knowledge of Earth and Sky with Traditional STEM Programming through the 'Native Earth-Sky' Program," will incorporate Native American stories related to earth and space science into middle school STEM curriculum, which will first be tested in a summer camp format and then become available online as an open educational resource.
"In a traditional curriculum, there is often a very Westernized way of looking at science," Gardner-Vandy said. "It might include the scientific method and an experiment, but it won't incorporate storytelling and language. Our Native Earth | Native Sky curriculum will incorporate all these things. It will look more like STEM, language arts and social studies together."
Gardner-Vandy, along with co-investigators Dr. Kalianne Neumann, assistant professor of educational technology; Dr. Toni Ivey, associate professor of science education; and Dr. Juliana Utley, professor of mathematics education; report this is the first time Oklahoma has been home to one of NASA's Science Activation programs. Neumann brings expertise in educational technology, especially in managing Google classrooms, while Ivey specializes in creating curriculum and mentoring teachers in teaching STEM. Meanwhile, Utley has led many teacher professional development programs at OSU, and Gardner-Vandy is an earth and planetary scientist. The program will also collaborate with OSU's Center for Sovereign Nations as well as researchers at the University of Alaska Fairbanks and the Smithsonian Institution.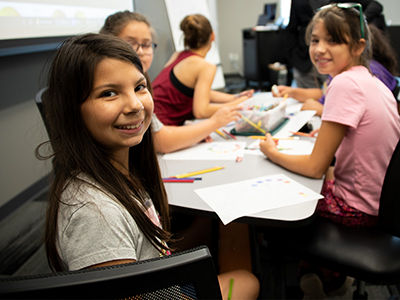 OSU has had a strong history of working with NASA through NSPACE (NASA STEM Pathway Activities – Consortium for Education), a program distinct from the Science Activation program. Through 16 innovative NSPACE activities for students ranging from kindergarten to graduate school, Dr. Susan Stansberry, OSU professor of educational technology, estimates NSPACE activities reach more than 337,000 students and 82,000 educators across the U.S.
Now, Gardner-Vandy plans to expand on that legacy.
"One of the main reasons Native Americans are so underrepresented in science and engineering fields has a lot to do with culture and community," Gardner-Vandy said. "By adding that Native American culture and language into our curriculum, we're including Native American communities in the conversation."
Rather than space being the final frontier Native American students explore, Gardner-Vandy hopes to use her passion for planetary science as a catalyst to capture students' curiosity and expand possibilities and frontiers in science and engineering fields while also building on OSU's land-grant mission.
"When you start talking about what's happening, say, on Mars or The Moon, everyone gets excited to learn more," Gardner-Vandy said. "As a land-grant institution, we are here to serve Oklahoma's communities, and what better way to do that than by collaborating with Oklahoma's Native American nations in celebration of the earth and space."
Additional resources
MEDIA CONTACT: Brittany Bowman | 405-744-9347 | brittany.bowman@okstate.edu