College of Education and Human Sciences 3MT winners announced
Tuesday, October 18, 2022
Media Contact: Kirsi McDowell | Senior Communications Specialist | 405-744-9347 | kirsi@okstate.edu
The 2022 College of Education and Human Sciences Three-Minute Thesis (3MT®) was held on Thursday, Oct.12. Developed by the University of Queensland in 2008, 3MT® is an opportunity for graduate students to showcase their research interests and presentation skills in a short three-minute verbal presentation, with support of a single unanimated PowerPoint slide.
Two consecutive sessions of eleven graduate student presentations were judged by faculty and staff members to determine who would move on to the university-wide event later this semester. Judging criteria is based on comprehension and content as well as engagement and communication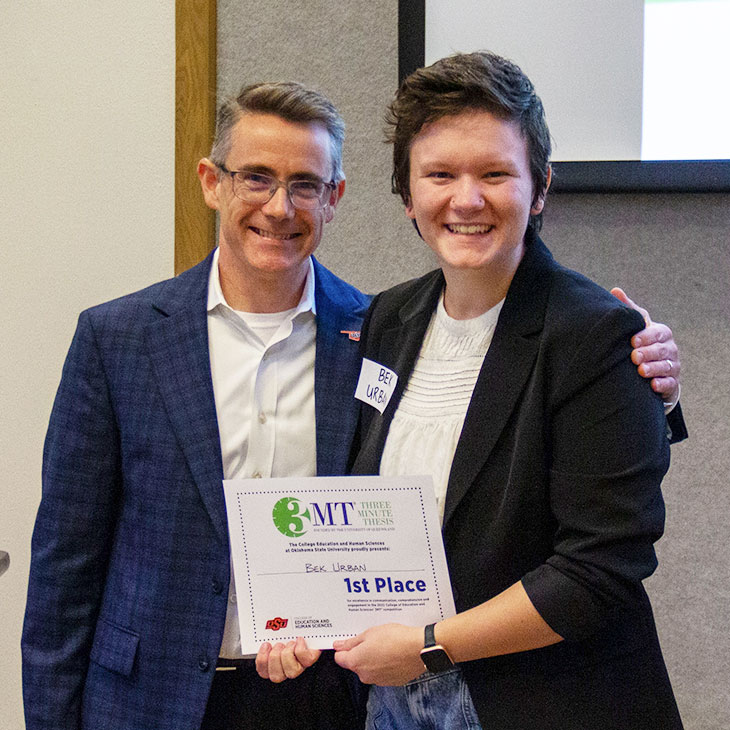 The first place and $300 prize winner for the college's event is counseling psychology doctoral candidate Bek Urban. Urban's thesis topic covers Discrimination Trauma and Eating Disorders in Trans and Nonbinary Adults; part of continued research in disordered eating and body image in transgender and nonbinary individuals, as well as weight stigma and diagnosis bias.
Taking second place and winning a $200 prize is Dominic Egure, presenting on ECHO Education Nigeria.
In third place, receiving a $100 prize, is Temitope Olabiyi with a presentation on the Impact of Transformative Practices in Nigerian Special Education.
Each year a participating student is selected for the People's Choice Award with a cash prize of $300. This year's winner is Kirkita Panwar for a presentation on the Power of Digital Stories.