Dawning New Days
Thursday, June 10, 2021
Media Contact: Samantha Siler | Communications and Marketing Manager | 405-744-2977 | samantha.siler@okstate.edu
As the first specks of light caress a white building, a young woman approaches the door.
Kneeling to adjust her battered pant leg, she's overwhelmed with a memory.
Not long ago, she approached a different building to conduct her research. Thoughts of the challenges she faced there bring a grimace to her face. However, like the sun, the old brick and mortar gave way to a new dawn.
During the 2018-2019 school year, Brittany Lippy, Oklahoma State University animal science doctoral candidate, conducted her undergraduate honors thesis at the original OSU Animal Nutrition and Physiology Center west of Stillwater.
"I had 30 individually stalled sheep," Lippy said, "but those stalls were built for cattle."
Lippy adapted the stalls for sheep by installing heavy floor mats to protect the sheep's hooves, she said.
"I had to individually put hog panels down the middle of the stalls to make them smaller for the sheep," she said.
Lippy experienced more challenges in the winter months, she said.
One cold night on the way home from Edmon Low Library, Lippy stopped to check the sheep and discovered a water leak, she said.
The pipes in the 1970s building could not withstand the below- freezing temperatures, Lippy said.
The building was outdated, said Keith Owens, associate vice president of OSU Ag Research.
Similar to Lippy, OSU faculty also had difficulties maintaining equipment in the aging facility, said Blake Wilson, animal and food sciences assistant professor.
"The squeeze chute we had was pretty old," said Andrew Foote, animal and food sciences assistant professor.
Using up-to-date equipment, like a proper squeeze chute, is the best practice for accurate research and safety, Foote said.
The old facility was labor intensive for project preparation, Wilson said.
"If you wanted to run a research project out there, you had to have all hands on deck for a week or two just trying to get the facility into usable shape," Wilson said.
Faculty, staff and students faced problems with the old facility's insulation and drainage systems, Foote said. Therefore, extra biosecurity precautions were necessary to prevent sample contamination, he added.
"The old facility did not prevent faculty and students from doing research," Wilson said. "But, it was more of 'we had to make it work' because we had research to do."
Conducting safe research involving animals is a constantly changing process, Owens said. Researchers take safety seriously, he added.
"The available technology and what we know about an animal's wellbeing has changed," Owens said. "We needed a better facility."
A committee formed within OSU Agriculture began designing a "dream" building, Wilson said. The committee had engineers and architects look at the existing structure, he added.
"The base foundation of the facility was in a state of disrepair," Wilson said. "Even if we stripped everything out there, really there wasn't anything worth saving."
Visiting other institutions' new, similar facilities was a major aspect of the planning, Owens said. Implementing successful elements from different facilities and altering less successful ones helped create the blueprint for OSU's center, he added.
A $7.1 million budget constructed a 23,000-square-foot building consisting of three wings west of Stillwater, Oklahoma. The budget was funded internally with support from animal science alumni for maintenance costs, Owens said.
"The new design of the working facilities is vastly superior," said Paul Beck, OSU animal and food sciences associate professor.
Each wing of the center has a unique use, Owens said. One is for large animals, one is for smaller animals, and the other is for aquatic ecology, he added.
The large animal wing has two large rooms, each with metabolism stalls. Owens said the building's design prioritizes animal health and safety. Upcoming projects in the facility include cattle nutrition trials, Foote said.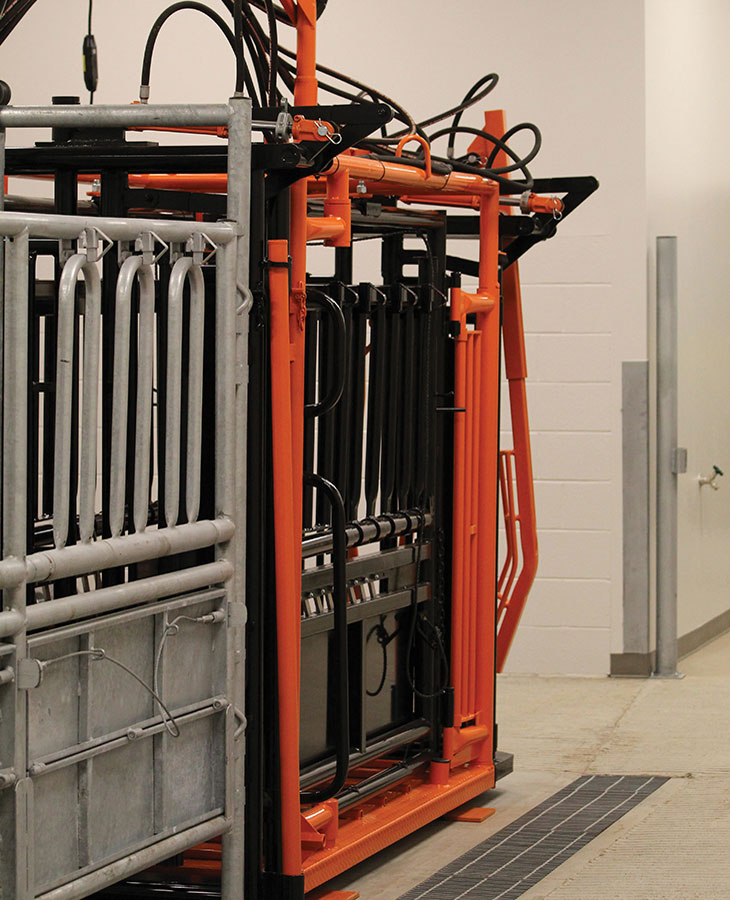 "In a metabolism trial, we're looking at the source of fat in feedlot diets and the concentration of fat," Foote said. "The trial is a factorial look at the effects of the type of fat on fiber digestion and feedlot finishing diets."
The trial will compare commodity soybean oil to GMO soybean oil with a different fatty acid profile, Foote said.
"There's a chance the oils may affect fiber digestion differently," Foote said. "We may be able to feed a little bit more fat to increase the energy density of the diet and not have negative effects on nutrient digestibility."
The small animal wing consists of lab space and individual rooms with the ability to control lighting and temperature, Owens said.
Research involving chickens will look at probiotic use to avoid infection, Owens said. Limiting antibiotic use
in animals has led to probiotics as a preventative measure, he added.
"The facility is designed so we can have separate rooms so the flow of air is independent of different treatments," Beck said.
The third wing is unique unto itself, Owens said. The fisheries and aquatic ecology area is equipped to adjust light, temperature and humidity to replicate cave environments, he added.
"There are various endangered crayfish, salamanders and even fish we have not been able to do research on until now," Owens said.
Lippy is intrigued by the aquacultural research planned for the facility, she said.
"Being from a mid-Atlantic state where aquaculture is the No. 2 agricultural industry," Lippy said, "it is really cool to have aquacultural research done in a completely landlocked state."
The facility will feature 10- and 500-gallon aquarium tanks. Varied sizes allow for diverse research trials, Owens said.
Researchers will look at how water opaqueness affects hunting habits of sportfish, like bass, by imitating reservoir ecosystems, Owens said. Other projects will look into fish growth and development, he added.
"Sport fisheries and the number of fishermen in the state outnumber the number of hunters," Owens said. "This situation has a huge recreational and economic impact."
"Just to have the ability to do aquatic ecology research makes us more valuable," Lippy said. "Getting into different things that you would not expect coming from Oklahoma will put OSU on a really cool platform from a research perspective."
"In OSU Extension, we are charged to take research-based information and make recommendations to producers," Beck said. "To make the best recommendations, research should flow right through OSU Extension and to producers so they can use this information as quickly as possible."
Beck said having the facility at OSU will enable OSU Extension specialists to better serve producers.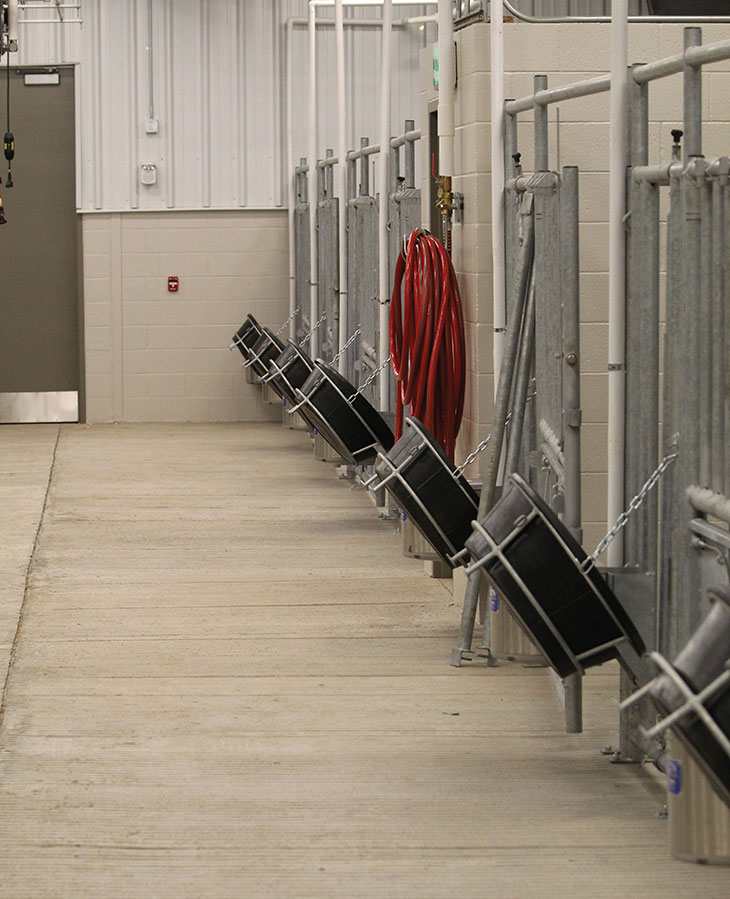 Investments like the new Animal Nutrition and Physiology Center show prospective students advancement is a top priority, Rusk said.
Building a facility featuring cutting-edge technology shows dedication to the students' education and research, he added.
"We do not just talk about it," Rusk said. "We are living it, and here's a building that shows we are putting our money where our mouth is. We say, 'we need this,' and we invested our money to try to have the best possible facilities for our students and faculty."
Foote said potential graduate students who have visited have been impressed with the new facility.
"There are not a lot of facilities at other universities that are similar to this one, especially combining the monogastric and aquacultural aspects in the same facility," Foote said. "Just the aspects we have on the large animal side — this is certainly the newest one in the nation."
The new facility is representative of OSU's quality research, Wilson said.
"Having new technologies, clean stalls and brand new fencing is really appealing," Lippy said, "especially to potential graduate students."
Beck said the new facility sets a higher bar for conducting multidisciplinary research.
"The types of research we can do will be way ahead of what we've been able to do in the past," Beck said.
Opening Jan. 15, 2021, the new Animal Nutrition and Physiology Center is available to all Oklahoma State University colleges and departments. For more information, contact Chris Richards, OSU Field and Research Service Unit director at chris.richards@okstate.edu
---
Story By: Braeden Coon | Cowboy Journal