Developing Dairy Curriculum
Thursday, June 10, 2021
Media Contact: Samantha Siler | Communications and Marketing Manager | 405-744-2977 | samantha.siler@okstate.edu
As a land-grant university, Oklahoma State University serves as an avenue for learning, research and extension, not only for students, but also for alumni, families, community members and visitors of all ages and origins.
The same goes for OSU's livestock units in close vicinity to campus, including the Ferguson Family Dairy Center, which is equipped with a state-of-the-art freestall barn, robotic milking system and new visitor center, which made its debut in Fall 2020.
Management at the Ferguson Family Dairy Center expressed a desire for the visitor center because as many as 3,000 visitors stop by the center each year, an impressive number that intrigued various supporters, including Thomas Coon, vice president and dean of OSU Agriculture, Terry said.
"Because people see it as a destination to learn about the dairy industry or just satisfy some curiosity, the visitor center will be a great feature for the facility," Terry said.
He said Coon recognized if a dairy visitor center was created, it would need to be intentional, purposeful and allow visitors to leave with dairy industry knowledge.
The idea to create specialized curriculum brought in the involvement of the agricultural education, communications and leadership department and the OSU Foundation to find sponsors, Terry said.
"This is a great opportunity for us to do some agricultural literacy teaching and help people understand where their milk comes from, see how a working dairy operates and experience the process of production agriculture," Terry said.
Southwest/Southland Dairy Farmers, a USDA-qualified dairy checkoff program and promotion agency, is supported by dairy farmers across 12 states who give 10 cents per hundredweight of their milk marketed each month toward a local agency of their choice for dairy promotion and education, said Jim Hill, CEO of Southwest/Southland Dairy Farmers.
"OSU came to us because of our reputation in dairy education and promotion, and we thought it was a great fit," he said. "Southwest/Southland Dairy Farmers was eager to contribute.
"Although our Mobile Dairy Classroom dairy education program is a message for all ages, our expertise lies in talking to young children and school students, knowing what they want to hear, seeing their reactions, and answering their questions about dairy," Hill said.
One of the main reasons the organization sponsorship opportunity was enticing was because of the DeLaval robotic milking machine recently installed at the Ferguson Family Dairy Center, Hill said.
The company saw this innovation as a win-win because Southwest/ Southland Dairy Farmers could use the milking technology featured at the dairy in their own outreach efforts, Hill said.
"The robotic milker attracted us because the one thing we want to talk more about in our presentations is modern technology," Hill said.
The opportunity to sponsor this project also provides the Southwest/ Southland Dairy Farmers with a visual way to show dairy farmers what their monetary contributions are going toward, Hill said.
"We've been around for 38 years, so we have our own credentials that are strong, but the collaboration adds credit to our program," Hill said. "It adds credit for our producers who are interested in a facility such as Oklahoma State University as a research center, and it's something that was needed."
Southwest/Southland Dairy Farmers' sponsorship is funding the two-year assistantship of agricultural education master's student Jaycie Heath and will assist in the production cost of the visitor center displays, Terry said.
Since its grand opening last fall, the visitor center has been open to guests, Terry said. However, the learning displays and curriculum are a work in progress dependent on the pieces Heath completes during her assistantship, he added.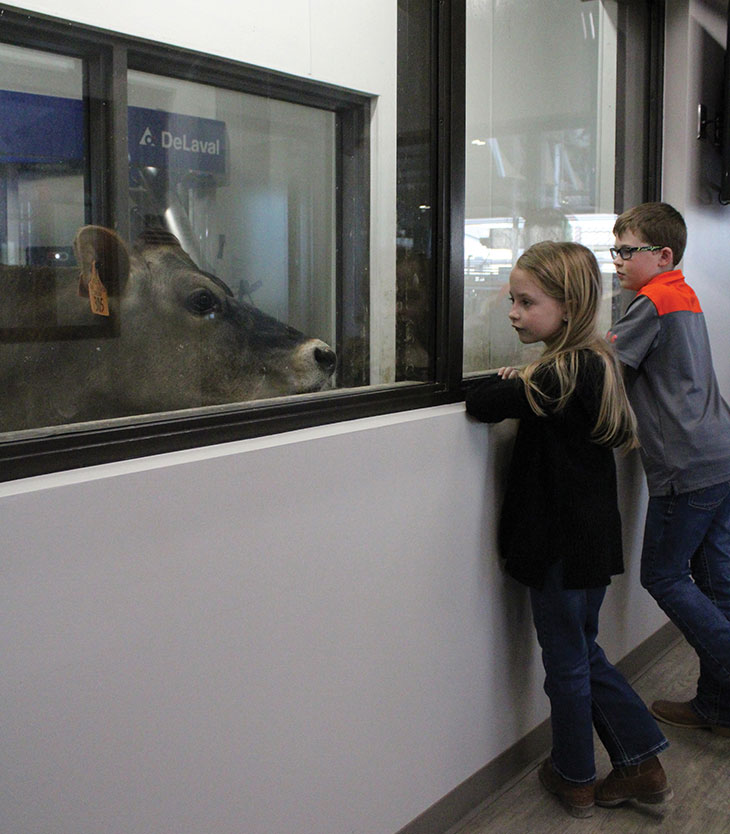 With the support and input of Southwest/Southland Dairy Farmers, Heath is designing a unique matrix of educational content followed by learning activities for an array of audiences, Terry said.
"Our goal is to have a variety of different types of lesson plans for different settings," Heath said.
Around 90 lesson plans are being developed to satisfy a variety of scheduled tours, such as public and homeschool groups, 4-H clubs, and adult groups, as well as unscheduled tours, which would primarily include families or people just traveling through, Heath said.
Curriculum will be presented on wall displays featuring QR codes, with pre-recorded informative videos and through online formats, Heath said.
The variety of formats used to present the material ensures all visitors will receive a well-rounded experience at the visitor center, even if a dairy employee or tour guide is not present during someone's visit, Heath said.
"Online formats give teachers an option to stay in their classrooms if they are not allowed to do field trips," Heath said. "They can play the videos on their screens in their classrooms, and students still get some of the experience without necessarily going to the dairy."
Heath and the other individuals involved in this project may make the displays interchangeable to go along with the season or to accommodate different audiences better, she added.
"Some of the bigger topics we want to showcase are life cycles of dairy cattle, the importance of dairy as a food group, dairy breeds and the robotic milker," Heath said.
While much of the curriculum will be targeted toward children, Heath plans to capitalize on the technology used on-farm, such as the robotic milking system, and the QR code feature to engage adults, she said.
"Our whole goal is to educate about not only the Ferguson Family Dairy Center but also dairying as a whole
in Oklahoma and the United States," Heath said.
The lessons developed by Heath will integrate STEM standards, which will add value in the areas of science, technology, engineering and mathematics, Terry added.
"As an agricultural education major, I know how important it is to have intracurricular activities that link science to agriculture," Heath said. "I want to make sure with each lesson we develop we're hitting some of the core standards for each age group."
Because of the diverse variety of lessons and STEM certification, teachers will be able to tie their lesson plans with the curriculum developed by Heath and be confident in the value it adds to the learning goals they are trying to achieve, Terry said.
After lessons are designed and materials are assembled, the displays and curriculum will go through a pilot period, Terry added.
Various audiences will be sent a pre-test prior to their visits and a post- test after their visits to see if their knowledge and perceptions changed after visiting the center, Heath said.
The learning opportunities the visitor center will bring to the Ferguson Family Dairy Center are key to achieving the land-grant mission of teaching students hands-on and incorporating the research and extension sectors, Terry said.
"If you think about it, there's research taking place, there's teaching with for-credit courses, and then there's extension to people who aren't taking for-credit courses who can benefit from learning something about agriculture," Terry said.
The "learning by doing" concept being done at the visitor center has the potential to be conducted across other animal and plant units, especially because of their convenient location to Stillwater, Terry said.
"We can duplicate the idea of 'learning by doing' if we get the formula figured out," Terry said. "Wouldn't it be neat if a person could interface with a facility and learn about that commodity area?"
The support of the OSU Foundation and Southwest/Southland Dairy Farmers has been instrumental in how things have come together, he added, and they hope to have the visitor center in full swing come May 2022.
"If we can get outside support — get people to believe in what we're doing enough to help fund it — we can really produce some great educational products," Terry said. "You have to have that kind of support to make something like this happen."
---
Story By: Adriana Toste | Cowboy Journal