From Classroom to Courtroom
Wednesday, June 9, 2021
Media Contact: Samantha Siler | Communications and Marketing Manager | 405-744-2977 | samantha.siler@okstate.edu
Macy Griswold sat, hunched over her desk for the second day in a row, taking the longest exam she would ever have. Her hand ached, and the tip of her pencil was losing its ability to write. Soon, the bar exam would be through, and the next chapter of her life would begin.
Griswold, Ferguson College of Agriculture alumna, said she had an interesting career path to get where she is today.
"It was one of those crazy fate things," Griswold said.
Griswold graduated with degrees in animal science and agricultural communications in December 2016.
Griswold's Oklahoma State University studies gave her the ability to interact with people, she said, and she still maintains a close relationship with people from her time at OSU.
"You learn people have different backgrounds and grew up differently," Griswold said. "The people in the Ferguson College of Agriculture are inclusive of all that."
Griswold learned how to handle herself through different circumstances in the Ferguson College, said Jerry Fitch, animal and food sciences professor and her academic adviser.
His strongest memory of Griswold was her competitive and driven spirit with livestock and in her academic career, he said.
"She didn't like to be second in anything she did," Fitch said, "including her classwork.
"Her advising appointments were basically trying to find her niche and where she was going with the rest of her life," Fitch said.
After graduating, Griswold said she took the next semester and the summer off to recuperate.
During that time, Griswold used her agricultural communications skills to run her photography business and spent time figuring out her next step, she said.
In January, her grandfather's death shifted her path, Griswold said. She had contemplated nursing school but made a 180° turn to apply for law school, she said.
"It definitely was a leap of faith," Griswold said.
Griswold said her academic break was a "blessing in disguise."
In April 2017, Griswold toured the University of Oklahoma College of Law. Along with the tour, she also reconnected with Jessie Heidlage, Griswold said. Heidlage, who now serves as a Muskogee County assistant district attorney, was in FFA and on the OSU Meat Judging Team with Griswold while the pair were students in the Ferguson College.
Heidlage was a first-year law student in the OU College of Law when she gave Griswold a student's perspective of law school.
"Macy came to observe class since she was touring OU," Heidlage said.
During her tour, Griswold learned the deadline for the June LSAT was the next day, she said.
"In a matter of hours I was like, 'this is where I want to be — this feels like home,'" she said. "I went home that night, talked to my parents, and said, 'I think I'm going to law school.'"
Griswold registered for the LSAT that night and had six weeks to study for the test, she said.
"Everything was kind of a blur during that time," Griswold said.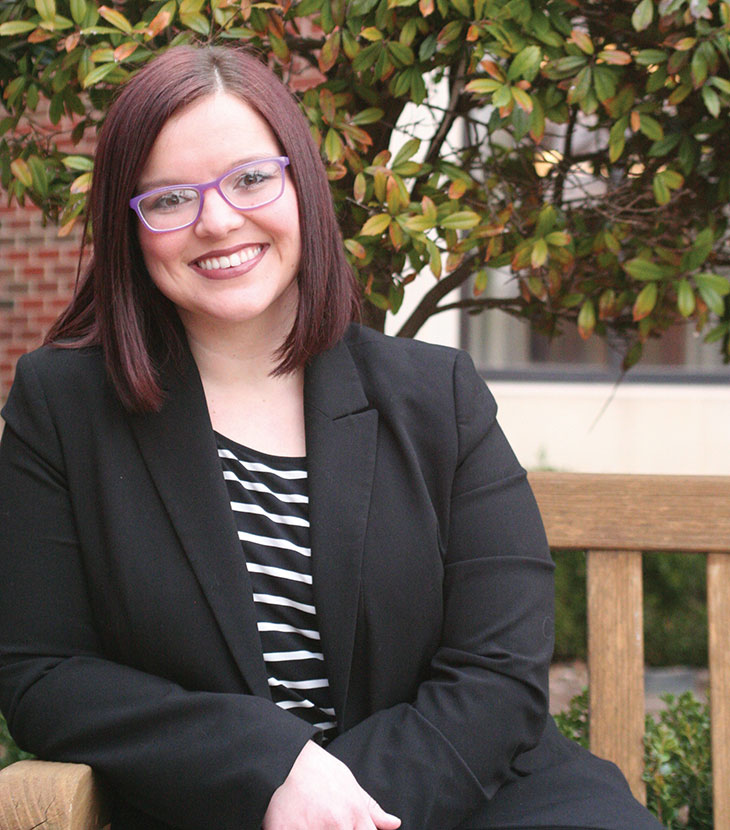 When Griswold started law school in August 2017, she knew she wanted to practice criminal law and learned law school is different from undergrad, she said.
"Law school is definitely a different experience," Griswold said.
Griswold had to adjust her mindset in the first year because law school classes were unlike anything she had experienced before, she said. In law school, most classes do not have homework and students' grades are determined by the final exam, she added.
Every day, students are immersed in new material and required to keep up to date on extensive reading lists, Griswold said.
The competitive atmosphere in law school was intense, Griswold said.
"Once you get to law school, everybody is smart," Griswold said.
Law professors will not give everyone an A, Griswold said.
"You are graded on a curve," Griswold said. "Somebody has got to be at the top, and somebody has got to be at the bottom."
Being driven by her peers was where Griswold found her motivation, she said. Students have to be able to keep up with lectures and discussions or take practice tests to see if they are on the right track through the semester, she added.
"You have a pretty good social life during the semester, and then about two weeks before finals, it's like you don't leave the library," Griswold said. "Finals are two weeks long rather than just one."
Griswold said first-year students either love or hate the Legal Research and Writing class, but she really loved the course because of what she learned in her agricultural communications classes at OSU.
Griswold said her three-semester experience in the University of Oklahoma Legal Clinic was her favorite class.
Brenda H. Barnes, OU Law clinical legal education assistant professor, supervised the class. In the clinic, practicing attorneys supervise the students who each carry a caseload.
Griswold said she had a unique student experience because one of her cases in the clinic almost went to trial before it was settled.
Griswold was disappointed when her case did not go to trial because she had completed all the preparation, Barnes said.
"That was truly a defining moment in my law school career when I decided low-income clients were the clients I wanted to help," Griswold said. "That was the position I wanted to be in."
Gaining courtroom etiquette from the legal clinic was a huge help, Griswold said. Starting her career was "like trying to drink water from a fire hose" but would have been more difficult without her experience in the clinic, she said.
Barnes said her strongest memory of Griswold is the big smile she brought into the clinic each day. She brightened everyone's day, Barnes said.
Griswold was known for putting in more hours than required, Barnes said.
"Once you go to law school, it ruins your experience watching shows like 'Legally Blonde' and 'Law and Order,'" Griswold said. "You are critiquing them and have a more accurate representation of what is realistic and what is not."
Griswold took the bar exam in February 2020, learned she had passed in April, and started her current job for the Oklahoma Indigent Defense System in June, she said.
"When she had her first trial as first chair, I got to go watch," Barnes said. "It was exciting to get to see one of my former students in trial themselves.
"She won!" Barnes said.
Griswold was nervous starting as a lawyer, she said, but she soon found her groove. Griswold is one of the five salaried staff attorneys in Cleveland County, the third largest county in Oklahoma, and works in a satellite office. Anyone who applies and qualifies in Cleveland County for a court-appointed attorney is represented by the office.
As the second newest hire, she has three more-experienced attorneys who provide support when she needs advice, Griswold said.
"My life as a public defender is extremely diverse," Griswold said. "Truly, no two days are the same.
"The ability to effectively and persuasively communicate is the most important thing for a lawyer," Griswold said.
Another key factor to being a good lawyer is to have confidence in your abilities, Griswold said.
"I am in a unique position to be able to help people in ways that a lot of people aren't," Griswold said. "As an attorney, I'm in the position to ask for what people can't ask for themselves."
The career of a public defender often may be overlooked because the position pays less than other areas
of law, Griswold said. However, she would not get the same emotional fulfillment from any other job, she added.
"At the end of the day, happiness is more important than my salary," Griswold said.
Griswold's happy demeanor in her job sometimes surprises people, she said. A big part of the job comes from connecting with people, she added.
"I interact with a lot of different people each and every day, whether that be in person or on the phone,
at the office or in the courthouse," Griswold said. "I like the diversity of my job and the fact that every day I get the opportunity to help somebody."
Griswold's empathy makes her an exceptional attorney, a quality sometimes hard to find, Heidlage said. Griswold invests in her clients on an extra level because of her ability to empathize and hear each client's situation, Heidlage added.
"Macy has a heart of gold, and I know that if you're in need, Macy would give you the shirt off of her back," Heidlage said. "That serves true in her professional life."
Griswold works tirelessly to represent the interests of her clients and serve those around her, Heidlage said.
"She's a giving person," Fitch said. "She's got a heart as big as Oklahoma."
Everyone Griswold meets grows to love her, Barnes said, and she has never met any strangers.
The most important skill for a lawyer is to possess the ability to evaluate facts with an open mind and advocate for any position, Heidlage said.
"Macy embodies that, and it's been evident throughout her life," Heidlage said. "I can only imagine she is an outstanding advocate for her clients now."
Even though her path was unconventional, Griswold said she was proud of where she is.
"I had a very diverse education path," Griswold said. "I might not use everything I thought I might, but I think everything happens for a reason. It brought people into my life I wouldn't have met otherwise, and I wouldn't change anything."
---
Story By: Sarah Palmer | Cowboy Journal