Pickel's Picks
Thursday, June 10, 2021
Media Contact: Samantha Siler | Communications and Marketing Manager | 405-744-2977 | samantha.siler@okstate.edu
Drive slowly or you might miss the turn, but once you know where to go, you will never forget how to get there. Old stone buildings, garden plots and a "Prairie Earth Gardens" sign let you know you have arrived at the right place.
What began as a hobby and a little roadside stand has grown into a professional gardening operation consisting of one greenhouse, three hoop houses and four garden plots, said James Pickel, Oklahoma State University alumnus and owner of Prairie Earth Gardens.
While growing up in Duncan, Oklahoma, Pickel was raised by his grandparents who always had a garden in their yard, he said. Gardening is something he has been around his entire life, he added.
"My first job was going door to door when I was 8 years old selling vegetables to the ladies in our neighborhood," Pickel said. "I went to college so I wouldn't have to grow vegetables.
"Now, here I am, retired from my professional career, growing vegetables," he said with a laugh.
Pickel graduated from OSU in 1972 with an agricultural economics degree. After graduation, he worked in agricultural sales for three years, until realizing his passions were elsewhere, he said.
Pickel spent eight years helping a fraternity brother start his architectural firm, he said. He then spent six years working with a general contractor before becoming co-owner of Smith & Pickel Construction, he said.
After 37 years in the construction industry, Pickel and his partner sold the business at the end of 2013.
Just two years after he retired, Pickel began to expand his personal garden, he said. Owning a professional garden was something Pickel said he never imagined for himself.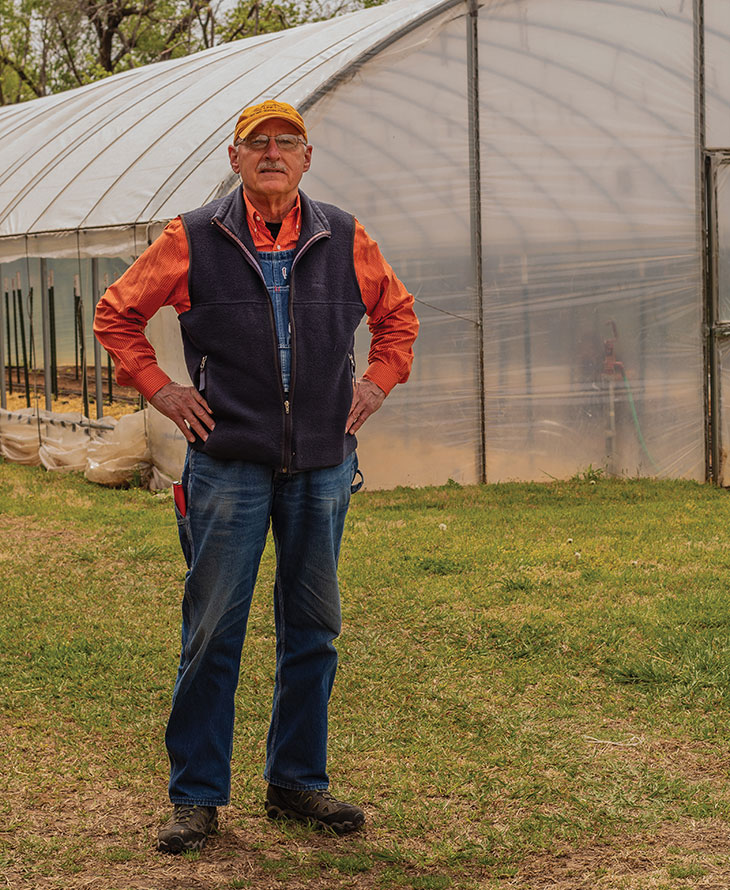 "It's the worst retirement plan in the world but the greatest way of life," he said. "I am no longer the owner of
a construction company, but I still haven't been able to cut back to a 40-hour work week."
Pickel credits the growth of Prairie Earth Gardens to Julia Laughlin, his friend and 4-H Extension educator in Oklahoma County.
Laughlin helped turn Prairie Earth Gardens from Pickel's personal garden to a multi-acre gardening operation, he said.
"I met Pickel at the wedding of a mutual friend of ours," Laughlin said. "I'm not sure either one of us expected this gardening business to come out of our friendship."
Laughlin had just left her job as an associate professor and department head of horticulture at OSU-Oklahoma City in January 2015.
Pickel said he was looking for someone to help at the garden and heard Laughlin was looking for a job.
"Hiring Julia was the turning point for Prairie Earth Gardens," Pickel said. "She has an incredible wealth of knowledge and experience."
Laughlin graduated from OSU with bachelor's and master's degrees in horticulture. With her experience in the industry, Laughlin said she knew a growing need existed for locally grown produce. Starting Prairie Earth Gardens was a dream job, she said.
"I wanted to work with Pickel because of his ideas for the community and his neighbors," Laughlin said. "His enthusiasm drew me in.
"Pickel is a community-minded person with deep roots in Oklahoma agriculture," she added.
The pair's vision came to fruition in 2015 when Prairie Earth Gardens officially opened.
The garden offers a wide variety of produce ranging from crisp lettuces in the winter to tasty tomatoes in the summer, Pickel said.
Prairie Earth Gardens and its nine employees provide fresh produce to local restaurants as well as routine customers throughout the week. The garden also has its own farmers market every Saturday morning.
"Prairie Earth Gardens truly grew organically," Pickel said. "I hate to use the pun, but it's true."
Prairie Earth Gardens once supplied fresh produce to more than 30 local restaurants, Pickel said. When the COVID-19 pandemic hit, that number dropped to zero but has built up during the past year, he added.
"Much of our business with local chefs has grown from word of mouth," Pickel said.
Fortunately, the garden kept its regular customers by continuing to open the Saturday Market and offering new services, Pickel said.
Christy White, Pickel's friend and Prairie Earth Gardens market manager, played an important role in the garden's success during the last year, he added.
White began working at Prairie Earth Gardens in 2017. Before that, she and her mother owned a garden accessory store, Wilshire Garden Market.
"Because of the pandemic, we started offering home deliveries, and people can pick up produce throughout the week," White said. "We call it 'barn- side' pickup."
During the last year, Prairie Earth Gardens built a website and began taking credit card payments, White said.
"Technology and gardening are so different," she said. "It created chaos, but we made it through and grew during the process."
Despite the occasional challenges, White has enjoyed her time at Prairie Earth Gardens, she said.
"I love being able to have personal communication with the customers during the Saturday Market," White said. "I love seeing their excitement about our produce."
Everyone at Prairie Earth Gardens takes pride in what they do, Pickel said. Product quality and customer satisfaction are top priorities for the business, he added.
"There is a distinct difference in the taste and quality of the produce we grow," Pickel said. "It's hard to beat homegrown vegetables."
However, the produce is not the only thing that makes Prairie Earth Gardens special, Laughlin said.
"There is a sense of community at Prairie Earth Gardens," Laughlin said. "Whether you're a customer or an employee, you feel like family.
"Prairie Earth Gardens is Pickel's family," she added.
In addition to owning the garden, Pickel is also a member of several non-profits and other organizations in Oklahoma City.
"Since retiring, Pickel has mellowed out in such a good way," White said. "He stays very busy but is able to commit his time to people well.
"He truly has the best interest of others in mind, no matter what he's doing," she added.
Gardening is now a way of life for Pickel, he said. He enjoys the little things in life and appreciates simplicity, he added.
"We plan to stay who we are," he said. "We aren't trying to become a huge garden.
"It's an enjoyable way of life," Pickel said. "We deal with salt-of-the-earth people who make it all worthwhile."
---
Story By: Chelsea Alexander | Cowboy Journal