STEMing from Adversity
Wednesday, June 9, 2021
Media Contact: Samantha Siler | Communications and Marketing Manager | 405-744-2977 | samantha.siler@okstate.edu
Adversity either motivates individuals or sends them on a completely different path.
Aidan Spencer, 18-year-old Oklahoma County 4-H member and Epic Charter High School senior, took his adversity and channeled it into a new passion.
When he was younger, Spencer was active in both basketball and football.
Adversity struck, Spencer said, and 4-H became a grounding force when his life turned upside down.
In 2014, his entire house burned down, leaving his family with almost nothing left. Just two months later, the car in which Spencer was riding was rear-ended by a distracted driver. This accident left him with a back injury and unable to do many physical things, he said.
Spencer's friends recognized his struggles and began asking him to come to workshops and events put on by Oklahoma County 4-H. He said he believes without his accident he might not have become interested in 4-H.
Before Spencer became active in 4-H, he was confined to his house in a hard plastic back brace, said Virginia Spencer, Aidan Spencer's mother.
"Aidan found his passion for STEM after his accident while looking for a way to channel his energy," said Cody Yount, Oklahoma County 4-H Extension educator. "He is an incredibly talented young man who is continuously applying his knowledge to learn more."
In 2021, the National 4-H Council named Aidan Spencer the winner of the Youth in Action Award for STEM, making him the first individual from Oklahoma to win this honor.
"Aidan has been doing the work for years and has always known what he was here for and found his passion in his involvement in STEM," Virginia Spencer said.
Of the 6.5 million 4-H members in the U.S., only four individuals each year are selected as 4-H Youth In Action winners.
The National 4-H Council reserves the Youth in Action Awards for students who exhibit impact within pillar areas based upon their personal impact story and the influence of 4-H in their lives.
Through this award, Youth in Action winners travel on behalf of National 4-H and become spokesmen for their awards, Yount said.
Aidan Spencer applied for the award during a time of uncertainty when the global pandemic was beginning last March, said Mindy McNeil, Oklahoma County 4-H Extension educator.
All of his time as a Youth in Action ambassador occurred during the COVID-19 pandemic. Even with the adversity he has faced, he has maintained a good attitude and a desire to help others get involved in the community, McNeil said.
"When I first heard I was a finalist, I thought someone was messing with me," Aidan Spencer said. "The lady who interviewed me showed no emotion. I left the interview thinking I bombed the interview."
Aidan Spencer said he realized most things people do in agriculture relate back to STEM. He wants to ensure STEM education is available for all individuals, he said.
"What allowed me to give back so much is having the ability to fundraise through my award for others who are involved in my clubs," Aidan Spencer said. "We could do more projects and make more connections with business partners with more funding."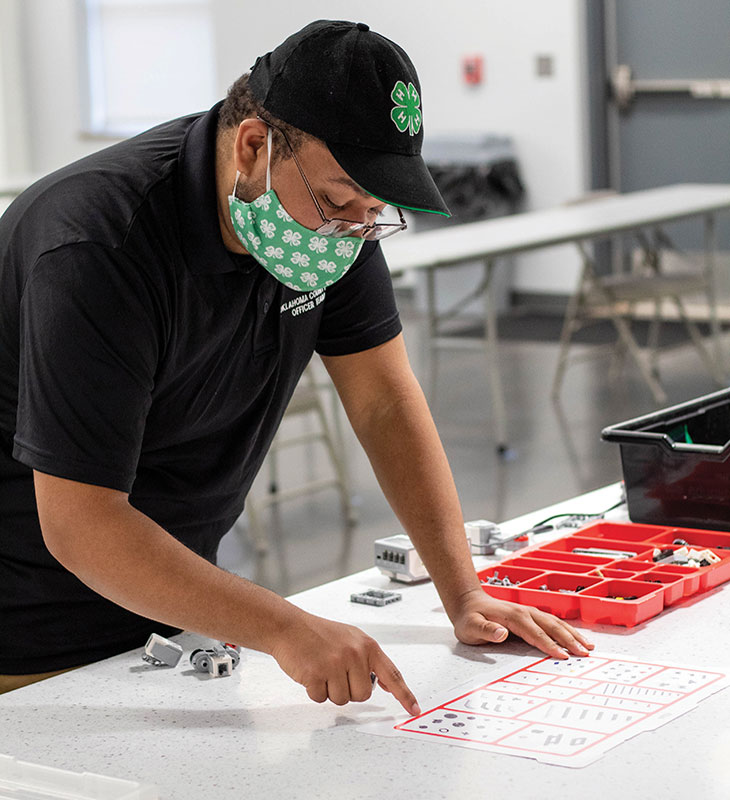 Aidan Spencer has always been passionate about helping others, whether it was his sister who suffers from a chronic illness or helping fight for diversity and inclusion, his mother said.
Aidan Spencer said winning this award allowed him to raise approximately $8,000. As president of his 4-H club, he realized no position handled sponsorships or fundraising, he said.
"I realized a need for this, and I wanted to do more for my club, so I began cold calling businesses in the hope of finding a new way to raise funds for our community members," Aidan Spencer said.
He began working with a program called "Sciencing on Saturday," an activity designed to get children and teenagers involved in STEM, he said.
Aidan Spencer's robotics coach wanted team members to find their passion, Virginia Spencer said.
"When you give children their own voices, that is what allows passion to grow," Virginia Spencer said. "That is how the world is changed."
Aidan Spencer was able to flourish and be passionate about the business and fundraising aspects, Virginia Spencer said.
"We average 60 individuals per event," Aidan Spencer said. "These events are anywhere between dissecting a cow eye to building robots."
With fundraising, the club is able to provide funding for the FIRST® LEGO® League as well as for the com- munity to provide different camps and activities, Aidan Spencer said.
"He's passionate about serving the underserved minority youth and takes any chance he gets he is working to recruit individuals for workshops such as robotics club," Yount said. "He is service-minded, raising thousands of dollars for STEM funding."
Being proud parents is an understatement for Virginia Spencer and her husband, Brendan, she said.
Aidan Spencer is an individual who has always been respectful to others, even those with differing viewpoints, and embraces the idea of having challenging conversations, Virginia Spencer said.
In addition to being a Youth in Action winner, Aidan Spencer is a coach for the robotics competition team in Oklahoma County. He also works with the youngest LEGO® League robotics team, serving as the coach and now mentor to the team.
"Aidan is always wanting to work and serve his community and find new ways to get individuals involved," McNeil said.
Aidan Spencer has worked on the most recent Oklahoma City Metropolitan Area Projects, or MAPS 4, he said. Through his involvement, he was able to work with a team to provide a location for workshops as well as practice area for the robotics team.
During his 4-H journey, Aidan Spencer felt overwhelmed at times and made a few mistakes, he said, but he
is proud of his accomplishments. His mistakes helped him learn to serve his teams and peers better, he added.
McNeil said Aidan Spencer looks for new recruits in the STEM program and includes individuals who otherwise might not have the ability to participate in STEM. He has worked with several organizations to implement approximately 60 STEM-based events to younger members of his community, she said.
"Winning the award and knowing I was the individual chosen still shocks me," Aidan Spencer said. "I am just trying to teach people about STEM."
Aidan Spencer said being able to bring more awareness to Oklahoma 4-H STEM education has meant less about himself personally and more about the message and impact STEM has on individuals.
"This award is bigger than me," Aidan Spencer said.
"The most important thing to me is showing people what they can accomplish and leading by example," Aidan Spencer said. "I invite people to different events, and if they can't come to me, we go to them and find ways to accommodate each individual wanting to get involved in STEM. Anyone can do it."
---
Story By: Savanna Chandler | Cowboy Journal