The Field Less Traveled
Thursday, June 10, 2021
Media Contact: Samantha Siler | Communications and Marketing Manager | 405-744-2977 | samantha.siler@okstate.edu
Not all careers look the same for graduates of the Ferguson College of Agriculture. Although some return to their family farms to continue the legacy of those before them, others enter into the workforce with an occupation far from tradition-al livestock pastures and crop fields.
After his studies at Oklahoma State University, Gregory Schultz found his career in medical research.
"While working at some of the most prestigious academic universities in the world, I was proud to say I got my education from Oklahoma State University," said Schultz, who was named a 2020 Fellow of the National Academy of Inventors. "The phenomenal quality and breadth of instruction that goes on at OSU is outstanding."
Schultz graduated from OSU in 1971, receiving a bachelor's in biochemistry with honors.
In 1976, he completed his doctoral studies at OSU prior to attending the Yale School of Medicine for post-doctoral research.
Schultz said he is forever grateful to the OSU Department of Biochemistry and Molecular Biology for serving as the foundation for his future career success. Schultz's pathway to OSU can be accredited to his older brother, Rodney, he said.
"Rodney completed his bachelor's in physics at OSU," Schultz said. "He was a major factor in convincing me to go to OSU, and his unbelievable accomplishments during his 30 years at Los Alamos National Laboratory inspire me still to this day."
Before becoming Cowboys in Stillwater, the Schultzes called Enid — a small oil- and agriculture-focused town in northwest Oklahoma — home.
"It's crazy to see how time frames and conditions of your life influence where you end up," Schultz said.
"Rodney and I had a unique opportunity that was created by the vision of our teachers in small-town Enid."
The Schultzes' high school physics teacher, Jim Smeltzer, built community support to build a functioning astronomical observatory on the roof of Enid High School, Schultz said.
Schultz said using the observatory planted the seed for a deeply rooted love of science in his brother and him.
"We had a unique opportunity that was created by the vision of those people," Schultz said.
Schultz's high school background and his passion for the science industry opened the doors of many success stories, he said.
His efforts have led to 35 issued patents with six patent applications pending. He has co-authored more than 400 scientific publications, including research journal articles, book chapters, and clinical diagnoses and treatment consensus guidelines. These publications have been cited more than 21,000 times, which puts him in the top tier of medical researchers for health sciences, Schultz said.
After finishing his post-doctorate research training at Yale University, Schultz continued his career at the University of Louisville College of Medicine in the Department of Biochemistry and retired in December 2016 from the Institute of Wound Research at the University of Florida.
John Gustafson, OSU Department of Biochemistry and Molecular Biology department head, said Schultz represents what the department wants graduate students to become.
Gustafson said Schultz recognizes where he got his start, the opportunities provided to him, and how much he appreciates OSU.
"He found the opportunity in his heart to provide funds that can help all students succeed," Gustafson said.
One of the best things about OSU was meeting his wife, Ruth, 1975 home economics alumna, Schultz said.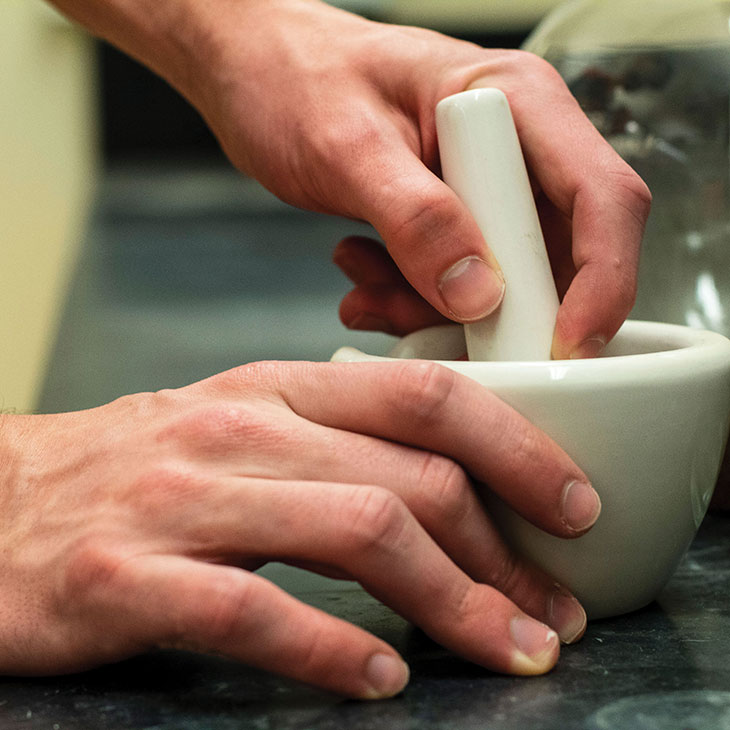 "Greg and I met in 1972 through my Willard Hall roommate, Kathy Kraft, when she worked as a lab assistant in the biochemistry department," Ruth Schultz said.
The couple met while on a camping trip at Lake Tenkiller and married in 1974, she said.
"Ruth and I both received a phe-nomenal foundation at OSU," Gregory Schultz said. "We wanted to enhance the opportunity for other students who would hopefully have as much benefit."
Gregory Schultz said despite the differences in their studies, he and his wife agreed to create their endowment in biochemistry.
"Throughout the years, Greg loved going to our children's activities and supporting their endeavors, especially the science fairs," Ruth Schultz said. "He loved impressing middle school classes with electrophoresis and guiding our kids in the lab. It was as much fun for him as them."
The couple wanted their endowment to benefit the whole department instead of being consumed as a prize, Gregory Schultz said.
"He and Ruth have allowed us to utilize his endowment in the best possible way," Gustafson said.
In addition to his recent Fellow recognition, Gregory Schultz was named a 2018 Ferguson College of Agriculture Distinguished Alumnus.
"It was totally unexpected and tremendously appreciated," Gregory Schultz said. "When we were informed I had been nominated and then was selected as a distinguished alumnus, it really just brought home how fortunate we had been at OSU in the earlier parts of our lives."
Gregory Schultz said receiving the award provided both him and his wife the opportunity to reconnect with the OSU community.
"I loved the beautiful campus and the feeling that there was a tremendous amount of knowledge available for me," Ruth Schultz said. "I loved spending time studying at the library and exploring new fields."
The Schultzes also loved coming to the OSU football games after obtaining their degrees, she said.
"It's hard for me to think of someone more deserving and who could do a better job at being a representative of science," Gustafson said.
Gregory Schultz's story is a true testament to the saying, "once a Cowboy, always a Cowboy," Gustafson added.
Schultz said he loves the Cowboy heritage, has pride in his orange passion, and appreciates all OSU has done for himself, his wife and his brother.
"Oklahoma State University played a phenomenal role in who we are today and how we got where we are," Gregory Schultz said.
---
Story By: Mackenzie Barnes-Elkins | Cowboy Journal