Uprooting Food Insecurity
Wednesday, June 9, 2021
Media Contact: Samantha Siler | Communications and Marketing Manager | 405-744-2977 | samantha.siler@okstate.edu
While kneeling in the garden at Our Daily Bread Food & Resource Center, students unearth much more than the top layer of the nutrient-rich soil. They tackle food insecurity, which much like the fast-growing and unwanted weeds of a garden, threatens to disrupt the success and harmony of individuals within the community.
Bailey Norwood, agricultural economics professor at Oklahoma State University, plants the seed of food insecurity knowledge into the minds of his students by offering a hands-on experience to benefit low-income residents of Payne County.
This experience is part the Farm to Fork course, AGEC 3023, with more than 200 students enrolled in the Spring 2021 semester.
"If Our Daily Bread employees had to put resources to a garden, it would take away from the actual mission," Norwood said. "By running a garden, we take the responsibility off of the staff, and they still get the garden that the community expects. We get value out of it by having students gain hands-on experience."
As a self-taught gardener, Norwood credited learning about the craft from reading and online videos. The experience in his own garden and through Master Gardener classes contributed to his ability to teach gardening concepts, he said.
"People expect a food pantry to have a garden, but it would be a drain on the staff if they had to do it," Norwood said. "People think you can produce food cheaper in your garden than from the store, but it's just not true."
Most of the produce at Our Daily Bread comes from the food pantry system, Norwood said. Volunteers spend all week going to grocery stores and getting their surplus, he added.
"It's mainly a way of helping people afford the things they need by taking food that otherwise would be thrown away," Norwood said. "In one way, it's bizarre that the richest nation in the world has people needing food banks, but living in this world is expensive."
Most people wait until April or May to start gardening, but by using the greenhouse, students can plant cool season crops in March, Norwood said. Some plants, such as lettuce, handle the cold and taste better when grown in cold conditions, he added.
"We start plants in the greenhouse because it is the ideal environment, and the plants don't experience any adversity," Norwood said. "Before transitioning the plants to the garden, they are rotationally moved outside to adapt to colder temperatures."
Almost all for-profit vegetable farms use drip irrigation, Norwood said. If you have too much water in the soil, the plants can't take in oxygen and it can cause fungal diseases, he added.
"Drip irrigation works at a much lower pressure," Norwood said. "The nice thing is it leaks slowly and is very low maintenance."
To ensure high germination rates, seeds are purchased from supply stores, Norwood said. Choosing where to purchase seeds is crucial to the success of the garden, he added.
"It has been nice to incorporate in-class experiences to help students become more aware of food insecurity problems," Norwood said. "The resources available help community members stretch food budgets."
Katy Rippetoe, agribusiness senior, worked 10 to 15 hours a week as the garden manager.
"Our Daily Bread represents people who are getting the chance to have a choice in their food selection," Rippetoe said. "It's important to help teach community members about growing their own food."
The garden is an opportunity to see fruits grown, such as raspberries and grapes that are not as common in Oklahoma, Rippetoe said.
"Having experience in a garden is beneficial to students especially agriculture majors," Rippetoe said. "A garden is resourceful because students can grow food and lessen food insecurity by giving to others."
The garden at Our Daily Bread grants community members the privilege of picking their own food, Rippetoe said.
"Anyone can have an at-home garden to grow at-home food," Rippetoe said. "The advice I would give to someone looking to garden is it can be affordable and easy. You don't have to have a lot of land or equipment to grow your own produce."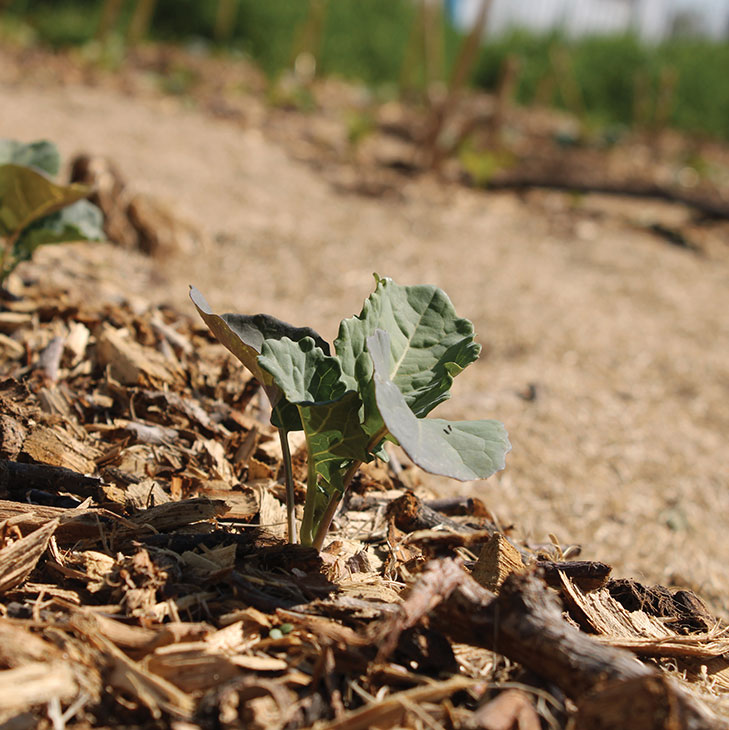 Brooklyn Evans, agricultural leadership senior, experienced the impact of the community garden firsthand as a student in the class.
"Dr. Norwood demonstrated how to do the task before I did it myself, which made me feel more comfortable through the whole gardening process," Evans said.
Students working in the garden have taken the initiative to help fight food insecurity by providing fresh fruits and vegetables to the families in Stillwater, Oklahoma, Evans said.
"Norwood did a great job of explaining the purpose of planting specific things," Evans said.
When students submerge seeds in the nutrient-rich soil at Our Daily Bread garden, growth is imminent. To an untrained eye, the top layer of soil looks untouched, but from the perspective of students, they planted their own seed in combating food insecurity within the community.
---
Story By: Kirsten Hollansworth | Cowboy Journal