Farm Kid To High Steaks
Thursday, May 26, 2022
Media Contact: Jami Mattox | Agricultural Communications Services | 405-744-8061 | jami.mattox@okstate.edu
What is it like to walk in the footsteps of giants while blazing one's own trail? Ask Rob Shuey.
In December 2021, Shuey concluded his career voyage, a nearly 41-year journey at Tyson Foods Inc., as the senior vice president of Tyson International Fresh Meats.
Reaching such career prestige was a marathon, not a sprint, Shuey said. He ran his race with principle and diligence, believing every step mattered, he said.
Shuey first developed a passion for the agricultural industry in Springfield, Ohio, where he was born and raised, he said. Picture a full-scale operation with crops and cattle — plus five young boys. While it sounds like chaos mixed with many challenges for his mother, Shuey said with a chuckle, this upbringing brings him great pride.
"Growing up on a farm makes you self-responsible," Shuey said. "We did a lot of things on our own. We pretty much never got in trouble — and we could have — but we seldom did. That is because of how responsible we were and how seriously we took the operations on the farm."
The farm is where he learned to work independently while also being a team player, he said. Farming takes every individual intentionally playing his or her role, a lesson Shuey has carried with him, he said.
When the time came for Shuey to continue his education, he allowed the reputation of Oklahoma State University to guide him 829 miles from the farm and his family, a risk that came with rewards greatly exceeding his expectations, he said.
"I originally didn't know anybody," Shuey said, "So, I had to be self-reliant, but I also had to communicate and meet people."
Soon, Shuey created lifelong relationships along with something else — a new, unexpected passion.
Sometimes, life does not go as planned. To continue to fuel his desire for learning about livestock, Shuey hoped to work at the OSU Purebred Beef Center, he said.
Instead, he found himself working at the meat lab — and not just for a semester, but for three years of his college experience, Shuey said.
Little did Shuey know, this pivot would set the rest of his life in motion.
"I saw myself, hopefully, on the livestock team, but the meat team was new, and I didn't know much about it," Shuey said.
Shuey decided to embrace all the university had to offer and joined the 1979 OSU Meat Judging Team, he said.
"I realized if I knew more about the meat business through the meat team, it would probably help me on the livestock end, which it did," he said.
Under the direction of OSU Livestock Judging Team coach Bob Kropp, Shuey fulfilled his dream of competing on the 1980 OSU Livestock Judging Team, he said.
Classes. Practices. Contests. Repeat. Shuey found himself in a rhythm of dedication to each team, he said.
However, the list of unforeseen benefits associated with his decision to join the meat team continued.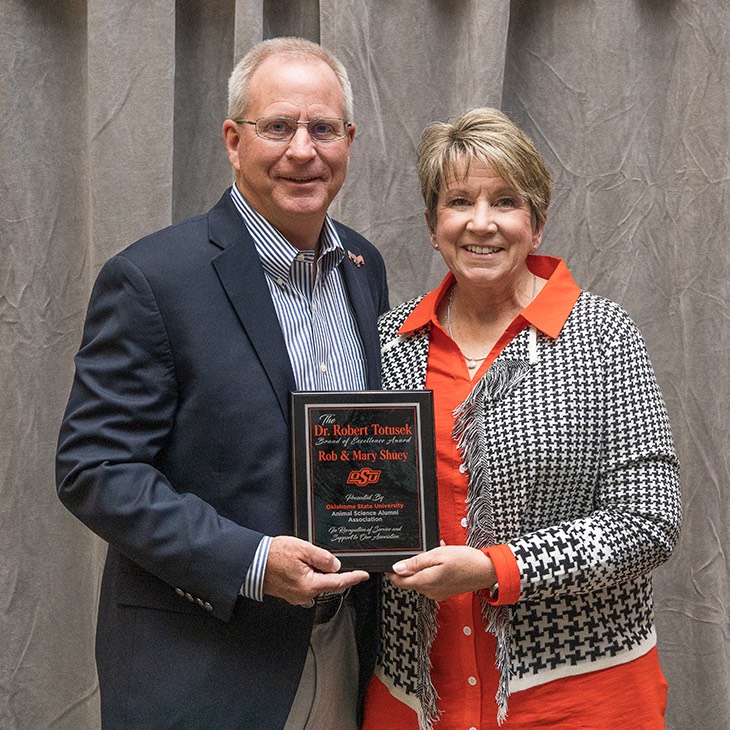 "That's where I met my wife, Mary, when you get down to it," Shuey said. As classmates and teammates, the two were often in the same circles, Mary Kalka-Shuey said.
"We found out we had a lot in common," his wife and life partner of 40 years said. "A lot of that was in our goals, morals and ethics. Those kinds of things drew us together."
At the time, Kalka-Shuey was the only female on the OSU Meat Judging Team, she said, and it came with a great time commitment.
"We had to go to Oklahoma City every Saturday morning," Kalka-Shuey said. "We had to all get in a car on campus and drive to OKC. Then, we would work out at the Wilson plant early in the morning — and we would stop for breakfast on the way home.
"The time together on the team allowed us the opportunity to get to know each other better."
The Shueys also had many of the same classes and would get together to work on assignments and study for tests, she added.
While his wife was the greatest gift to come from the meat team, Shuey said, he also received another life-changing, powerful opportunity.
"I would have never had this job if I hadn't been in Stillwater because when I was on the meat judging team is when I first went to an Iowa Beef Processors beef plant," Shuey said. "That's when I became familiar with IBP, and then Tyson eventually bought IBP."
In the summer following Shuey's junior year at OSU, he earned an internship at IBP, which set his career in motion, he said.
"When I was in that internship, I saw the youthfulness of the company," Shuey said, "and that was a deciding factor that led me to work at IBP."
Shuey said the leadership of IBP at the time was aggressive, which was exactly what he was looking for following his graduation from OSU in 1981 with an animal science bachelor's degree.
"They were not afraid to try new and innovative ideas in the meat and livestock industry," he said. "We were doing things our competition wasn't doing, and that continues today."
The long, hard hours were gone in the blink of an eye because of the company culture, Shuey said.
"I was given — and earned — really neat opportunities in the company and the industry," Shuey said. "All I had to do was continue to work hard, and the company would continue to move me around — and it was a lot of fun."
During Shuey's time at IBP and Tyson, he was willing to learn to do any role, which exposed him to an abundance of knowledge about the company and the industry, he said.
"I have been mostly in sales, and that includes variety meats, rendered products, trim sales, boxed beef, hides and tannery as well as margin management," Shuey said. "Margin management is being in charge of pricing the product.
"So in other words, I was involved in the pricing of the beef as well as the pricing of the hides."
Shuey and his team priced all of the beef, including the Certified Angus Beef, he said.
"That is an aggressive play on a daily basis, where you're trying to figure out what the markets are, using supply and demand fundamentals, and how to make the best decision for the customers and the company," Shuey said. "You've got that much business in your hands. It's pretty neat."
Through margin management, Shuey said he began to take a particular interest in another sector of the business — the international markets.
"When we sold meat internationally," Shuey said, "I started to price and negotiate it, and that started to intrigue me."
During this time, Shuey absorbed all he could learn from his mentor — Roel Andriessen, who was Shuey's predecessor as the senior vice president of Tyson International Fresh Meats.
Tyson values mentorship and future plans, specifically succession plans, Shuey said. He stayed focused and diligent until the final piece of his succession plan came together — getting to walk in Andriessen's career footsteps, Shuey said.
"In that position, I was responsible for nearly all of our fresh meat international sales," Shuey said. "That's a $4 billion piece of the business."
Much more goes into international meat sales than what one may think, Shuey said.
"Selling meat is one thing, but learning about the different cultures around the world like those in Japan, Taiwan and Korea or in the Middle Eastern countries like Saudi Arabia is impactful," he said. "If you do not go to visit those various countries and see it for yourself, you can't understand those markets."
When Shuey stepped into his final leadership role, he made it a priority to learn more about the needs and cultures of his customers, he said, including using his time to incorporate more travels to strengthen the international markets.
"We're trying to understand their business better," Shuey said. "We visit a lot of stores. We tour their restaurants. We learn their culture, and we learn what they need."
For example, some Asian customers prefer smaller cuts of meat compared to the U.S. consumer, he said.
Because of his travels, Shuey took suggestions back to the production floor to reimagine cuts of meat in ways that could be more appealing to citizens in other countries, he said.
"We also made the conscious decision to do more business in what we refer to as the emerging markets," Shuey said. "Those are markets the U.S. is not strong in that we know are developing, such as Central America, South America and Southeast Asia.
"We believe these countries could become larger consumers of U.S. beef and pork."
A decision like this is purposeful, Shuey said.
"We are trying to create more demand, which adds more value and more revenue, which goes back to our bottom line," Shuey said. "Then, it goes back to the producer. The more revenue we get out of an animal, the more we can pay a producer for that animal."
Shuey prides himself in the opportunity to serve the industry by adding value to the animal through marketing channels, he said.
"In 2021, the U.S. industry set records for both beef volume and dollars we exported," Shuey said. "In terms of the total value on a per head basis exported, we achieved more than $400 per head for beef and more than $60 per head for pork.
"We take the parts of the animal that aren't consumed in the U.S., and we add value to them by selling them internationally, which all goes back to the bottom line and adds revenue for the producers."
Even with such positive strides, the equation known as supply and demand, and the role he plays in the equation, continues to get more complex as consumers change nationally and internationally, Shuey said.
"The younger consumers do not want to take the time to prep a meal for two or three hours," Shuey said. "We've got to look at what the consumer demands. We need to continue to be innovative and look at how we prepare products in a more user-friendly and consumer-ready package."
And yet, even with leading the charge in so many crucial conversations, Shuey always humbly comes back to the basics, he said.
"When we go on vacation, Mary doesn't even ask what we are doing anymore," Shuey said. "She knows I am going to walk through the meat case at various grocery stores and markets, no matter where we are, to see what is innovative. I try to better visualize what the consumer needs."
While it may seem unnecessary to complete such a task after years of working in the industry, the act comes back to something much bigger.
Shuey cares about each individual who makes up American agriculture, he said.
"I am thankful for the opportunity to try to support producers," Shuey said. "That's where it all starts, so if I have been able to help the cattle feeder or the hog producer, to me, I hope that's been my biggest contribution to the industry."
Shuey also has a passion for the future of the agricultural industry, Kalka-Shuey said.
When the Shueys were members of the meat judging team, the university provided travel, but the team members were responsible for many expenses associated with competing, she said.
"The Shueys are contributors to the OSU judging teams' scholarships and travel funds," said Gretchen Mafi, OSU Department of Animal and Food Sciences Ralph and Leila Boulware Endowed Chair. "They welcome us and always show us their Cowboy loyalty when we go to Dakota City, Nebraska, for our international judging contest."
Each time, the students learn from Shuey's unselfish dedication, Mafi said.
"When you work hard and you've been blessed, it's your responsibility to give back," Kalka-Shuey said. "Judging team scholarships enable students to participate more fully without financial worry, as they know their travel expenses will be covered.
"It feels great to be able to help students in this way," she added. "We were both blessed with wonderful mentorship at the university."
The Shueys love giving back to those around them with financial gifts and their time, she said.
Their contributions to others — past, present and future — have not gone unnoticed, said Megan Smith, OSU Animal Science Alumni Association executive director.
To honor their contributions, the couple received the 2022 Dr. Robert Totusek Brand of Excellence Award.
"The award was first presented in 2014 by the OSU Animal Science Alumni Association in recognition of an individual's service and support to the association," Smith said.
"Rob and Mary are strong supporters of the university and have a passion for giving back to OSU."
---
Story By: Amarie Griffeth | Cowboy Journal