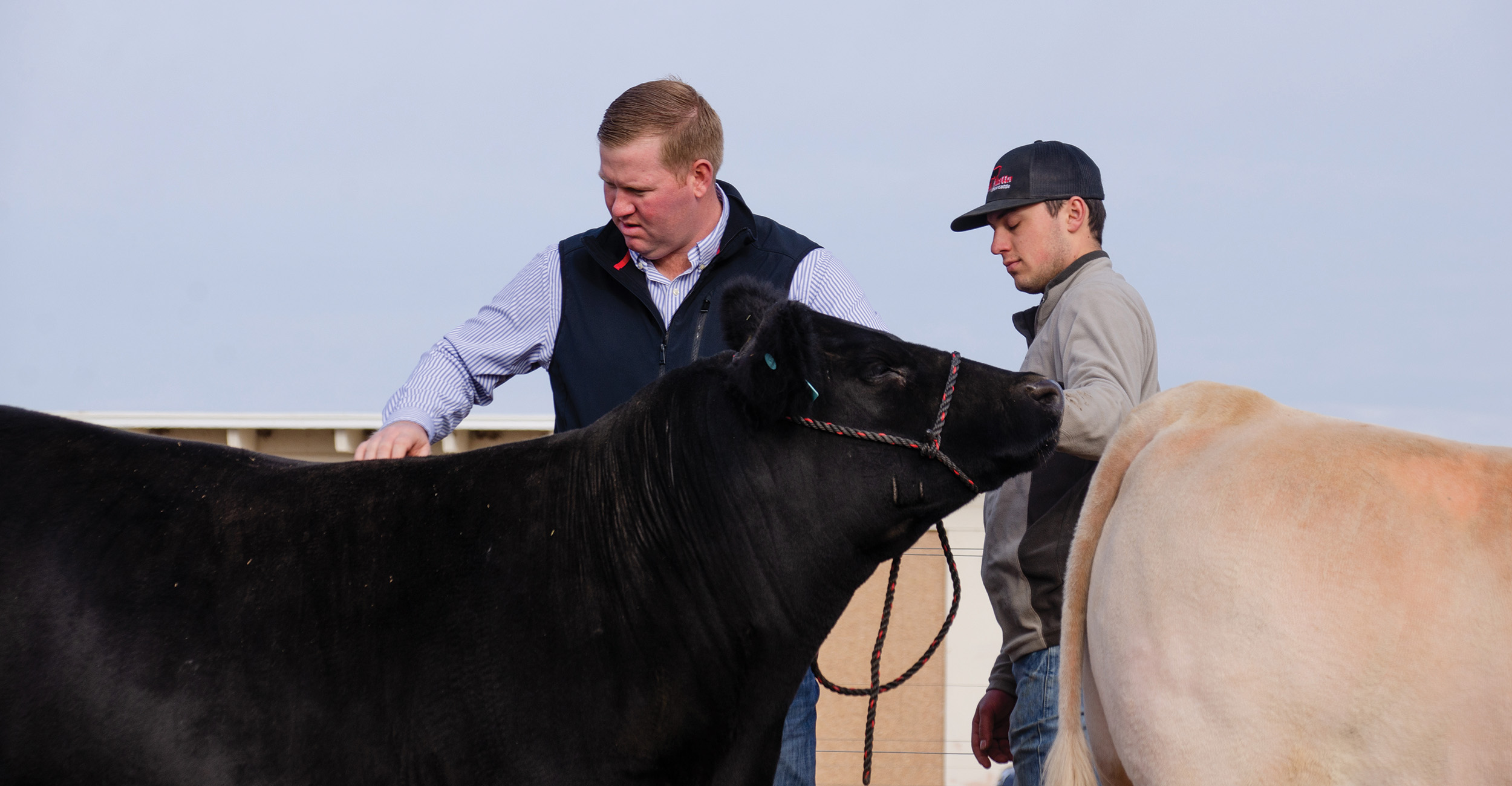 Making His Mark
Friday, May 27, 2022
Media Contact: Jami Mattox | Agricultural Communications Services | 405-744-8061 | jami.mattox@okstate.edu
Parker Henley's grandfather, Norman Henley, instilled a passion for agriculture in the lives of his family. A legacy of family and agriculture is something Oklahoma State University and Parker Henley have in common.
"Parker's grandpa Norman is his idol," said Christy Henley, Parker Henley's wife. "His grandpa always prioritized family and how important it is to always take care of family."
Parker Henley grew up on a century-old family farm in the fescue hills of Eugene, Missouri, where his family still raises Charolais, Angus and commercial cattle.
As a youth, he exhibited cattle, sheep, and swine and judged livestock.
"We spent a lot of time with Grandpa Norman growing up, and he taught us the general principles of managing the livestock and the ground," Parker Henley said. "Things seemed to be second nature to him. He was a natural teacher, and that is where a lot of my passion for agriculture has come from."
Parker Henley is extremely close to his family, who all work on the farm, his wife said. The family enjoys attending games, livestock shows, graduations and other events together, she added.
But, the Henley family grew when the couple moved to Stillwater in 2020 for him to coach the OSU Livestock Judging Team.
"The team is really an extension of our family," Christy Henley said. "Before we had our son, Norman, our livestock judging students were our kids. They are our family."
The Henleys said they enjoy hosting the team for dinner. Parker Henley also tries to include his wife and their son in everything he can, he said.
"It takes a supportive family to make it all work," Parker Henley said. "I'm very lucky here at Oklahoma State. We have a lot of things really close, and so it allows me to balance my work and family life pretty well."
Christy Henley said she does not think of their lives as a balancing act because they care about their students so much. Her husband loves to coach and wants to help prepare his students for life, she added.
Parker Henley uncovered his passion and success in livestock judging during his time at Butler Community College in El Dorado, Kansas, he said.
While a student at Butler and then at Kansas State University, Parker Henley competed on both livestock judging teams.
After earning his bachelor's degree at KSU, he then attended the University of Illinois Urbana-Champaign for his master's degree in animal science and doctorate in animal science while serving as the livestock judging head coach at UIUC.
"He loves teaching so much," Christy Henley said. "That's definitely something he learned about himself at the University of Illinois — how much he enjoys seeing a young person learn a new skill."
Henley is a competitive person and instills in his students the desire to compete, but that comes second to his passion to teach and to mentor young people, said Dan Shike, UIUC animal science associate professor and former livestock judging coach.
"I am confident that whether the next team is the national champion or not, those students still will have benefited from everything that Henley taught them and from all the personal development and career preparation gained through livestock judging," Shike said.
Expectations at OSU are high, Shike said. Not only did Parker Henley step right into that, but also he didn't let it intimidate him and had success right out of the gate.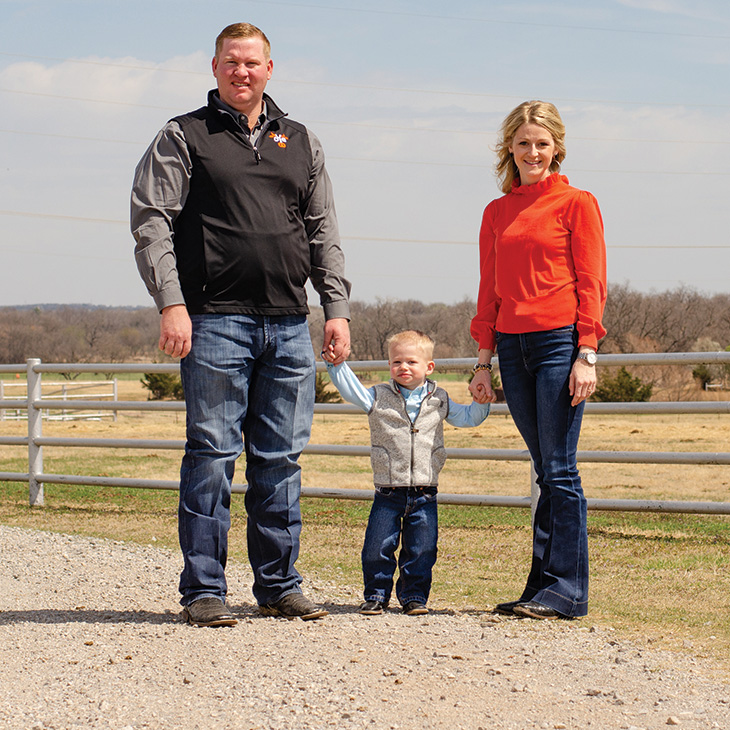 Livestock judging is an OSU legacy, said Mark Johnson, OSU animal and food sciences professor and former livestock judging coach. Coaching Cowboys is no easy task, but Parker Henley does it with ease, Johnson added. Due to his hard work, Parker Henley received 2021 Coach of the Year through the National Collegiate Livestock Coaches' Association this past year, he added.
"My definition of a successful team would be that we develop loyal, productive and successful alumni," Parker Henley said. "You don't evaluate the success of the team immediately after the year, but how they go into the industry and perform. That's the sign of a good judging team."
Since he began coaching, Parker Henley has prioritized students being taught the right way, he said. Setting students up to be successful in life is the main priority, he added.
"Winning judging contests is a result of students being in a great mindset, being confident, and having been trained the right way," Parker Henley said. "That's my biggest focus."
Livestock judging is beneficial for developing career skills such as decision making, public speaking and time management, Parker Henley said. Being part of a judging team tremendously helped develop him in his personal life and professional career, he said.
"I had followed Parker's career as he went through graduate programs at the University of Illinois," Johnson said. "When our position came open here a few years ago, he was at the top of the list for people we wanted to recruit to apply for this position."
Johnson said Parker Henley had distinguished himself as an individual in the livestock industry, not only as a livestock evaluator but also as a mentor, stockman and leader.
OSU has won more collegiate livestock judging national championships than any other four-year school.
When Henley accepted the position at OSU, he had a legacy to continue, Johnson said.
"There are a lot of responsibilities and roles you play when you're coaching a livestock judging team at OSU," Johnson said. "There is an expectation that you go out and do a good job of judging shows while also recruiting the great livestock judging students from around the country."
A coach educates and mentors students and serves as a role model while helping them develop their skills as animal evaluators and communicators, Johnson added. A coach also helps them prepare for the competitions and life beyond a college degree, he added.
Parker Henley lays the foundation of wanting to develop students into better young people, livestock evaluators and communicators, Shike added. He wants to help them to achieve success in their future endeavors.
"Parker was the right guy for the right job at the right time, and he's doing an outstanding job in his role here at OSU," Johnson said. "We are fortunate to have him."
---
Story By: Maddie Neuschwander | Cowboy Journal