More than a club: OSU alumni family keeps son's memory alive
Wednesday, August 31, 2022
Media Contact: Mack Burke | Associate Director of Media Relations | 405-744-5540 | editor@okstate.edu
Luke Barrón was at a meeting in Tulsa on Aug. 29, 2012, when he got the call that his 2-and-a-half-year-old son, Keaton, was being rushed to a hospital where a team of doctors was standing by.
Luke's wife, Holly, had taken Keaton to see his pediatrician because he had been uncharacteristically lethargic after a few months of unexplained issues, such as a low-grade fever and a minor cut that wouldn't heal. But Holly didn't expect anything out of the ordinary.
Keaton's doctor instructed Holly to take him to the hospital immediately. Keaton's doctors had never seen such a high white blood cell count. They were surprised he hadn't had a stroke or was even conscious. After Keaton was stabilized and doctors delivered the news to Holly, she dialed her husband. But she handed the phone over to a physician to deliver the news: Keaton had leukemia.
Luke's back hit the wall and he slid to the ground in shock.
"Everything just kind of stopped," he said.
Luke said he doesn't remember hearing much else before he raced to Oklahoma City to meet Holly and Keaton at the hospital.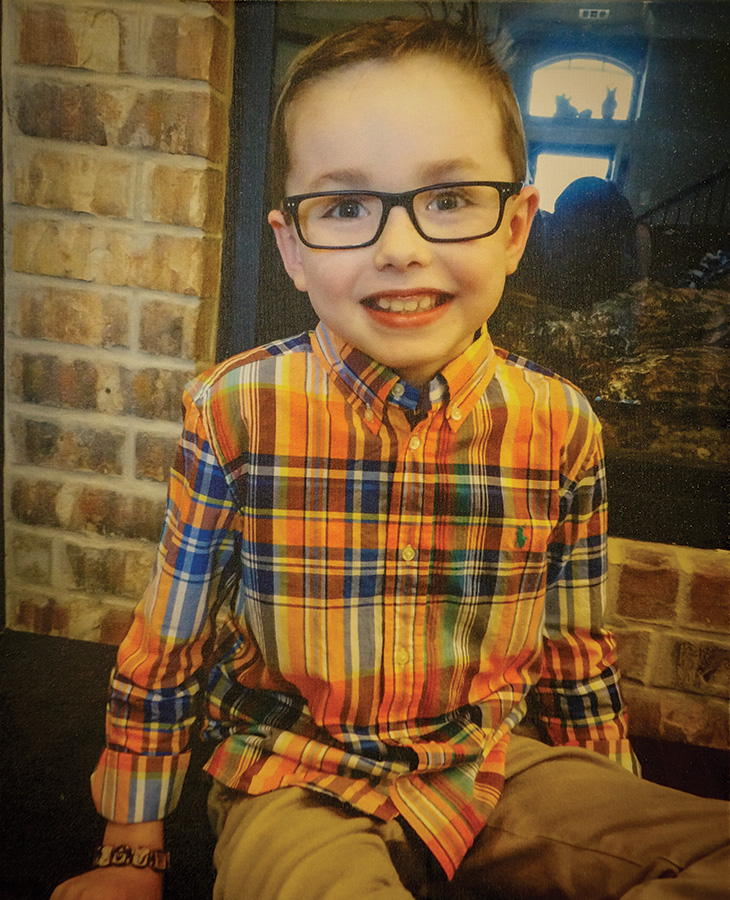 As he arrived, Luke expected to see his son inundated with wires and surrounded by doctors. Instead, he found him laughing in his mother's lap while playing with a tablet.
"That's kind of a reflection of who Keaton was," Luke said. "He was extremely sick, but he was still smiling."
The Barrón family spent nearly the next six years focusing on the next step, the next treatment, the next digestible increment from a tragic buffet. But for Keaton, they kept it simple.
"We never used the word cancer because we didn't want to scare him," Holly said. "And so we said that his blood was sick and he needed special medicine and we stayed with that all the way through … and he was fine with that."
Holly said they were always honest with Keaton about the treatments — when something would hurt and what to expect — but they remained certain that he would overcome his illness. They wanted him focused on being a kid — and all that does and does not entail. But life for the Barróns would never be the same.
The rigorous treatment demands and trying to provide a somewhat normal childhood for Keaton and his younger siblings — Reid, now 8, Holden, now 6, and Conley, now 3 — proved to be an immense challenge. Even with Holly leaving her job to manage Keaton's treatment regimen and the family full time, she said there's no way the family could have gotten through the process without a lot of help.
Holly said grandparents, siblings, aunts, uncles, friends, hospital volunteers and so many others played a vital role in keeping their family afloat. The financial strain of cancer treatment was significant — Keaton's first intensive care unit stay cost $130,000 before insurance and he would later receive a drug that ran $475,000 a pop — but the emotional toll was often top of mind. Holly said they just tried to stay focused on the present and lift each other up.
"We did not for a second think that he was not going to come out of it," she said. "The fact that we're sitting here talking is still insane to me because we just knew that he was going to beat it."
Keaton passed away at home on May 11, 2018. It seemed there were no steps left to take. But before he died, Keaton created a blueprint.
Kay Tangner, a longtime volunteer at Oklahoma Children's Hospital in Oklahoma City who frequently worked with Keaton, was looking to keep his mind on something else during one of his many hospital stays. So, she suggested they start a club. On that fateful day — Jan. 2, 2018, just a couple months shy of his eighth birthday — Keaton founded a kindness club known as K Club.
As founder and club president, Keaton had fun exploring the idea, coming up with a mascot, a clubhouse, a logo, an official snack and setting dues at $1 for members, which would be donated to charity.
Holly said it kept Keaton, who she often calls K, entertained for hours. It wasn't long before word of his new club got around and others wanted to join, too. At the beginning it was mostly hospital staff, but donations started to stack up. Soon there were official membership cards.
"As we got more money, we actually brought projects to Keaton and said, 'What do you want to do with this money that you've raised?' We gave him some options, and he picked and, we started to get to do some cool stuff," Holly said.
"When Keaton passed away, we had a friend who said, 'Do you want to continue the K Club as a nonprofit?' And so we took Keaton's kindness piece and combined it with the cause of fighting childhood cancer and came up with Keaton's Kindness Foundation, or K Club, the nonprofit."
After Keaton formed K Club, Holly and Luke were quick to reach out to their alma mater — Oklahoma State University — where Keaton received an outpouring of support. Center for Pet Therapy Director Kendria Cost found out about K Club, and within weeks many members of the Cowboy family, including Pistol Pete, former OSU President Burns Hargis and voice of the Cowboys Larry Reece, were card carrying members.
"... We're going to go out of our way to be kind in the hopes that we will eventually find a cure for cancer and bring people back to a world that is nice to each other."
— Holly Barrón
Since then, football coach Mike Gundy, men's basketball coach Mike Boynton and countless others have supported K Club's mission, which is "to spread joy and improve the lives of others through kindness, courage, compassion and caring with a special emphasis on pediatric cancer patients and their families."
That, Luke said, would make Keaton happy, as there's never been a more loyal and true Cowboy fan. He even has Pistol Pete on his headstone, Luke said.
"We would do anything for OSU, and that was so special to our entire family," Holly said. "I wish more people who have that kind of platform understood what it means to families. Like if you can take one family and walk them through Gallagher-Iba, that just feels so special and so important."
Holly said the club's outreach efforts often have a connection to something Keaton loved in life, like OSU, the Oklahoma City Thunder (Rumble the mascot is a K Club member) and Legos. Lots of Legos.
"Our favorite project is Keaton's Lego project," Holly said. "Every month, we take the biggest and best sets that Lego makes up to the hospital and we set up about 50 to 60 Lego sets, and the kids get to come in and pick a Lego set to keep."
Since its inception in 2018, Keaton's Kindness Club has raised roughly $850,000, which includes $75,000 to renovate a lounge on the oncology floor at Oklahoma Children's Hospital. It opened in 2021 under the name Keaton's Clubhouse. A special place for pediatric cancer patients to connect with other kids and find joy, Holly said the clubhouse is a fitting tribute to Keaton, who was more concerned with others than himself. Despite living much of his life in hospital rooms, Holly said he never complained and was always looking for ways to help others.
To that end, the club encourages random acts of kindness, from taping a dollar to vending machines with a K Club sticker or simply sidewalk chalking their neighborhood with uplifting messages.
"Keaton was probably the most thoughtful, kind person and was always thinking about how everybody else was feeling when he was the one who was going through everything," Holly said. "When he was really, really sick and really, really hurting, he had wanted Luke in his room. And so Luke was sitting next to his bed. While Keaton was up hurting, he said, 'Dad, you can go to bed. I don't want you to be tired tomorrow for work.' And I was like, this kid is in so much pain and he's worried that Luke's not gonna get enough sleep. … I mean, the kid was just something else, an amazing person."
K Club also provides care packages for children and kits to create hand prints and lasting memories with their families and assists with funeral costs. The club has hosted countless birthday parties and graduation ceremonies and has been there to provide a boost to kids who have relapsed or just need a lift.
"Another big part is that we are really passionate about childhood cancer research," Holly said. "Obviously, we're ultimately looking for a cure, but in the meantime, trying to get as many treatments as possible and the best doctors possible locally, so that children don't have to leave their families for treatment."
In addition to a slew of smaller events, the nonprofit currently hosts two major charity events annually: The Keaton Barrón Charity Classic — a golf tournament hosted each spring in Edmond, Oklahoma — and the Keaton Barrón Charity Auction, a fall event slated this year for Sept. 23 at Aspen Ranch in Edmond.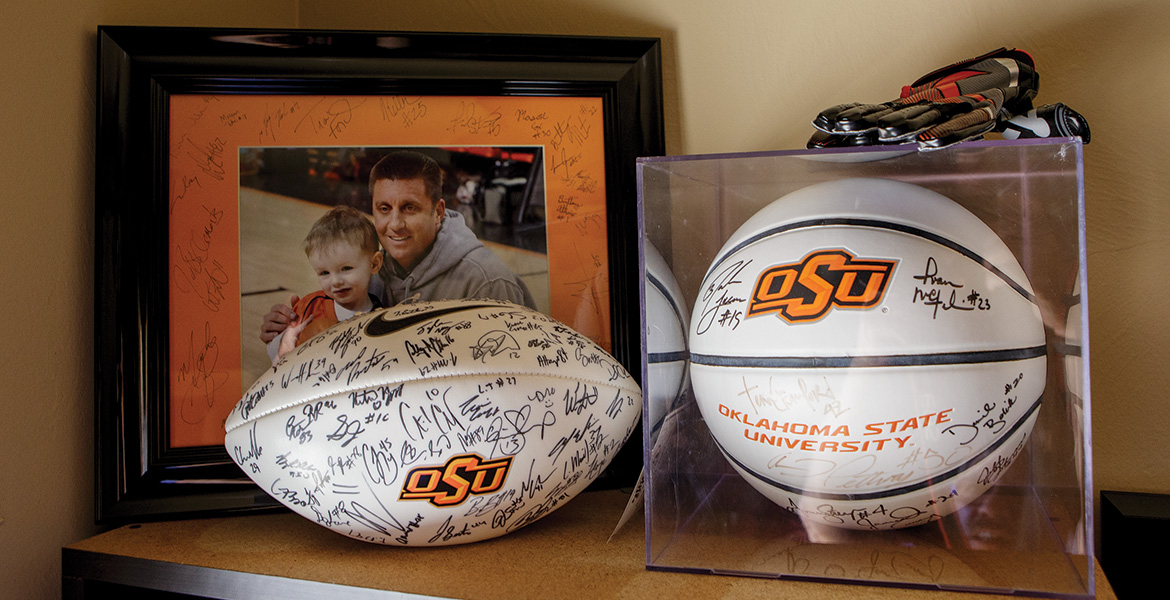 Holly manages the foundation full time and the Edmond-based couple is excited about how they can continue to spread kindness. Last year, Parents Magazine recognized the Barrón family with a cover story naming them the "kindest family in America." Holly said she doesn't think they're the five kindest people, but they're very intentional with their efforts. She said Keaton would have been happy to know that his club is making positive waves. But she said she hopes he's remembered not as the kid with cancer or even through the legacy being generated by his namesake, but as the kind, funny and wonderful person he was.
"People just don't understand it," Holly said. "They see the kids with the cute bald heads and they may be dragging an IV pole. They don't see when they're hooked up to 19 lines and a ventilator, that kind of thing. We don't want to depress people when we talk about K Club, because it's a happy thing and we're spreading joy and we're doing this stuff for these kids. But the reality is that it's brutal. And I hope that our kids never take school for granted, never take a vacation or a birthday party for granted and never forget their brother. Reid is going to remember Keaton, but just barely. Holden is not going to remember him and Conley never even got to meet him.
"And so we want to teach them about their brother and what an amazing kid he was, but then instill this legacy that we're going to do things for other people. And we're going to go out of our way to be kind in the hopes that we will eventually find a cure for cancer and bring people back to a world that is nice to each other."
---
Photos by: Gary Lawson
Story by: Mack Burke | STATE Magazine