OSU alumna bikes the trek her ancestors made over 180 years ago
Wednesday, August 31, 2022
Media Contact: Mack Burke | Associate Director of Media Relations | 405-744-5540 | editor@okstate.edu
More than a decade ago, Kayce O'Field watched her brother complete a ride to honor their ancestors. After seeing how it affected him, she knew that one day, she would make the journey, too.
The Remember the Removal ride is a 950-mile memorial bike ride that honors Cherokee people who endured forced removal from their lands between 1838-1839. Every year since 1984, a team selected by the Cherokee Nation starts in New Echota, Georgia, to follow the northern route of the Trail of Tears. The team is accompanied by the Eastern Band of Cherokee Indians until they finish their ride in Tahlequah, Oklahoma.
New Echota was the capital of the old Cherokee Nation and Tahlequah is the current capital. O'Field and her fellow riders biked through seven states: Georgia, Tennessee, Kentucky, Illinois, Missouri, Arkansas and Oklahoma.
O'Field, originally from Tahlequah, initially applied to be a rider after her brother's trip in 2009 and wanted to feel a deeper connection with her ancestors and her family's history. She said it was a big honor to have been chosen. Applicants write an essay about why they want to participate in the bike ride, submit three letters of recommendation, go through an interview and pass a physical before being selected for the team.
"When selected, you're an ambassador, and I take that role with very high regard," O'Field said. "During our training, we read a lot. On the ride, we made stops in places we had just learned about. Being able to stand where our ancestors stood and listen to what they experienced was very powerful."
"During our training, we read a lot. On the ride, we made stops in places we had just learned about. Being able to stand where our ancestors stood and listen to what they experienced was very powerful."
- Kayce O'Field
O'Field said the team is challenged with six months of training and education before they ever start on their ride. Training for the ride was more than just biking, O'Field and her team also learned history, songs and language.
"Training began in December with about three miles in one day. We rode together on weekends," O'Field said. "Due to COVID-19, we had Zoom lessons for book work. The training process was gradual, but after a while, we would do 15 miles, then 30 miles, then 60."
The route the team travels is full of obstacles. Not only did the team bike through several mountains and consistent hilly terrain, but they also endured heavy weather. O'Field said that any time she wanted to stop riding, she thought about her ancestors.
"When we were climbing this mountain in Missouri, I started thinking about what my ancestors went through," O'Field said. "We had all these necessities and people following behind us to help if needed. I told myself that I would never have it as bad as my ancestors, and that encouraged me to keep going."
The team selected this year was the first all female team. O'Field said being on that historic team made her feel empowered. She said each team member brought something different and beneficial to the team, and anytime someone needed something, they were there for each other.
"We went through seven states together," O'Field said. "The ride was very hilly, and we climbed two mountains in Tennessee. The bond that I had with my team is what pushed me over those obstacles. I could not have made it up those mountains without my team."
O'Field and her team reflected on their ancestors throughout the ride in several ways. Stops along the way included Meramec Spring Park in Missouri, Mantle Rock in Kentucky and Port Royal State Park in Tennessee. O'Field said when the team stopped at locations, sometimes they would sing a song in the Cherokee language, or they would say a prayer and reflect on the meaning of each location.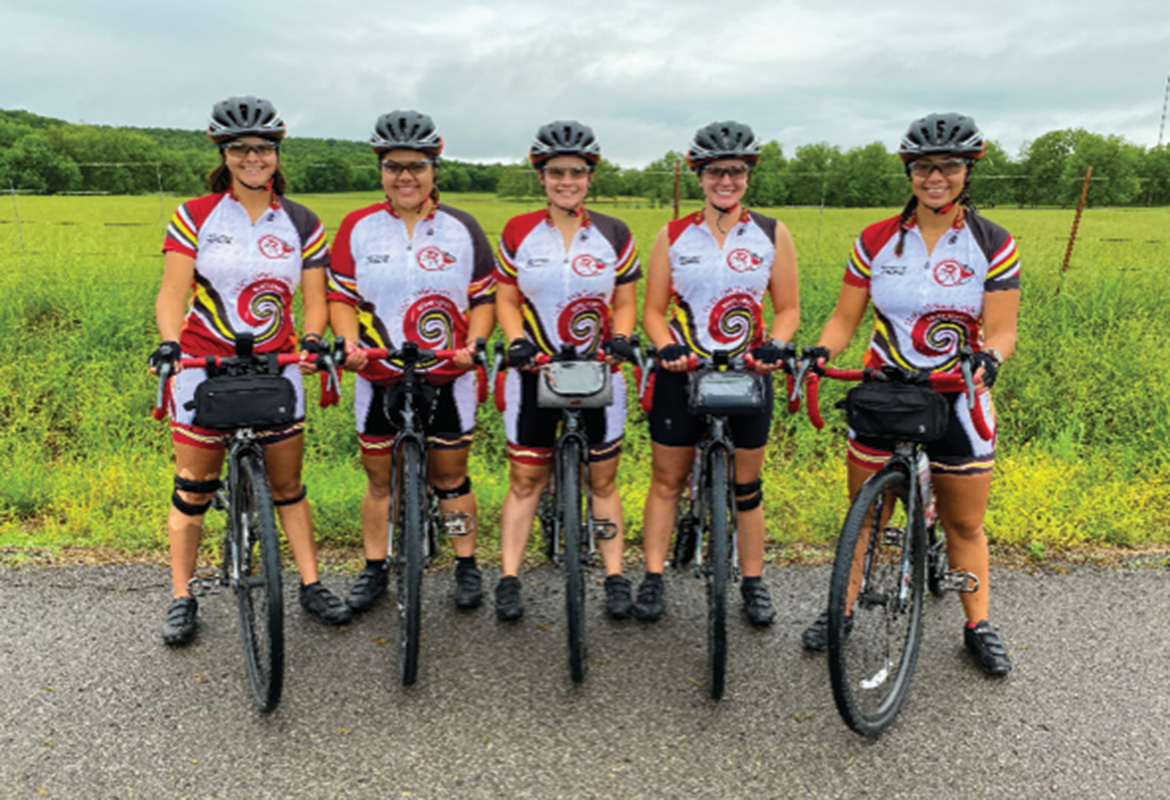 The cyclists found meaning while biking as well. O'Field said the team would talk about how they saw signs from their ancestors.
"My team knew my favorite flower is a daisy," O'Field said. "When we saw daisies while riding, they told me that my ancestors put those there for me, so that I would know to keep going. When we saw butterflies, we said it was our ancestors coming to check on us."
The Remember the Removal team finished their ride on June 17 in Tahlequah surrounded by family, friends and fellow Cherokee citizens. O'Field said their final half mile of the ride was full of emotions.
"As soon as we got into Tahlequah, it was just unreal," O'Field said. "There were marshals in front of us, blocking the streets. I was sad it was over, but happy that I finally got to see my family."
---
Photos By: Provided
Story By: Jillian Remington | STATE Magazine