Making History: OSU sets record for freshman enrollment
Tuesday, December 20, 2022
Media Contact: Mack Burke | Associate Director of Media Relations | 405-744-5540 | editor@okstate.edu
While on a quest to find his future alma mater, aspiring young engineer Tyler Clayton wanted to make sure he found a good fit.
He desired to enroll at an esteemed engineering school, but more than anything, he was looking for a school that put students first.
"The reason that I first got interested in Oklahoma State University was because I had applied to several schools, and it just seemed like none of them were really prioritizing or focused on if I was going to do well," he said. "I would email admissions counselors for these other schools and they just weren't really answering me or helping me very much. It was completely different for OSU, and that really got me interested in the school because OSU seemed to put a lot of effort into my well-being and my success at the school."
Jennifer McClendon, associate director of recruitment in undergraduate admissions, said a student-focused approach is central to her department's mission. Her team embraces the opportunity to get to know prospective students, to understand their goals, aspirations and anxieties, and work to find the perfect fit for them.
"We talk all day long about the Cowboy family, and the greatest thing is that it's fun for students to come to campus, to start to witness that," she said. "When a student like [Clayton] actually gets here, they see that the things we're talking about are true."
When he enrolled at OSU this fall, Clayton joined the university's largest, most diverse freshman class in history.
With 4,643 first-time freshmen enrolled, the class of 2026 eclipses previous records and represents an increase of nearly 9% over last year's freshman enrollment for the fall semester.
OSU's total enrollment for the fall semester was up nearly 3% over last year — 25,359 students — and includes students from all 50 states; Washington, D.C.; Puerto Rico and 113 countries.
"We were expecting to have record-setting freshman enrollment this semester, but to surpass the previous record by more than 375 students is truly remarkable," OSU President Kayse Shrum said. "This historic milestone is a testament to the strength of our academic programs, dedicated faculty and staff, and our unwavering commitment to provide a world-class education that empowers our students to learn, grow and succeed. It's a great time to be a Cowboy. With the recent release of our new strategy, we're primed to continue to elevate the prestige and impact of our modern land-grant institution to serve the needs of the state, nation and world."
Karen Chen, OSU vice president of enrollment management, echoed Shrum's excitement.
"We're thrilled to welcome this historic freshman class to the Cowboy family," Chen said. "We're celebrating a monumental achievement for freshman enrollment. We are also excited to recognize the record retention numbers and significant increases in overall student enrollment. There's so much momentum and excitement surrounding the university right now as we continue to explore new ways to enhance our institution, our facilities and academic programs, and, most importantly, the student experience."
The OSU Honors College also set a new enrollment record for the second consecutive year with 3,000 total enrollees. Other notable highlights include online enrollment, which increased more than 31% compared to last year, and enrollment in STEM programs, which increased nearly 11% compared to 2021, besting the previous record established in 2017.
New enrollment of first-generation students has risen more than 7%, and the number of OSU freshmen emerging from the top 5% of their high school class reached a new record, leaping 2% over the previous record established last fall. Transfer student enrollment also saw an increase. Year-to-year retention totals hit a new high, as well, and OSU has posted its second highest retention rate on record, with nearly 84% of students returning to enroll at OSU and a record number of new students returning for their second year.
Enrollment Gains
in Graduate and Professional Programs

Adding to the positive news on the undergraduate side, the fall semester also saw a significant boost in graduate and professional enrollment — 5,397 total students.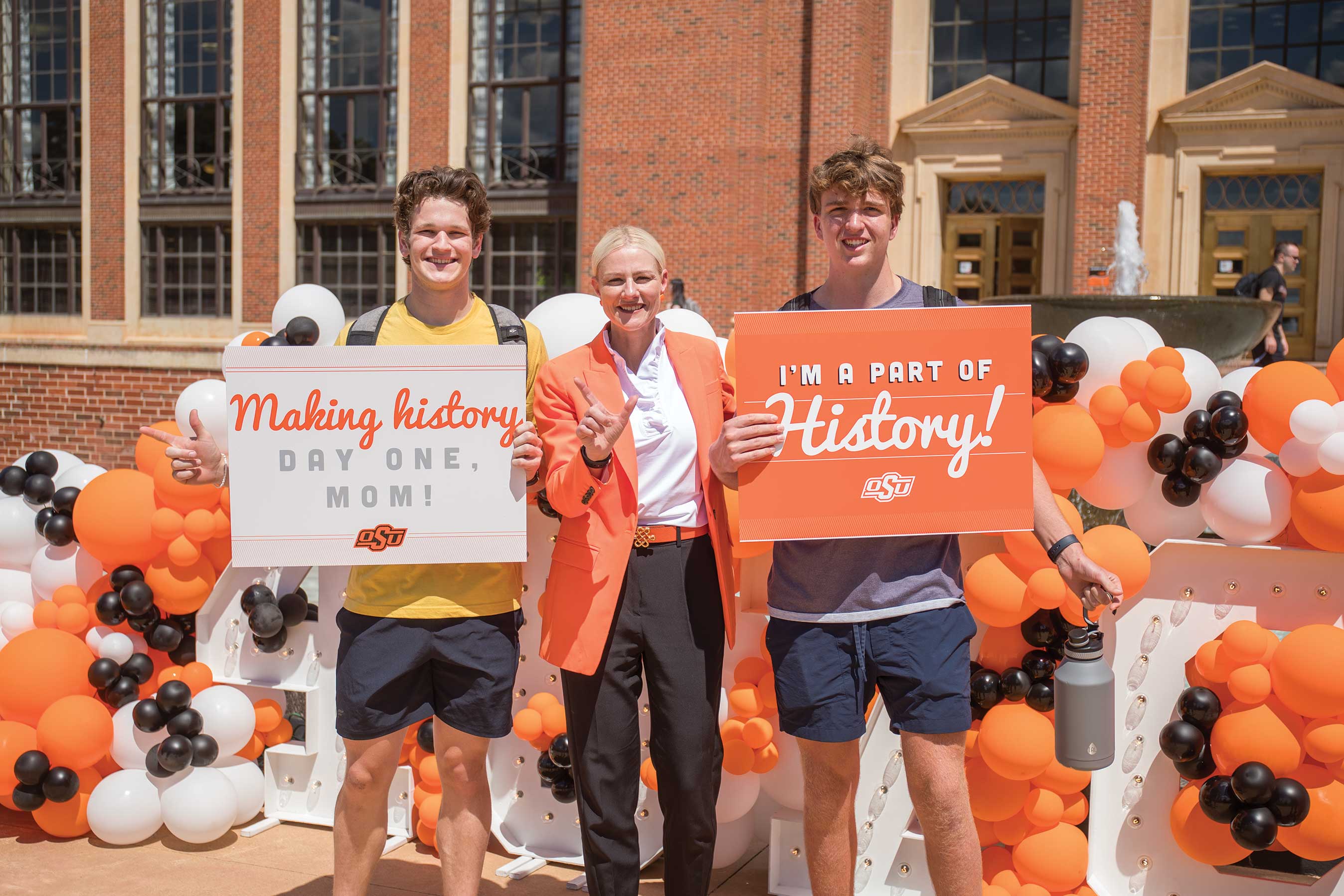 That represents a 3.7% increase over the previous year. OSU Center for Health Sciences saw the biggest increase at 13.7% over the previous year. OSU-Tulsa saw an 8.4% jump, and the Stillwater campus recorded a 1.6% increase.
Dr. Sheryl Tucker, dean of the Graduate College, attributes the promising figures to workforce-responsive programs, such as business administration, educational leadership, public health, environmental science, and materials and science engineering. Innovative program offerings, like the new doctorate of health care administration and doctorate of forensic sciences programs, have contributed as well, Tucker said.
"With the rapid pace of change in the job market and the need for advanced level knowledge, skills and experiences, OSU provides learning opportunities for those entering a new career and those upskilling for career mobility," she said.
"OSU continues to support Oklahoma and the nation by graduating advanced degree holders who are able to immediately contribute to their chosen profession as leaders in their fields."
Enrollment in international graduate programs rebounded sharply as well, jumping 17.6% over the previous year. Taken together, these figures paints a positive picture of OSU's enrollment outlook.
Drawn to the Cowboy Family
Stillwater native and freshman BreAnna Peeper said she had her heart set on OSU for a long time. Both of her parents attended OSU, and she embraced Cowboy traditions from a young age.
"It's a really beautiful campus and I just love being around OSU," she said.
Even if you're not from Stillwater, Peeper said OSU "just feels like home."
"Everyone's always so nice and welcoming," she said.
Peeper, an elementary education major, is excited to be back on campus — this time as a student — and to be part of the largest incoming class in school history.
"I think that's really exciting to know that so many other people love OSU the way that I do and want to be a part of it," she said.
Apart from the personal touch, Clayton said the strength of OSU's programs and facilities were compelling factors.
Provost and Senior Vice President of Academic Affairs Jeanette Mendez said a student-focused approach is at the heart of OSU's academic mission. New and cutting-edge facilities, such as the Greenwood School of Music, The McKnight Center for the Performing Arts, the Spears School of Business, the Ray and Linda Booker OSU Flight Center, the Unmanned Systems Research Institute and the forthcoming New Frontiers Agricultural Hall are physical representations of OSU's commitment to provide a one-of-a-kind, hands-on learning experience.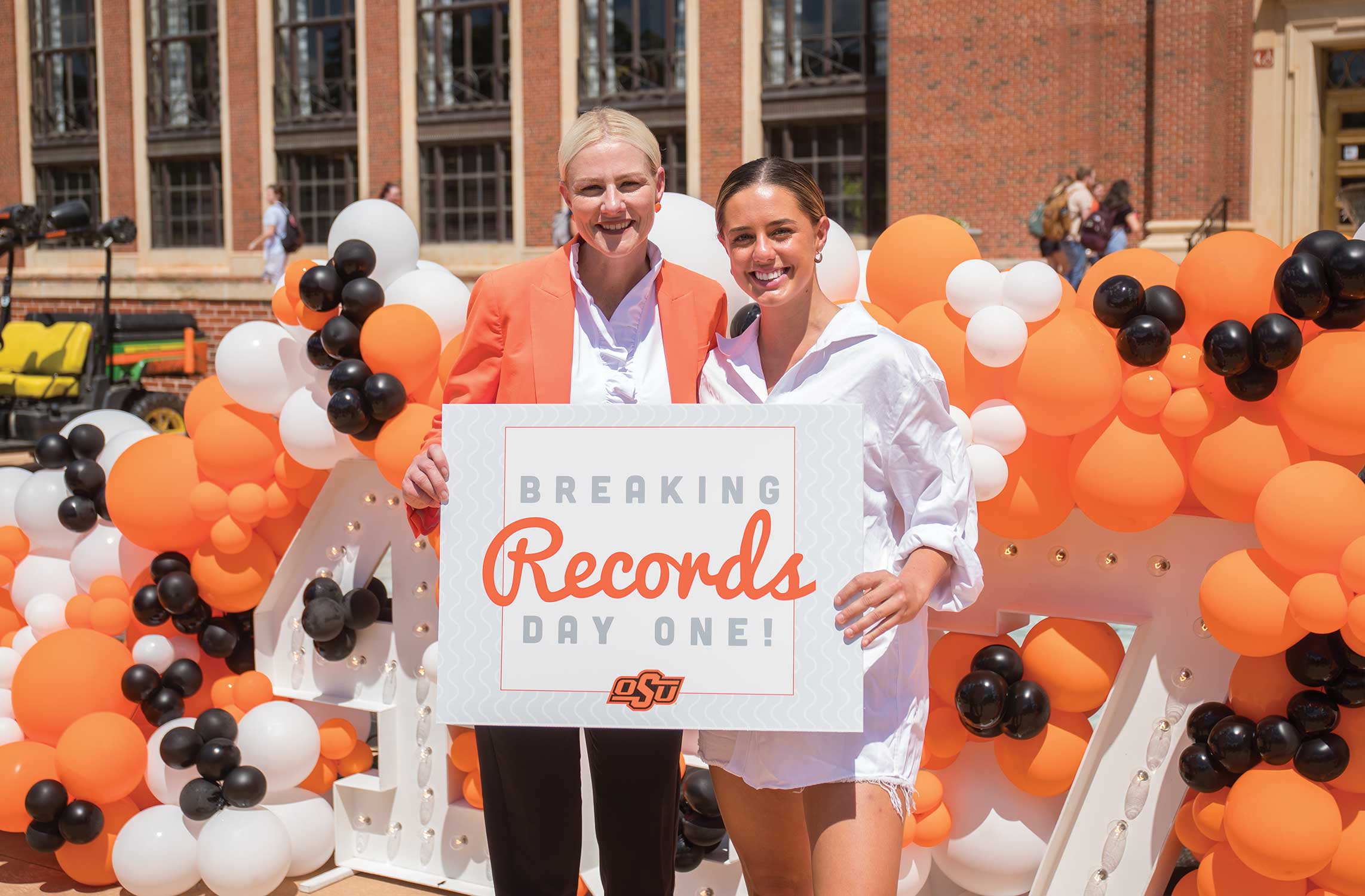 "The land-grant mission calls us to tackle some of society's most pressing challenges through research and practical applications. That starts with our students," Dr. Mendez said. "Whichever degree path students choose to pursue, they'll find a home here and a network of support. Our faculty are dedicated and eager to help them explore their passions, learn and thrive. That's what being a part of the Cowboy family is all about."
With the launch of the new strategy, OSU is well on its way to hitting its ambitious new target to enroll 5,000 new first-time students by fall 2026. McClendon said OSU has great momentum, and Dr. Shrum's leadership has created a buzz around the state and beyond. McClendon said it all comes back to the student experience, and OSU leadership understands that.
"I think we've got great leadership with Dr. Shrum, Dr. Mendez and within undergraduate admissions," McClendon said. "And that goes all the way up to Karen Chen and [Senior Vice President for Executive Affairs] Kyle Wray. Both Karen and Kyle came from the admissions world and both started their higher education careers as admissions counselors. So they know what it's like to have that one-on-one conversation with the student that's scared, excited and the whole range of emotions. And so much of what we do is try to disarm that a little bit so that we can have a conversation.
"I think it's this notion of the Cowboy family that students are feeling. One of the differences we often hear from students is just how welcome they feel when they come to campus. That is not always the case at every campus. Going back to [Clayton's] experience, that's what we want for everyone, because we know every student is going to enrich and make our campus even more exciting and diverse."
---
Photos by: Gary Lawson and Phil Shockley
Story by: Mack Burke | STATE Magazine