Bright Lights, Bright Students: Country music superstar returns to alma mater
Tuesday, September 5, 2023
Media Contact: Mack Burke | Associate Director of Media Relations | 405-744-5540` | editor@okstate.edu
If tomorrow never comes, Oklahoma State University students can be content knowing they saw a Cowboy legend this spring.
Country music superstar and OSU alumnus Garth Brooks returned to campus April 14-15 to perform two concerts to support student scholarships at The McKnight Center for the Performing Arts.
The first concert was open to OSU students from all campuses. Brooks' second concert was an exclusive event for alumni, donors, faculty and staff.
Brooks is no stranger to playing and singing on a big stage in front of thousands of people. When the music starts, he knows what to do. But his performance for students — his first Stillwater concert since the early 1990s — had him feeling more nervous than most.
"I think one of the reasons why I'm so nervous though, is the difference in age tonight will probably be the biggest difference I've seen," said Brooks in a news conference prior to the student concert. "They bring children to the stadium all the time, but they're there with their parents."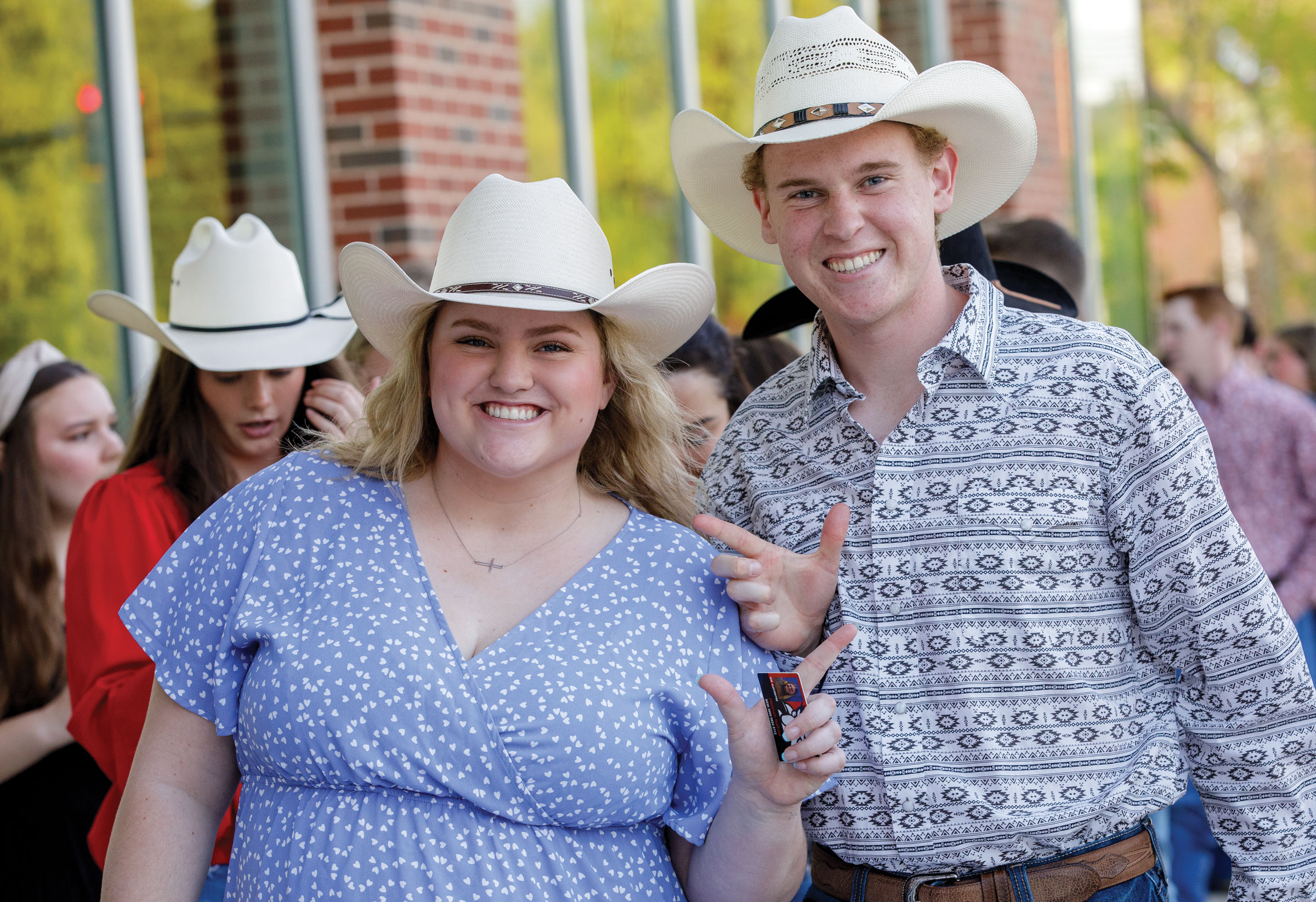 Brooks had no need to worry.
Following the announcement, students flocked to donate nonperishable food or hygiene items to register for a ticket. Some waited in line for three hours — all to see the best-selling solo artist in U.S. history just a few blocks away from where he famously got his start at Willie's Saloon on Washington Street, aka The Strip.
Matthew Laster was one of those students who inherited an appreciation for Brooks from their parents.
Dressed in his dad's shirt — an exact replica of the brushpopper Brooks wore on the cover of his fourth studio album "The Chase" — Laster left Tulsa in the morning to be first in line for front row seats at the student concert that evening.
Laster saw Brooks on the stadium tour and attended his Industry Insights masterclass sessions on the Stillwater campus last fall.
"It was so great to see Garth come home and discuss his journey and influences with such a large group of students," Laster said. "As an MBA student who is older than the typical student — in my mid 30s — it was fantastic to see that so much of the student body still recognizes him for not only his influence on music, but also his connection to OSU."
The evening was a once-in-alifetime experience for Laster. And through Brooks' conversations with students, it was clear his passion extends past his music. Laster could tell how much Brooks loves OSU and the students.
"My favorite moment was at the very end when he led us all in the O-S-U chant," Laster said. "Getting to hear Garth play in Stillwater and sing 'Friends in Low Places' with him will always be a once-in-a-lifetime experience that I am very thankful to have."
The OSU college experience is one Brooks is thankful for. He said while growing up, his dad was convinced all his children needed four years of college.
"Our father did everything he could to get us to college. But the truth is, they could barely do it. I was the last of six kids," Brooks said. "But we all got a shot to go to college, either through student government loans or athletic scholarships."
"I'm so proud of Oklahoma State University. It's so good. I'm so lucky to be from there. So lucky to have a degree from there — actually two degrees from there."
— Garth Brooks
With the help of a track and field scholarship and loans, Brooks attended OSU to throw javelin. In the now-School of Media and Strategic Communications, he studied advertising and learned to write short jingles.
In 1984, Brooks graduated with a degree in advertising and followed in his mother's footsteps as he pursued a professional music career.
When he arrived in Nashville, Tennessee, looking to be a songwriter, he was met with rejection and headed back home to Willie's in Stillwater. With a college degree from OSU to fall back on, he continued to chase his dream, found success, and now has a Las Vegas residency — Garth Brooks/PlusONE at The Colosseum at Caesars Palace.
"I'm so proud of Oklahoma State University. It's so good. I'm so lucky to be from there. So lucky to have a degree from there — actually two degrees from there," said Brooks while holding back tears during a weekly "Inside Studio G: A Monday Night Conversation" livestream.
During the livestream, Brooks shared how a college friend asked Trisha Yearwood, Brooks' wife, to sing "Somewhere Over the Rainbow" acapella during soundcheck and the room at The McKnight Center came to life with a beautiful sound.
"The McKnight theater can rival any theater on the planet. They spent the perfect amount of money to build something that they're so proud of," Brooks said.
Brooks' return to OSU was the perfect opportunity to get back to his Cowboy roots and support student scholarships.
Due to the success of his second studio album, "No Fences" in 1990, which reached No. 1 on Billboard's Top Country Albums chart, Brooks was able to pay his student loans off early. Today, Brooks continues to emphasize the importance of a college education and limiting the burden of student debt.
"I'm very proud of this statistic that over 50% of the people that come here, leave debt free," Brooks said. "And they're not happy with that. Oklahoma State's not. They want to keep pushing it up. For me, that means they have the student in mind more than the university itself."
As a modern land-grant university, OSU aims to broaden access to higher education for an increasing number of students and their families. As OSU announced in its We are Land-Grant strategy last October, it is enhancing efforts to extend access by working to reduce student debt through scholarships.
Decades of diminishing public funding and costs of operation across the higher education landscape means access is out of reach for an increasing number of prospective students and their families.
OSU President Kayse Shrum set out to raise a million dollars through the concerts to support students receiving degrees at OSU. The concerts exceeded expectations and raised more than $2 million, and the OSU Foundation is working with donors to secure additional support. Dr. Shrum said scholarships will help advance OSU's land-grant mission to improve access to higher education by directly benefiting students pursuing degree programs at OSU.
"You won't be surprised to hear that when I told him that we had set an ambitious goal last year to increase student access to scholarships, the first thing he asked was, 'How can I help?' Actually, the first thing he said is, 'Ms. Kayse, how can I help?' And here we are today, kicking off a two-concert series as a part of a new fundraising initiative to support scholarships at OSU," Shrum said ahead of the student concert.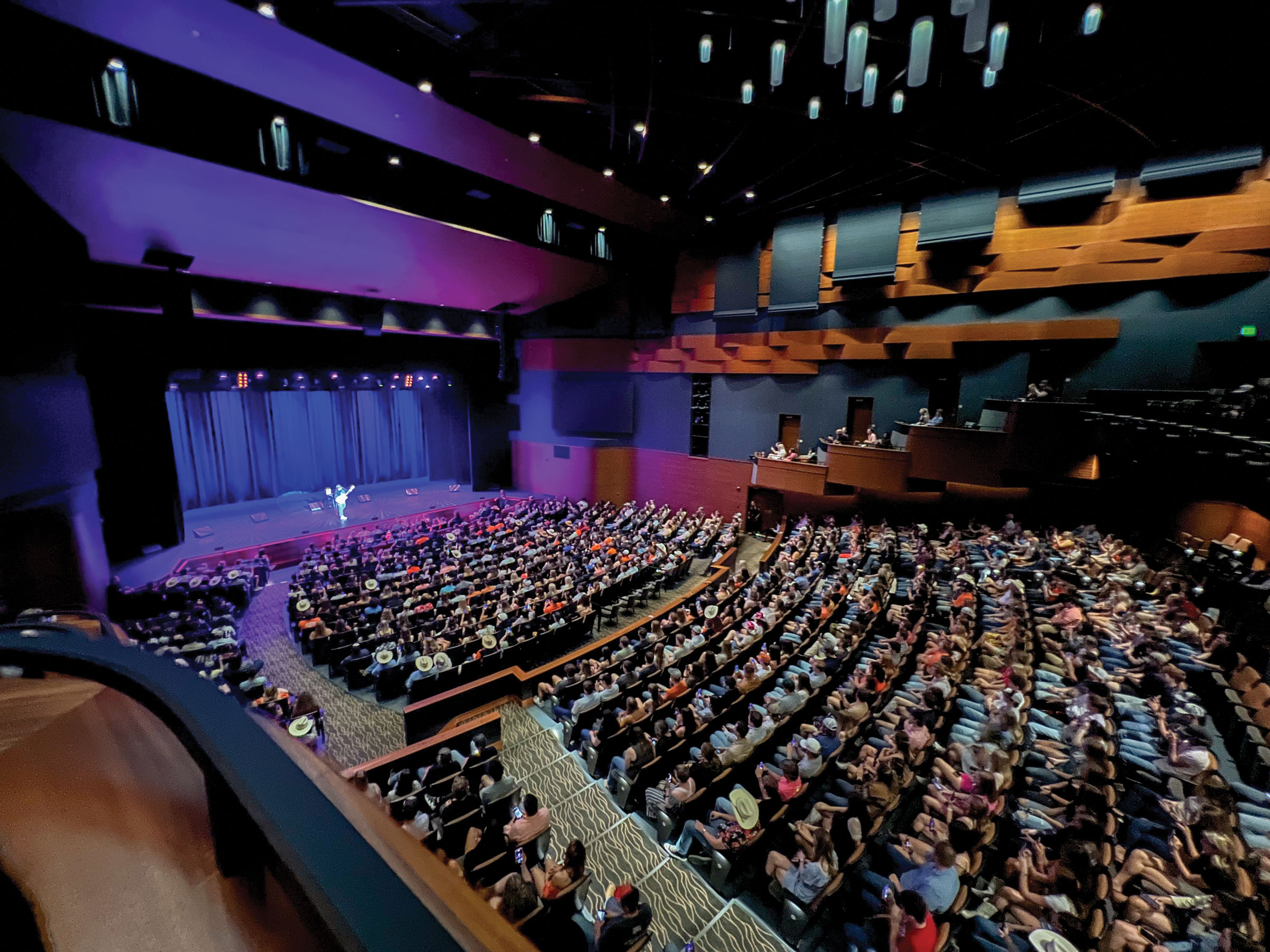 It's alumni like Brooks who help Cowboys chase their dreams.
Nearing the end of his high school career, Jeronimo Lara knew he needed to get a college degree to help him excel in his future and achieve lifelong goals. However, the more he researched the next step in his education, the more he realized the enormity of the challenge.
"When I started looking at colleges, OSU specifically, and the price to be able to go, it became very apparent it was going to be something that — my parents even expressed this to me — they weren't going to be able to help me very much to pay for school, because it was very expensive," said the Shattuck, Oklahoma native.
Through mentors putting in the time to help him research scholarships, and OSU alumni who established funding for students looking to attend OSU, Lara is now an animal science pre-vet undergraduate with a goal of applying to the College of Veterinary Medicine in September.
"My goals and dreams have always been to go back home and practice medicine, and really give back to the community that has given so much to me," the junior said. "I mean, that's always been such a goal and dream of mine, to go back and serve my community in a professional setting, such as practicing medicine."
Access to scholarships allowed Lara to attend college, but it has also allowed him to participate in out of classroom experiences such as a pre-vet focused study abroad trip to Mexico.
Lara vocalized his desire to study abroad through the course because he knew this opportunity was within the realms of his interest and something he could benefit from beyond his academic career.
Lara said OSU faculty and the Ferguson College of Agriculture went above and beyond to ensure he received funding to study abroad.
"Without alumni making these funds, students like myself would not be able to experience or go to school to hopefully one day get the career or degree that we all so dearly want," Lara said.
---
Photos by: Gary Lawson
Story by: Sydney Trainor | STATE Magazine