A One-stop Shop: OSU's Food and Agricultural Products Center a valuable resource for students and entrepreneurs alike
Thursday, April 27, 2023
Media Contact: Mack Burke | Associate Director of Media Relations | 405-744-5540 | editor@okstate.edu
In Oklahoma, creating and bringing a new food or agricultural product to market is easier than ever thanks to Oklahoma State University's Robert M. Kerr Food and Agricultural Product Center (FAPC).
With many factors to consider, from production and packaging to labeling and marketing, FAPC offers guidance to entrepreneurs, helping them navigate challenges and successfully launch their products.
Combining research and education, FAPC's programs, training and seminars keep food and agricultural processors and entrepreneurs on the forefront of cutting-edge processing and technology.
"We do a lot of applied research, there's nowhere else quite like FAPC anywhere in the United States," said Andrea Graves, a business planning and marketing specialist at the center.
One area that sets FAPC apart is the amount of resources they have under one roof, said Dr. Rodney Holcomb — a professor of agricultural economics and Extension specialist for food economics.
From new product development and new process development to research, outreach and education, FAPC covers it all in one location, Graves said.
FAPC currently offers over 50 education and training events each year on a variety of topics, including food safety, starting a food business, baking and more.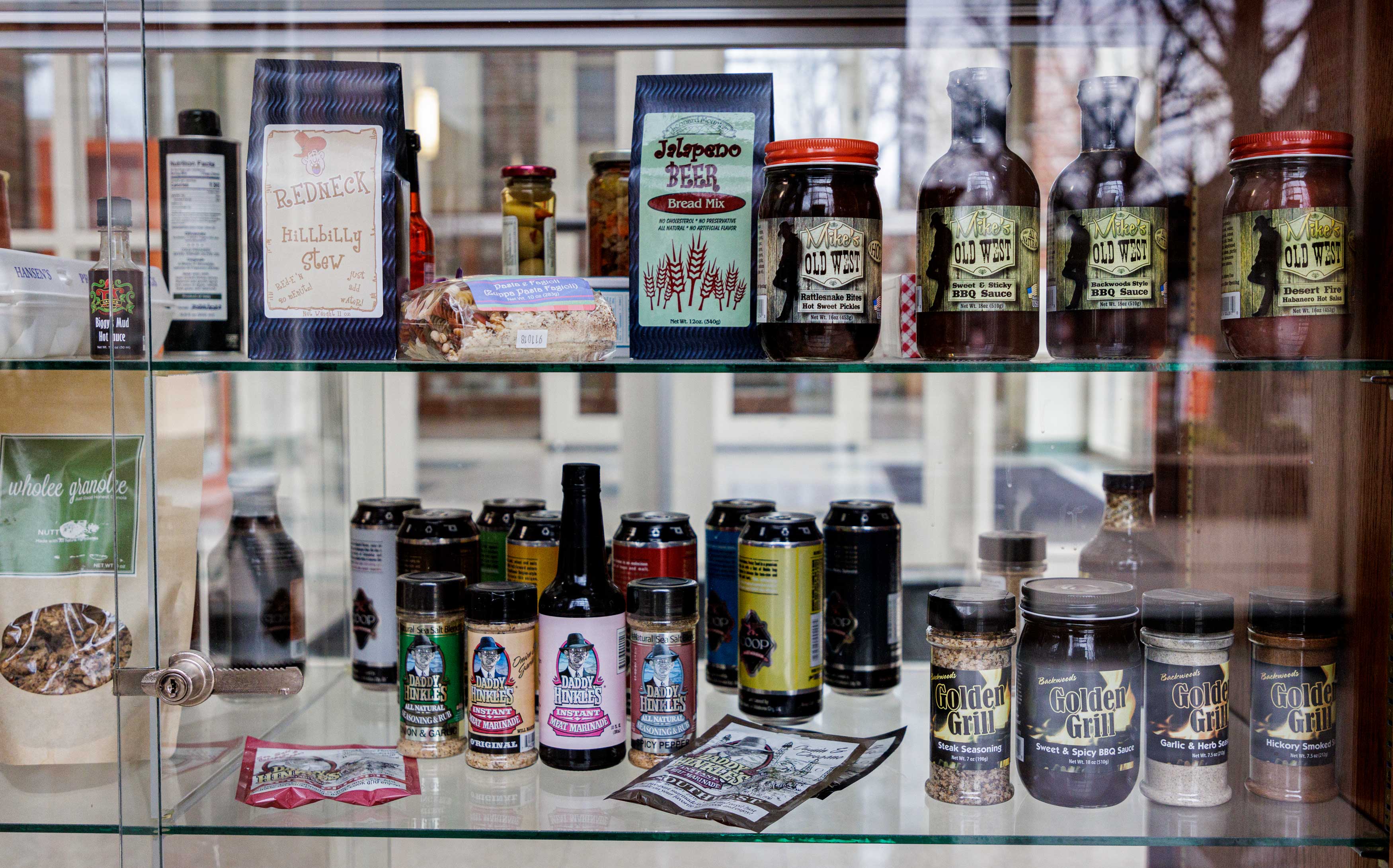 One course has become a staple. The Basic Training for Food Entrepreneurs class is focused on educating new entrepreneurs along with growing and promoting Oklahoma-made products. The course intends to provide entrepreneurs with the knowledge and skills to start their own food business. Because of its broad nature and appeal, many people apply.
"There's really two frames of mind when we first talk to an entrepreneur that's interested in starting a food business," Graves said. "There's always the one that thinks they know everything. And it turns out they don't. And it takes them a little bit to figure out they really don't know that much. The other type of entrepreneur feels completely overwhelmed and panics. They need a lot of hand-holding."
But being overwhelmed is exactly what FAPC is there to help with.
"People don't understand the importance, the liabilities and the big responsibility of producing a food product," Graves said. "There's so much more to it — we all take it for granted here in the United States, because we are one of the safest food chains in the world.
FAPC's main goal is to help food businesses in Oklahoma, which aligns with OSU's land-grant mission to enrich and bolster the state's economy.
"We want to keep the dollars here in Oklahoma so that they're not taking commodity items and products outside our state to get them processed, and then bringing them back here. It is a big part of our mission," Graves said.
The Basic Training course has been a pillar for FAPC since its inception in 1999. The course covers not only legalities and liabilities but also brings in speakers to illuminate best practices and raise awareness — from the State Department of Agriculture talking about the Made in Oklahoma program, to food industry entrepreneurs sharing their insights, both the good and the bad. Even representatives from the Oklahoma health department have made appearances to talk about regulations.
"So it turned into a full-day workshop, and we have been doing it ever since," Holcomb said.
The program is offered every other month in person, but there is also an online self-guided version that people can take at their own pace.
"We do a lot of applied research, there's nowhere else quite like FAPC anywhere in the United States."
— Andrea Graves
"We've had people from coast to coast who have shown up," Holcomb said. "We always have alumni, but it's usually people in Oklahoma, whether they grew up here or whether they just moved here, they have an idea for a food business, and they want to figure out what they need to do to get it started in the right manner."
Sitting in the class at any moment could be farmers who are looking at processing because they want to maximize their leftover fruits and vegetables; ranchers who want to see what it takes to become a meat marketer; and even restaurant owners who want to commercialize some of their products that have become fan favorites.
In 2012, one of those people was Susan Witt, founder and owner of the Ace in the Bowl salsa, which has been on the market for over a decade.
For Witt, her journey started in her kitchen and took her all the way through FAPC to the Oklahoma market.
"I had been making the salsa forever and a day," Witt said. "One of my husband's golf buddies also worked for FAPC and one time I took it to a get-together. And he said, 'Who made the salsa? And my husband said 'Susan did' and he said, 'Have you ever thought about making this commercially?'"
Witt dismissed the idea at the time, but 20 years later, Witt and her husband decided it was finally the right time to look into commercialization.
"The next time they had a Basic Training program, I enrolled and went through the day process and learned all the things about it," Witt said. "Ten months later, I had the product on the shelves."
Witt emphasized the professionalism and care FAPC has for its clients.
"Our motto is, it's your business, so you have to do at least 51% of the work; we can help you for the remainder up to 49%," Holcomb said. "We'll answer your questions, we'll find you alternatives, we'll help you fix problems. But at the end of the day, it's still your business."
Outside of the course, FAPC also helps create awareness of Made in Oklahoma products.
"We work with almost, I would say, 98% of all the Made in Oklahoma companies that you see out on the market," Graves said. "We also help with innovation. 'How can we do things better? How can we create new innovative products, out of what we have here in Oklahoma and add more value?'"
FAPC also serves as a resource for educating students and providing unique networking opportunities, Graves said.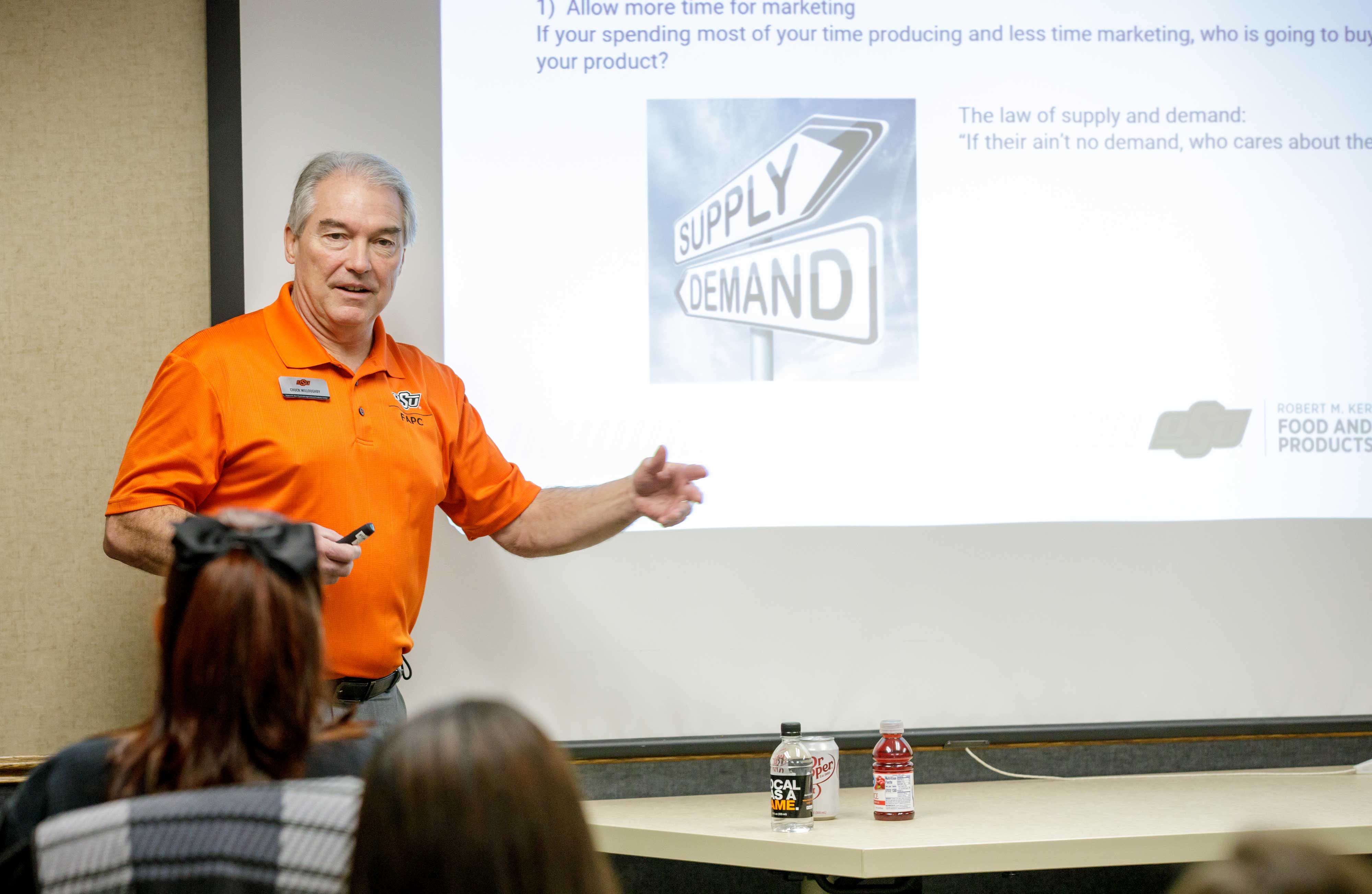 "We give students the opportunity to help with real life projects. They learn firsthand how product development happens, how food processing facilities work. We've also taken students to food manufacturers that typically most don't have access to, and they can learn about food safety, learn about auditing," Graves said. "There is a strong demand for careers in food production and food safety. There are so many hands-on experiences and skills students can learn with our connections that they can't get elsewhere. FAPC has worked hard to develop trust and these close relationships with food companies."
While FAPC covers everything from new research and development to offering courses on all the different elements of product development and even services for nutrition labels and other regulatory needs, all this serves their main goal — helping people.
"Everybody is so interested in getting Oklahoma products out, and [Oklahoma] has some great products," Witt said. "It's just amazing what has come out of some of these young people that are getting into this. It's really a great opportunity."
---
Photos By: Gary Lawson
Story By: Harrison Hill | STATE Magazine