New Human Performance and Nutrition Research Institute sets sights on improving Oklahoma health
Thursday, April 27, 2023
Media Contact: Mack Burke | Associate Director of Media Relations | 405-744-5540 | editor@okstate.edu
Oklahoma faces significant health challenges. That's not news to many, but the numbers highlight the enormity of the challenge.
According to Centers for Disease Control and Prevention data from 2020, Oklahoma has the second highest death rate from heart disease in the country — only Mississippi fared slightly worse. Oklahoma also posted the second highest death rate from lower respiratory disease mortality, the fourth highest death rate from cancer and the fifth highest death rate related to diabetes.
Those are just a few examples, but they speak to the crucial need for an innovative approach to health that will have a significant impact in Oklahoma and beyond.
Enter OSU's new Human Performance and Nutrition Research Institute (HPNRI).
The institute was created last year with a vision to address changeable health outcomes. Now, through the power of research, the academic institute is establishing the groundwork for developing preventative therapeutic strategies to combat obesity and chronic diseases. So far, it has made some notable strides in the long race to come … and it's just getting started.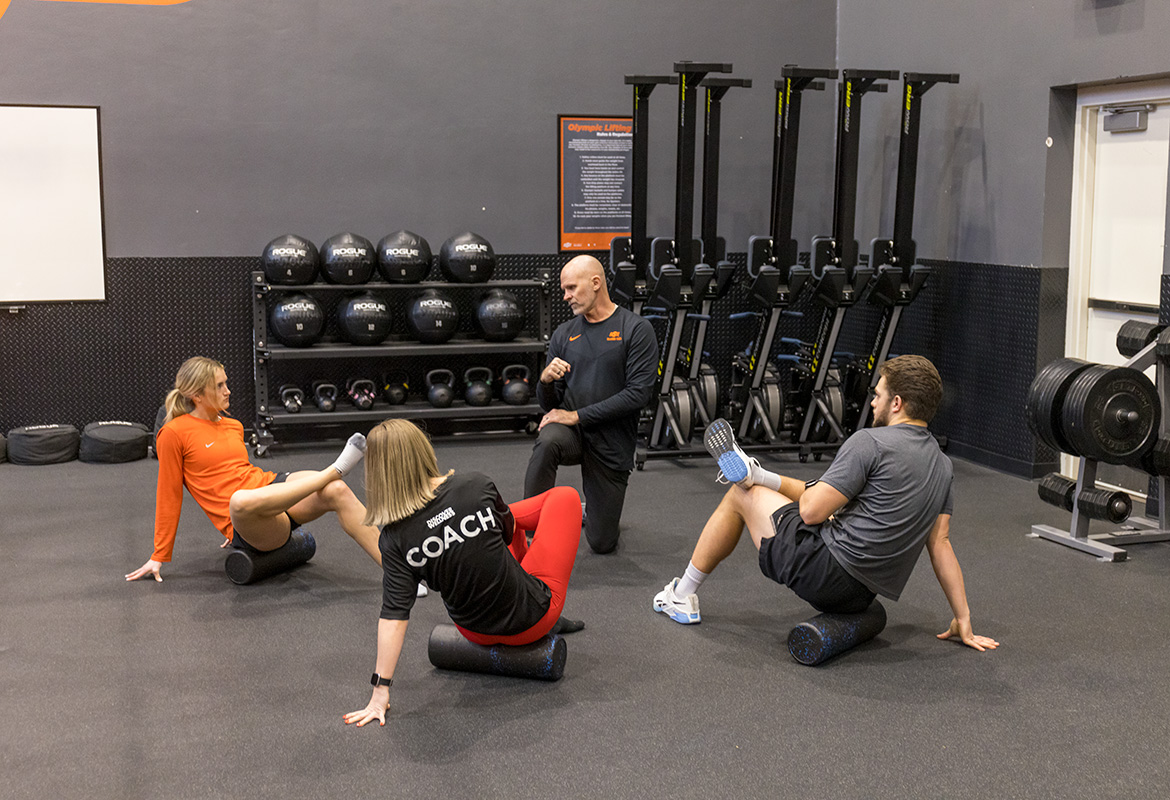 Leading the charge
At the helm of this novel institute is Lance Walker, a licensed physical therapist with an international reputation as an expert in fusing sports performance, sports science and sports medicine for both the elite athlete and the non-athlete.
"The institute will be the first of its kind — a university-based center focused on human performance and nutrition science for optimizing health and performance."
— OSU President Kayse Shrum
Walker has spent his entire life obsessing over human performance and health. In his two-and-a-half decades of professional experience, he's worked with organizations such as the NFL and the NCAA and companies such as Nike, where he served as a contributor to the Nike Innovation Kitchen, a member of the Nike Performance Council and as a liaison for Nike Science and Research projects at a first-of-a-kind applied sport science lab. He has contributed to more than 50 professional publications in sport science and presented at over 100 national conferences and 25 international courses.
Still, Walker said his greatest challenge lies ahead. And that's just the way he likes it.
In December, OSU announced that Walker would lead the newly formed HPNRI as the inaugural Rick and Gail Muncrief Executive Director, a position endowed through a gift from the eponymous OSU alumni couple.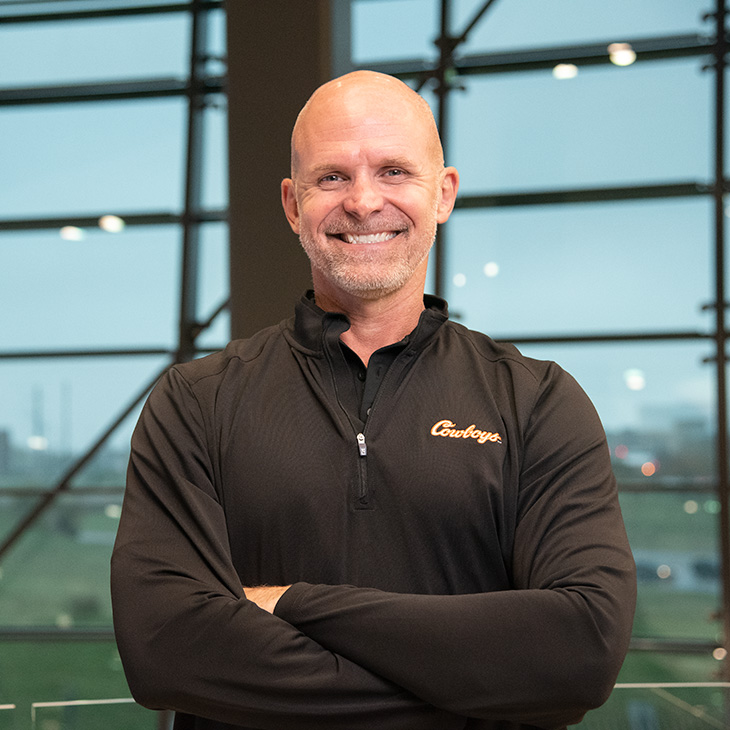 "The state is in need of more resources in practical and research-supported solutions that can trigger and fuel generational and transformational change in health outcomes," Walker said. "Oklahoma State University will be aligning its world-renowned expertise and proven research and teaching capabilities across dozens of disciplines, departments and resources to extend service to the people of Oklahoma. The vision of elevating the human performance and nutrition of both Oklahoma State and the state of Oklahoma transcends any individual or entity. The combination of this grand vision and innovative strategic approach makes HPNRI a once-in-a-generation opportunity to create transformational and long-lasting change.
"We have so much knowledge across this university, and I'm extremely grateful to be in this position to empower and promote the work of our talented researchers and find new ways to bolster Oklahomans' health with a positive, performance-focused approach."
Walker has hit the ground running with a vision to shape the new institute into an interdisciplinary powerhouse.
OSU President Kayse Shrum said Walker's experience and ambition made him an ideal fit to lead the institute.
"The institute will be the first of its kind — a university-based center focused on human performance and nutrition science for optimizing health and performance," Dr. Shrum said. "As Oklahoma's land-grant university, OSU is uniquely positioned to serve as the leader in improving the state's health outcomes, and we are thrilled to have such an accomplished and innovative director in Lance Walker."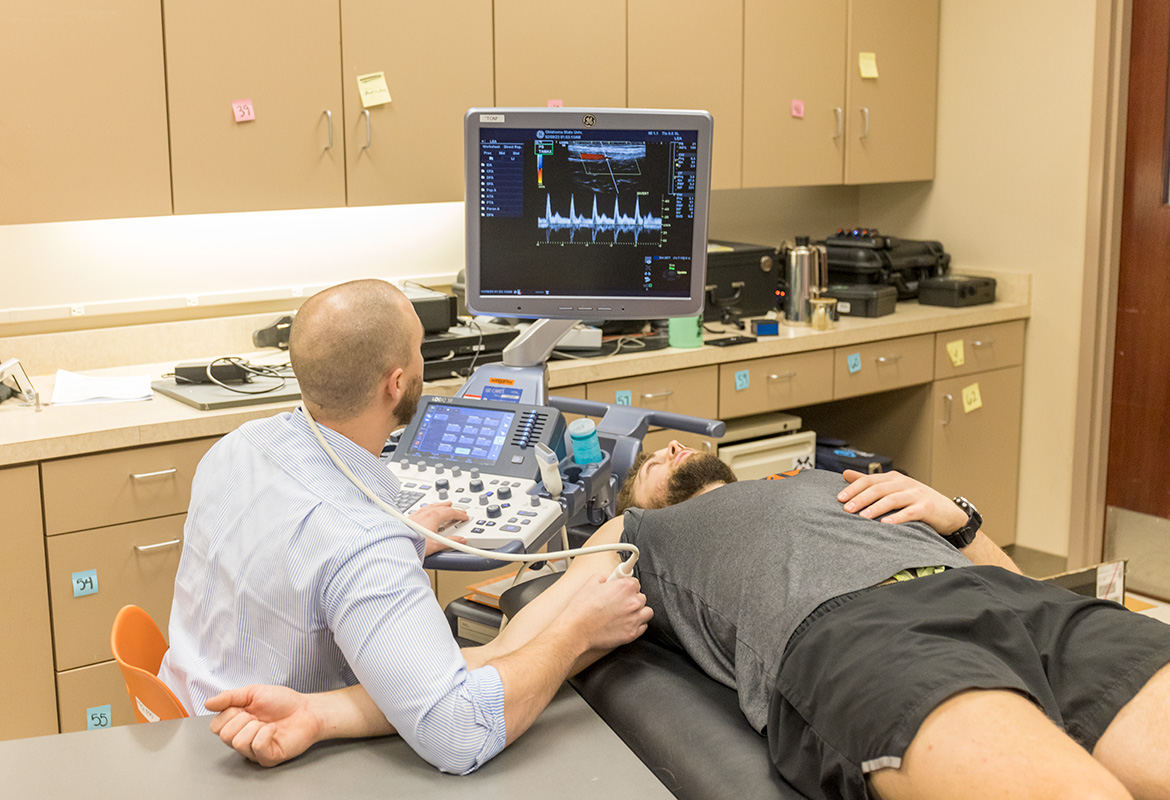 Studying athlete performance
How will HPNRI turn aspiration into perspiration and expertise into results? It all starts with OSU student-athletes.
Using research and information already collected from student-athletes, whose nutrition, physical activity and other biometrics are closely monitored while they train and compete, HPNRI will take a data-driven approach to advancing improved health outcomes in Oklahoma and a performance mindset aimed at driving Oklahomans toward healthier lifestyles.
"Research in the realm of sport and exercise science has informed health advice that applies to everyone," Walker said. "It helps us not just to understand but to prevent major health challenges such as diabetes and heart disease. Whether we're talking about an individual or society at large, physical activity combined with nutrition is the key to unlocking our full health potential. Studying these athletes will give us tremendous insight that we will allow HPNRI to make a lasting public impact."
"The vision of elevating the human performance and nutrition of both Oklahoma State and the state of Oklahoma transcends any individual or entity. The combination of this grand vision and innovative strategic approach makes HPNRI a once-in-ageneration opportunity to create transformational and long-lasting change."
— Lance Walker
The institute has received $50 million in initial funding from the state of Oklahoma through the American Rescue Plan Act. With 25 cents of every health care dollar currently being spent on the treatment of diseases or disabilities that are related to changeable behaviors, the potential economic impact of the new institute is incalculable, with the economic benefits of healthy eating alone estimated to be $114.5 billion per year. The benefits include decreased health care spending, a more productive workforce and saving lives.
The institute will operate under the mantra "Driven by science. Powered by humans." Its mission is to discover, develop and deliver scientific knowledge to empower people of all abilities to realize their optimal performance.
There are three strategic pillars to guide the institute's work:
Investigate and innovate human optimization
Teach and inspire the next generation of students, service providers and solutions
Extend and amplify outreach that empowers individuals' performance and health
Right place, right time
In accordance with its land-grant mission to address society's toughest challenges, and through the expertise and resources available at the new institute, Dr. Shrum believes OSU is perfectly positioned to abate the state's unhealthy trends.
OSU has a presence in all 77 counties through its Extension offices. It also has clinical care programs in major rural areas. Through Project ECHO and OSU's telemedicine network, the university has an established virtual infrastructure to push out best practices quickly across Oklahoma.
HPNRI will be able to tap into these assets to promote therapeutics that will help Oklahomans lead healthier, more productive lives.
"It is the right time for us to be involved, and we are excited to be supporting OSU. We are energized by the university's leadership, who are committed to OSU's mission as a land-grant institution in their strategic focus forward," Gail Muncrief said. "I am proud to see the transformational work of HPNRI amplified through OSU's Extension efforts."
Rick Muncrief said he and Gail enjoy investing in a project that will benefit a state they are both extremely proud of.
"We are pleased with the role that Oklahoma State University will play in the advancement of human performance through the capture and utilization of critical data, understanding the important role of nutrition, applying emerging science and technologies, and effectively communicating and implementing the results," he said.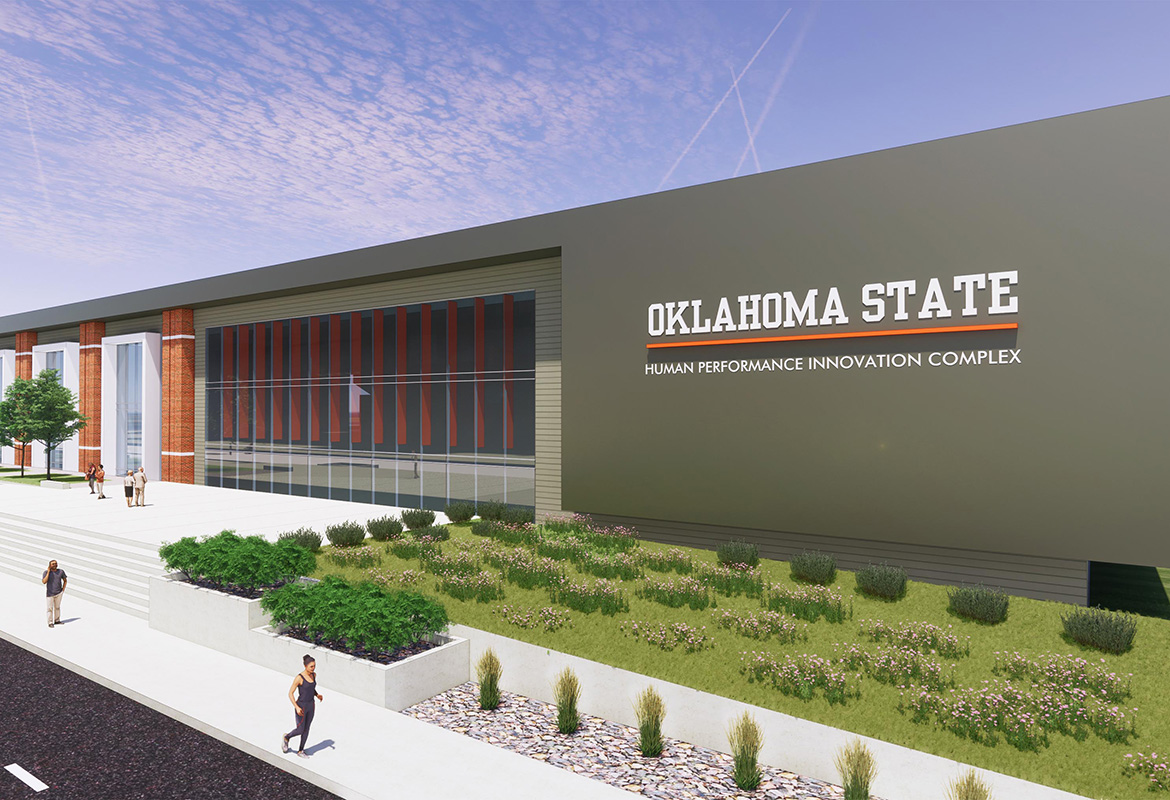 Building the future
This spring, Walker presented the Oklahoma A&M Board of Regents with new plans for a purpose-built research facility on the Stillwater campus to house HPNRI's headquarters.
The Human Performance Innovation Complex will be on Hall of Fame Avenue adjacent to the Sherman E. Smith Training Center and the existing practice fields. Building specifications are currently in the conceptual design phase and will be finalized following the selection of an architectural firm, with final building specifications subject to approval from the Oklahoma A&M Board of Regents.
"Seeing the concept of the new facility and the ambitious scope of Lance's vision for this institute brings us a step closer to reality," Shrum said. "This first-of-a-kind institute is sparking collaboration between our academic, medical, veterinary and sports research experts to elevate the very definition of a land-grant university system. Our goal is to generate a greater understanding of human performance, and then take that knowledge to positively change health outcomes for all Oklahomans."
To maximize efficiencies, the institute headquarters will share a roof with the new operations home of Cowboy football. It's a synergistic arrangement for HPNRI and OSU Athletics, which unveiled those and other details in February as part of its new Athletics Vision Plan.
But Walker is quick to note that the scope and impact of the institute's research goes far beyond athletics. In fact, he said, it's just beginning to scratch the surface of how deep and wide it can reach to draw in different facets of the health and human performance ecosystem. The institute will leverage research and expertise from several departments and colleges across the OSU system, including the the College of Arts and Sciences; College of Education and Human Sciences; Ferguson College of Agriculture; the College of Engineering, Architecture and Technology; Robert M. Kerr Food and Agriculture Products Center; College of Osteopathic Medicine and more.
"Every day, we are building and expanding the scope of the Human Performance and Nutrition Research Institute," Walker said. "We will leverage our academic and athletic partnerships for the benefit of OSU's elite college athletes, students and ultimately, for the well-being of all Oklahomans.
"Of course we're going to work with departments like athletics and nutrition, but it's so much bigger than that. I've had great conversations with Dean Jon Pedersen of the College of Education and Human Sciences, OSU Center for Health Sciences President Johnny Stephens and many others from across the university about how we can innovate in this space together, how we can find and promote connections, new discoveries, new ideas and methods that will make a difference."
HPNRI is also in the process of forming a scientific advisory council composed of esteemed leaders in the human performance and nutrition industries to join OSU experts in bringing new thought and discovery to this sector. An inaugural summit on April 28 in Stillwater highlighted and raised awareness for the goals and vision of the institute as a springboard for the institute's work.
While Walker is extremely optimistic about HPNRI's future, Regent Chair Jarold Callahan said HPNRI is already garnering attention in Stillwater, at the state Capitol and even globally.
"Lance Walker's contagious energy and unsurpassed passion in this field and the number of world-class researchers from different departments working together to spark new ideas will quickly catapult this institute to national prominence," Callahan said.
---
Photos By: Phil Shockley and Mack Burke
Story By: Mack Burke | STATE Magazine