The quality of hay available for beef cattle feeding programs this winter is expected to vary widely, making hay testing a good investment in nutritional risk management, Oklahoma State University experts said.
Hay fields in most areas of Oklahoma have been producing an average to above-average number of large round bales this summer, said Glenn Selk, Oklahoma State University emeritus animal scientist and editor of the university's popular Cow-Calf Corner newsletter and SUNUP television segment.
"Out-of-pocket costs of protein and energy supplements are a necessary operational expenditure of cow-calf enterprises," he said. "Producers need to design winter supplementation programs that are most appropriate for the forage supply they will have available to support the nutritional needs of their cattle."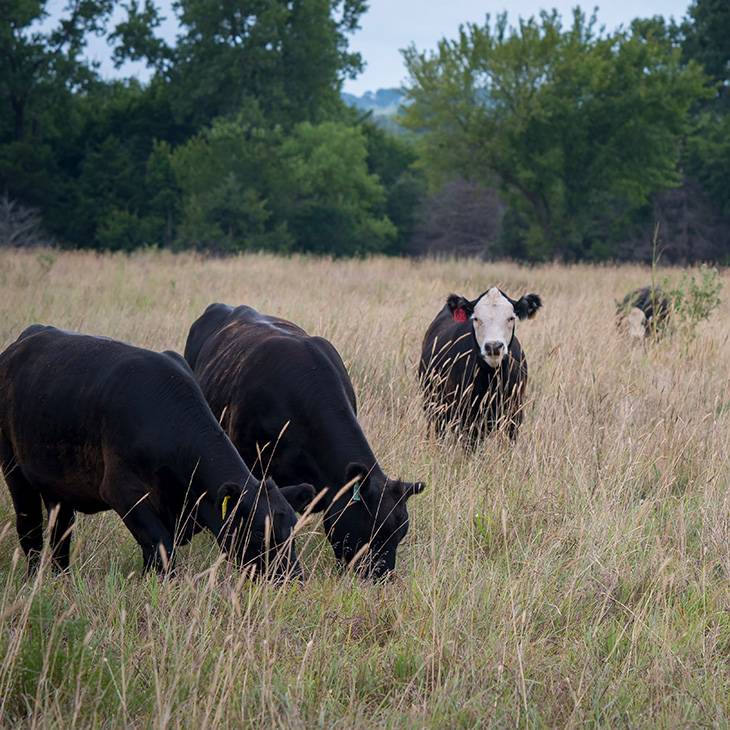 On average, nearly 40% of total operating costs in cow-calf enterprises are associated with nutrition because purchased and harvested hay and concentrate feeds make up the majority of that cost. OSU Extension fact sheets featuring research-based recommendations for designing a cattle supplementation program are available online.
There are several good methods of sampling hay for forage analysis:
Use a coring probe, typically a stainless-steel tube with a serrated, cutting edge. Cordless drills make this tool quite mobile so the hay bales being tested do not have to be hauled near an electrical outlet. Cores are taken from several bales at random to obtain a representative sample to be analyzed.
Grab several samples by hand from about six inches into the open side of the bale or the middle third of a round bale and place the entire amount of material in the bag. Do not discard weeds or stems as they are part of the hay being offered to livestock.
Always label forage samples accurately and immediately.
Detailed information about collecting hay samples is available online from OSU's Division of Agricultural Sciences and Natural Resources. Samples can be taken to commercial laboratories or to any OSU Extension county office, which will forward them to the OSU Soil, Water and Forage Testing Laboratory for analysis.
"A producer can best evaluate alternatives when designing a nutritional program by using a systematic approach to evaluating animal nutritional requirements, forage nutrient contribution and supplemental sources," said Dave Lalman, OSU Extension beef cattle specialist.
The lowest cost alternative may not automatically be the best program because of the relative value of convenience, labor requirements and feeding system used by a specific operation.
Oklahoma is typically the nation's fourth- or fifth-leading producer of cattle annually, according to USDA National Agricultural Statistics Service data.
MEDIA CONTACT: Donald Stotts | Agricultural Communications Services | 405-744-4079 | donald.stotts@okstate.edu