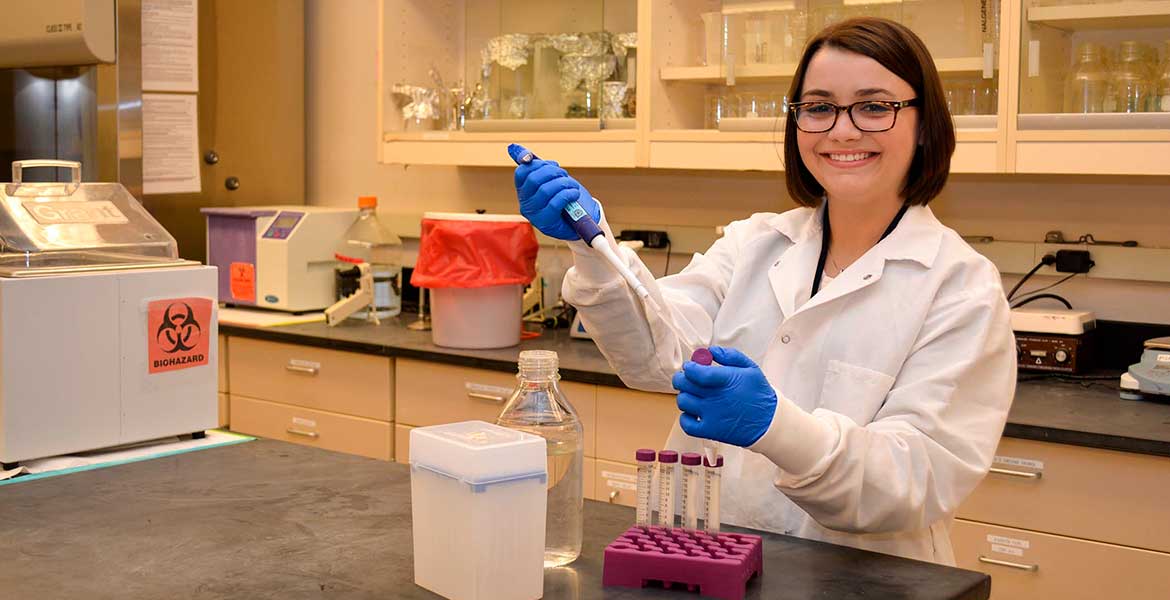 OSU graduate student receives scholarship; attends food safety conference
Thursday, December 13, 2018
An Oklahoma State University graduate student was recognized for her academic ability, leadership potential, and passion for the food industry and food safety auditing profession.
Conner McDaniel, a food science graduate student, was selected as a recipient of a $3,000 scholarship grant from the Food Marketing Institute Foundation for the 2018-2019 academic year.
The FMI Foundation scholarships are awarded to students currently enrolled in food and agricultural science majors who have a true interest in the field of accredited food safety auditing.
"I feel honored to have been selected as a recipient of the scholarship," McDaniel said. "It is humbling to know that out of all of the applicants, I was selected."
In addition to the scholarship grant, the FMI Foundation provided McDaniel with complimentary registration to attend the Safe Quality Food International Conference held Oct. 23-25 in Atlanta, Georgia.
McDaniel said the conference was beneficial in learning more about implementing and improving a food safety and quality program.
"Not only did I learn many new things about the SQF code, I was also able to network and communicate with individuals from all different areas of the food industry," she said. "Through these conversations, I feel as though I gained invaluable knowledge about multiple topics within the food industry. These connections are something that will provide an important resource for me moving forward."
As a graduate student working at OSU's Robert M. Kerr Food & Agricultural Products Center, McDaniel has gained real-world experience by assisting food companies in the development of food safety plans.
McDaniel said she is looking forward to applying what she learned at the conference to her daily responsibilities at FAPC.
In addition to helping food companies, she also is researching the use of different antimicrobials to reduce foodborne pathogens from fresh produce. McDaniel plans to graduate with her master's degree in May 2019.
Ravi Jadeja, FAPC food safety specialist and assistant professor in OSU's Department of Animal and Food Sciences, said McDaniel is well-deserving of this prestigious scholarship.
"I came to know Conner very well when she was a student in the HACCP [Hazard Analysis and Critical Control Points], audit schemes and quality control food safety classes that I teach," Jadeja said. "As a graduate student in my program, she has always shown keen interest in assisting me with Extension and research projects and has done an excellent job. Conner is currently providing assistance to five small- and medium-sized processors who are working toward their first Global Markets, SQF, BRC and Primus audits."
FAPC, a part of OSU's Division of Agricultural Sciences and Natural Resources, helps to discover, develop and deliver technical and business information that stimulates and supports the growth of value-added food and agricultural products and processing in Oklahoma.
Story by Mandy Gross