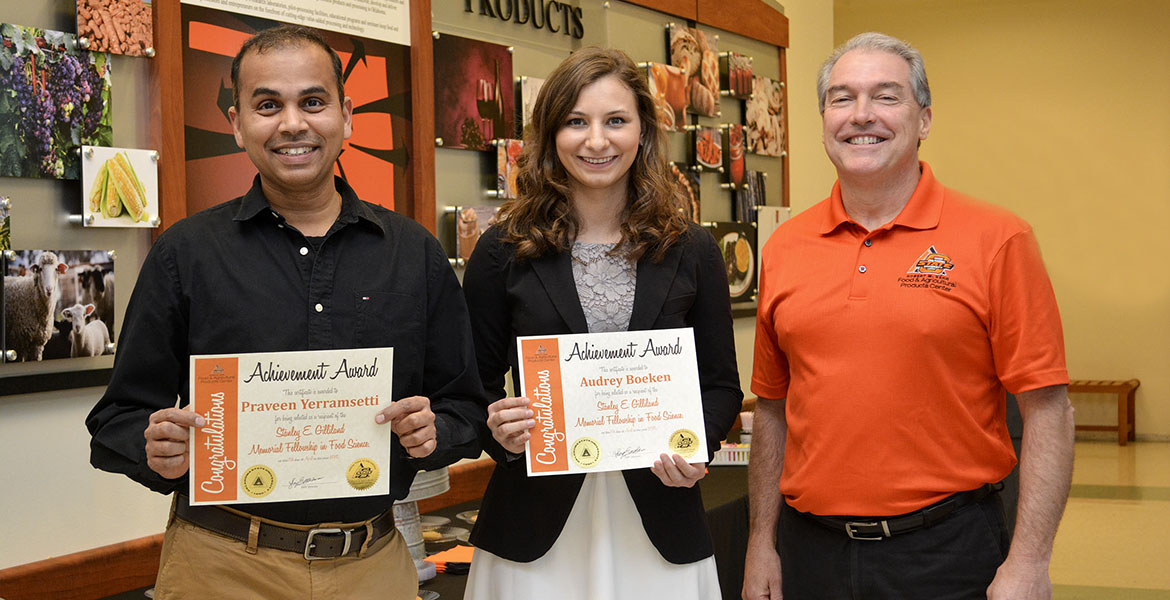 FAPC honors two graduate students with Gilliland Memorial Fellowship
Wednesday, April 25, 2018
Oklahoma State University's Robert M. Kerr Food & Agricultural Products Centered honored two graduate students with the Stanley E. Gilliland Memorial Fellowship in Food Science, providing $500 toward each recipient's education efforts.
Praveen Yerramsetti, a doctoral candidate in food science, and Audrey Boeken, a food science master's student, received the awards during a reception on April 6.
William McGlynn, FAPC horticultural products processing specialist and food science graduate program coordinator, said there is no doubt Gilliland would be both delighted and proud to see his legacy being honored and carried on in the form of these two fellowship recipients.
"Those of us who were lucky enough to know Stan Gilliland remember him as a man who believed in the value and power of scientific inquiry," McGlynn said. "He was instrumental in helping to establish and grow the food science program here at Oklahoma State University, and he instilled and demanded intellectual rigor and excellence from those with whom he worked."
Gilliland was a 1962 graduate of OSU. He joined the OSU Department of Animal Science in 1976 and served as the interim director of FAPC, a part of OSU's Division of Agricultural Sciences and Natural Resources, during the construction of the center. During his 34-year career, he impacted the lives of hundreds of OSU students and served as an adviser to 65 M.S. and Ph.D. students and served on numerous candidate committees.
To continue to make an impact, Gilliland's family supported the creation of the Stanley E. Gilliland Memorial Fellowship in Food Science to provide scholarships for students in food science.
"I met Dr. Gilliland when I was working at FAPC a few years ago, and he was one of the best mentors of all time," Yerramsetti said. "Receiving this award is a great honor to cherish him for a lifetime."
Yerramsetti plans to graduate with his Ph.D. in fall 2018 with a specialization in food safety. His research focuses on the evaluation of barbecue sauce containing high fructose corn syrup and optimization of head space pressure using liquid nitrogen.
Following graduation, Yerramsetti plans to continue his career as quality assurance manager for Head Country Food Products in Ponca City, Oklahoma.
During Yerramsetti's time at OSU, he has contributed to FAPC's food safety teaching and outreach programs by working with Oklahoma food companies to develop and improve their food safety programs, said Tim Bowser, FAPC food engineer and Yerramsetti's adviser.
"Praveen seeks out the challenges in a situation and applies his considerable skills to solve issues and add value," Bowser said. "I have observed Praveen's tenacious attitude of problem-solving firsthand. He learns from others and involves them in synergistic solutions."
Boeken will graduate with her M.S. degree in May 2018 with a specialization in food microbiology. The focus of her research is characterization and use of bacteriocin-containing microbial fermentates for control of Listeria monocytogenesin ready-to-eat meat applications.Boeken is currently seeking positions in the food industry.
"I'm really honored to be chosen for the award, especially because I know how instrumental Dr. Gilliland was in FAPC and how much he meant to everyone here," she said. "To receive this award with that knowledge about him truly means a lot."
Boeken has worked in the FAPC Food Microbiology Laboratory as a graduate research assistant for nearly two years under the direction of Peter Muriana, FAPC food microbiologist.
"Audrey has been instrumental to my laboratory and to my research program and is a pleasure to work with," Muriana said. "She has taken a leading role in supporting and providing training for other graduate and undergraduate students when needed and is viewed as a leader among the students in my lab, FAPC and Department of Animal Science."
The OSU Graduate Food Science Program is a multi-faceted discipline focused on providing safe, nutritious, high-quality foods to the people of the world. Food science combines elements of business, biochemistry, chemistry, economics, engineering, microbiology and physiology within its scope. The interdisciplinary food science graduate program at Oklahoma State University gives students the opportunity to earn both M.S. and Ph.D. degrees in food science.
Story by Mandy Gross