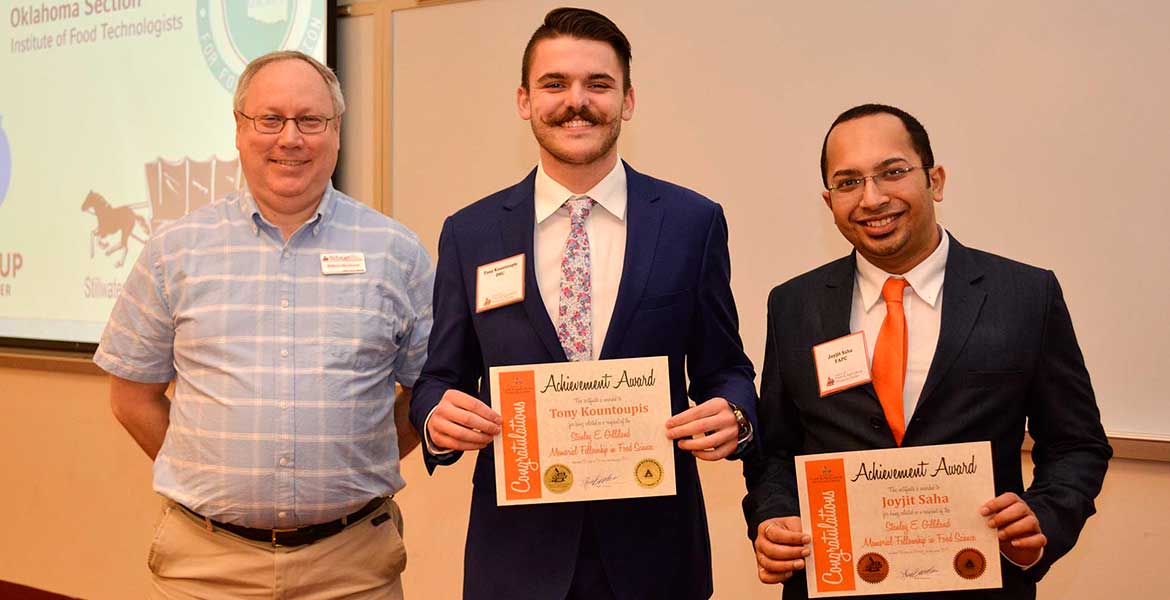 FAPC honors food science graduate students with fellowship
Thursday, March 21, 2019
Oklahoma State University's Robert M. Kerr Food & Agricultural Products Centered honored two graduate students with the Stanley E. Gilliland Memorial Fellowship in Food Science, providing $1,000 toward each recipient's education efforts.
Joyjit Saha, food science Ph.D. student, and Tony Kountoupis, food science master's student, received the awards during the FAPC Research Symposium Feb. 26.
William McGlynn, FAPC horticultural products processing specialist and food science graduate program coordinator, said there is no doubt Gilliland would be both delighted and proud to see his legacy being honored and carried on in the form of these two fellowship recipients.
"Those of us who were lucky enough to know Stan Gilliland remember him as a man who believed in the value and power of scientific inquiry," McGlynn said. "He was instrumental in helping to establish and grow the food science program here at Oklahoma State University, and he instilled and demanded intellectual rigor and excellence from those with whom he worked."
Gilliland was a 1962 graduate of OSU. He joined the OSU Department of Animal Science in 1976 and served as the interim director of FAPC, a part of OSU's Division of Agricultural Sciences and Natural Resources, during the construction of the center. During his 34-year career, he impacted the lives of hundreds of OSU students and served as an adviser to 65 master's and doctoral students and served on numerous candidate committees.
To continue to make an impact, Gilliland's family supported the creation of the Stanley E. Gilliland Memorial Fellowship in Food Science to provide scholarships for students in food science.
Gilliland's contribution to both academia and industry is noteworthy, Saha said.
"Being selected as a 2019 Gilliland Memorial Fellowship recipient is such an honor for me, and I am so grateful to the FAPC family for selecting me," he said. "I believe it is a great way to be recognized for my research and academic efforts and an inspiration for the start of my professional career."
Saha plans to graduate with his doctorate in spring 2019 with a specialization in food microbiology. His research focuses on the application of bacteriophages to control shiga-toxigenic Escherichia coliin the meat industry.
Following graduation, Saha plans to continue to serve the food industry as a produce safety extension specialist at the University of Florida.
Divya Jaroni, FAPC food microbiologist and Saha's adviser, said Saha is an outstanding student due to his dedication to food safety research and scholarly contributions to the food science discipline and has shown tremendous initiative in carrying out and completing several food microbiology-related research projects in his graduate program.
"Joyjit has proven to be an accomplished graduate student with tremendous contributions to academia," Jaroni said. "His research has been published in refereed journals, conference proceedings and food-related newsletters and magazines. He has published nine refereed journal manuscripts, 28 abstracts and two research articles."
Kountoupis will graduate with his master's degree in spring 2019 with a specialization in food microbiology. His research focuses on multiple methods of foodborne pathogen inhibition, specifically enzymes produced by bacteriophages, to help reduce the incidence of foodborne illnesses in the food industry.
"I feel incredibly honored to have been chosen as one of the Gilliland Fellowship recipients," he said. "Receiving the award has validated all of my hard work over the last two years, and for FAPC to notice has made this semester one of the best."
Following graduation, Kountoupis plans to pursue a career in the food industry, particularly in quality assurance or research and development.
Jaroni has known Kountoupis for the past five years as an undergraduate student advisee in OSU's Department of Animal and Food Sciences and as a graduate student advisee in food science.
"Tony is an exceptional student, as a scholar and as a person, showing unwavering dedication to food safety research with several scholarly contributions to the food science discipline," she said. "To date, he has maintained a 4.0 GPA and has published 13-peer-reviewed abstracts, presenting twice at the International Association for Food Protection annual meetings."
The OSU Graduate Food Science Program is a multi-faceted discipline focused on providing safe, nutritious, high-quality foods to the people of the world. Food science combines elements of business, biochemistry, chemistry, economics, engineering, microbiology and physiology within its scope. The interdisciplinary OSU food science graduate program gives students the opportunity to earn both M.S. and Ph.D. degrees in food science.
Story By Mandy Gross