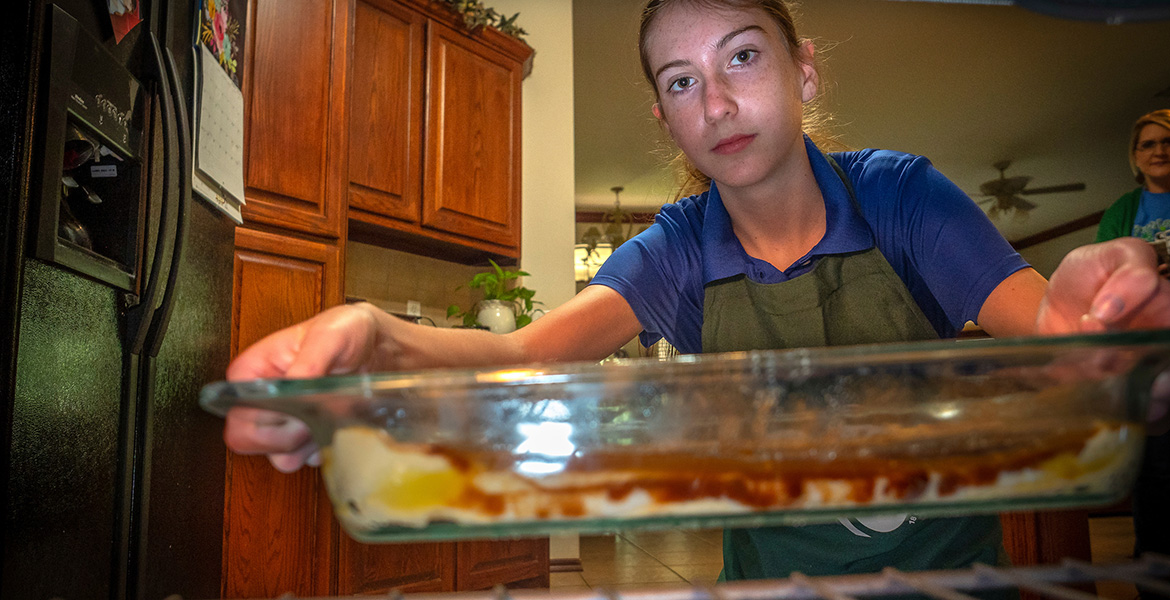 Food, Fun, 4-H program gets youth in the kitchen
Thursday, June 18, 2020
The COVID-19 pandemic may be keeping people out of movie theaters, sports arenas and schools, but it is putting hundreds of Oklahoma 4-H'ers in their kitchens.
Thanks to a new program called Food, Fun, 4-H, club members from across the state and beyond are developing kitchen skills and bringing the family back to the table for meals.
Food, Fun, 4-H is funded through the Walmart Healthy Habits grant and was developed to get young people in the kitchen, preparing homecooked meals and trying new foods. In addition, the program is encouraging family time, developing communication skills and having fun, said Cathy Allen, 4-H curriculum coordinator with the 4-H Youth Development Program at Oklahoma State University.
"When we were developing the program, we thought we'd have about 100 kids participate. We currently have 669 families enrolled, including several from out of state, and they're all creating fabulous things in their kitchens," Allen said. "The program is good for youth of all ages. Young children can work with a parent or older sibling to create their recipes, while those with some kitchen experience can test their independence and culinary skills creating each recipe."
All youth who registered for the program receive monthly themed packets via email containing recipes for a complete meal, featuring colorful photos with step-by-step directions. Participants also receive nutritional facts, educational information, conversation starter topics for when the family is around the table and a family physical activity challenge.
Audrey Allen, 13, said she has been cooking since she joined 4-H four years ago and enjoys spending time in the kitchen. She was excited when her mom, Susan Allen, told her about Food, Fun, 4-H.
"I like cooking with my friends. I really like decorating cupcakes and cookies the best," said Audrey, who is a member of the South Logan County 4-H Club. "I like trying the food we make and it's cool to get a feeling of accomplishment when I'm cooking."
Audrey teamed up with her 10-year-old brother Luke to create the Mexican themed recipes from the first packet.
Luke has some experience in the kitchen due to his participation in the 4-H competition Cupcake Wars. He also is a firm believer in the fact that boys do belong in the kitchen.
"Boys can make good food," Luke said. "My favorite things to make are milkshakes and smoothies because my mom says I can have a smoothie any time of the day and I can make it myself."
Susan said Audrey and Luke have really enjoyed this project so far.
"It's comprehensive, but easy to follow and teach at home," said Susan, who serves as a volunteer leader for the South Logan County 4-H Club. "The step-by-step photos makes it easy for the kids to visualize. As a parent I just show them the picture and say, 'Make it look like that.'"
Tara Keesee, a member of the Moss 4-H Club in Hughes County, said she enjoyed making the sopapilla cheesecake from the Mexican food themed packet.
"I like to bake more than making regular food," said 11-year-old Tara. "I'm learning to get more precise with my measurements and this extra practice will help me. I'm looking forward to making more meals for my family because I like when we all can eat together. Maybe we can learn to make homemade pizza crust."
Tara's mom, Jackie Keesee, said Food, Fun, 4-H is a fantastic program.
"The recipes are easy for my daughter to follow, they use common ingredients that we had at home and they were delicious," Jackie said. "We really appreciate 4-H for creating new programs that encourage our kids to try new activities while offering the flexibility to fit into our lives during these unpredictable days."
Once members receive the monthly packet, they have 20 days to prepare the recipes, share two photos – one of them preparing the food and another of the family enjoying the meal – and answer three questions about their cooking and mealtime experience.
"4-H programming has always been hands-on, experiential learning, and getting kids in the kitchen is a great way to help them develop life-long skills," Allen said. "We've had such great response to this first round of recipes, and I can't wait to see what the kids create over the next three months. We have some really neat themes planned out for the kids in the next packets."
Allen encourages participants to print the recipes, put them in plastic sheet protectors and keep them in a three-ring binder.
For more information about Food, Fun, 4-H, contact Allen at cathy.allen@okstate.edu or 405-744-8892. Youth who are interested in participating in Food, Fun, 4-H still can sign up to receive the electronic packets.
The 4-H Youth Development Program is the youth component of OSU Extension, one of two state agencies administered by the university's Division of Agricultural Sciences and Natural Resources.
MEDIA CONTACT: Trisha Gedon | Agricultural Communications Services | 405-744-3625 | trisha.gedon@okstate.edu