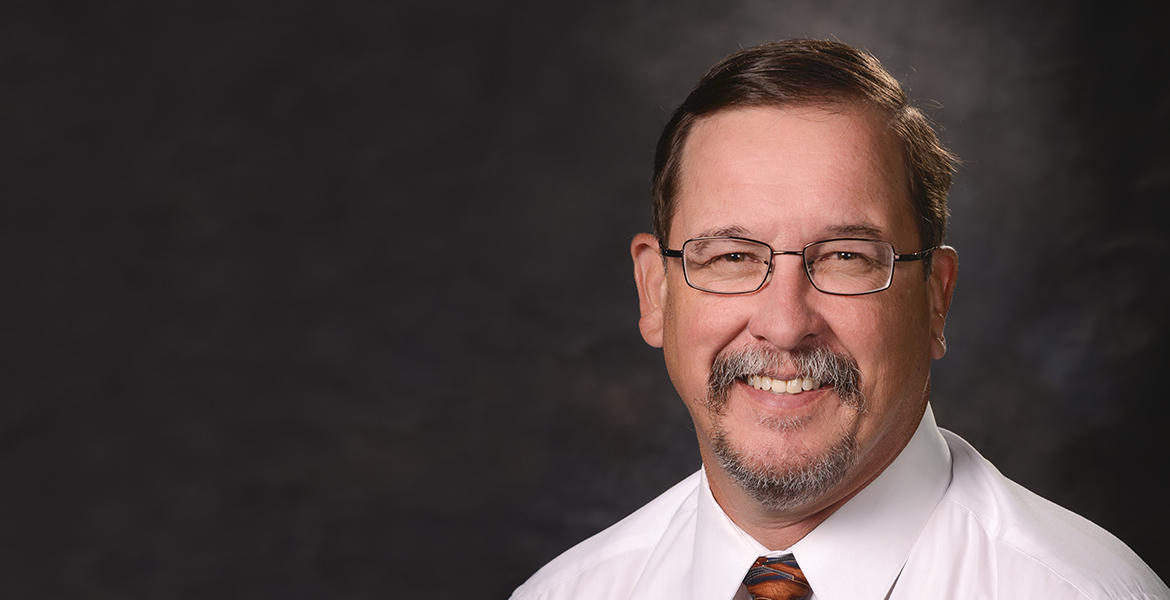 Paul Schatte recognized as champion of agriculture
Friday, October 30, 2020
Shelly Schatte misses a lot about her late husband, Paul Schatte, especially his cooking.
"Paul was passionate about cooking," said his wife of more than 40 years. "His dad taught him. He loved to barbecue."
That love ultimately would take him from his home kitchen to the classroom to commercial food production. For Paul Schatte, making food wasn't just about preparing a meal – at every step of the process, he was showing people how much he cared for them.
"When he cooked for people, he got so much joy out of watching them enjoy it," she said. "As his wife, I was the most spoiled woman on the face of the Earth."
Paul Schatte died in July of this year. During his 41 years in Oklahoma, the Texas native made a long-lasting impact on countless students; he helped propel a little barbecue sauce company to international fame; and he improved safety guidelines in the state's food production industry.
That commitment is why Roy Escoubas, director of Oklahoma State University's Robert M. Kerr Food and Agricultural Products Center, nominated Paul Schatte for the OSU Agriculture Champion Award. The Food and Agricultural Products Center is part of OSU's Division of Agricultural Sciences and Natural Resources, which is comprised of the OSU Ferguson College of Agriculture and two state agencies, OSU Extension and the OSU Ag Research.
"The relationship between Paul and the FAPC has been mutually beneficial," Escoubas said. "He was a strong advocate for FAPC, and for the food industry and for integrity in the marketplace."
His journey to achieve that recognition began in 1979 at the First Lutheran School in Ponca City, where Schatte taught for nine years before taking over as principal and superintendent. The couple had met at Concordia Lutheran College in Austin, Texas; when they moved to Oklahoma, Shelly Schatte also got a teaching job at Ponca City. Paul helped her host an annual wildlife/outdoors day at their home, which included drug-detection dog demonstrations, shooting lessons from a game warden, and other activities to show students how much fun they could have outside.
He later pursued his master's degree at OSU, although some of his affections remained in Texas with the University of Texas Longhorns.
But it was his friendship with a local barbecue sauce producer, Danny Head, that would lead him into the professional side of his love for food and, ultimately, his legacy. Paul Schatte left teaching in 1999 to work for Head Country Food Co. with Danny. Schatte was hired to oversee the day-to-day operational management of the business and to help it grow its profits.
Shelly Schatte said she wasn't surprised he joined the company. He and Danny Head competed in cook-offs together frequently.
Most importantly, Paul really liked Head Country's original barbecue sauce.
Danny's first request to Paul was to run the company's restaurant, but Paul turned it down. When Danny asked him to manage the plant, he accepted.
"Paul grew Head Country tremendously while he was there," Shelly said. "He took it overseas to Sweden and France."
Paul Schatte started as general manager. In less than 10 years, he was promoted to vice president and became co-owner. During his time with the company, Head Country grew from 10 employees to 30, with the sales growth to match it. The $1.5-million company now has more than $12 million in annual sales.
Paul was diligent in making sure all of the Head Country products were safe. The industry had changed dramatically since 1980 when Danny Head started mass producing his family's barbecue sauce recipe, and Schatte knew that having a safely bottled product line would be key in getting on large store shelves.
For the past 13 years, he reinforced that attitude and encouraged similar practices to other Oklahoma food makers in his position on the Industry Advisory Committee at FAPC.
In his nomination letter, Escoubas included a quotation from Paul about the center: "FAPC has been instrumental for Head Country; just a real gem when it comes to the food safety concept for Oklahoma. As a food manufacturer, if you don't move to the next level of food safety, you're going to find it difficult to do business with large retailers. Head Country and other food manufacturers that have received food safety assistance from FAPC and have gone through some high-level auditing are ahead of the game."
Besides being a champion for FAPC, Paul helped elevate the teaching environment by giving a sauce and condiment bottling line to the center. This allowed the center to assist a small business until it could get its own packaging contract.
However, as Escoubas pointed out, Schatte never lost his teaching role. He would invite graduate students from OSU to Head Country to give them experience in real-life food manufacturing.
"Not many business leaders have that same zeal to assist students and open their shops as Paul did," he said. "Paul recognized the value of education and tying education to practical applications."
That seemed to be Paul's way – he enjoyed showing people something that could help them be better. The advice always came from a deep well of experience and study, said Thomas G. Coon, vice president for OSU agricultural programs.
"When Paul shared an observation or suggestion, you listened closely because it wasn't it wasn't just an opinion – you know he thought it through with great deliberation," Coon said.
Longtime friend Mike Niesen learned how to barbecue with Schatte simply by asking for a lesson. Niesen met him in the 1990s at barbecue competitions in Tulsa. The two men were competitors on the barbecue circuit for a few years. Niesen even beat Schatte at the contest where he originally met him.
"He was tickled for me," Niesen said.
By the early 2000s, the men had joined forces on the competitive barbecue circuit. Niesen said another friend commented that the two were really in sync; they could move about their cooking space and barely talk, but nothing was ever ruined.
They were so good that they left the competitors in shock with their technique, Niesen said.
"We cook hot – meaning we can cook fast – so we arrived to this particular contest around 8:30 p.m.," he said, describing their late arrival to the contest. "We're at the far end of the parking lot. We seasoned everything up in about 45 minutes then went to get something to eat. At the contest the next day, we took home two second-place awards and two third-place awards.
"At the end, we're loading up and this lady comes over and said, 'I need to apologize. When you guys showed up last night, we were making fun of you. We thought these guys have be joking. Well, we were wrong, so congratulations,'" Niesen said.
Paul Schatte's cooking is a well-known legacy in Ponca City. Niesen said he and Schatte made food for a wedding the day before he died.
Another of Paul's friends, teacher Janet Gall, had nothing but praise for his skills and overall attitude.
"He was the best barbecuer, though he enjoyed cooking lots of things," she said. "There were always times that he would claim he cooked too much, so you'd get to go over and eat."
Paul Schatte was principal when she taught at First Lutheran School. Gall said she wasn't surprised to see him go to Head Country. Her family and extended family loves the sauce, too, and Schatte always made sure they had as much as they needed.
Escoubas said Schatte always carried Head Country with him and enjoyed spreading the word about FAPC.
"In a moment's notice, he had sample bottles of their original barbecue sauce to hand out to everyone and to discuss that excellent quality, hard work and diligence that's needed to get your product to the top of the category," Escoubas said.
Schatte also shared his interests with student leaders on their way to college degrees. Escoubas said he had a tremendous network of friends in taxidermy and his position at Head Country, so Schatte took any opportunity he was given to help promote the food safety option within OSU's Ferguson College of Agriculture. He even organized meetings with state 4-H and FFA advisors to discuss ways to raise awareness about food safety in Oklahoma high schools.
Schatte brought an invaluable perspective to the Industry Advisory Committee, Escoubas said.
"He understood small business pressures and profitability and the issues of communicating your product to potential buyers," Escoubas wrote. "He has brought all these skills, competencies and experiences to the FAPC Advisory Committee. No one who serves on that committee has the experiences and achievements that he has and he uniquely brings them to bear as he works as a mentor and advisor."
A humble man, Paul was confident in his abilities. He left Head Country to provide professional consulting services and then to open his own Paul's Food Products. With his death, the potential for the new company can only be imagined.
Shelly Schatte said she believes Paul would have been thrilled to get the Champion award.
"I cannot tell you how important food safety was to him," she said. "He really pushed to get Head Country into that program. He has so many contacts through OSU and the food industry. It means the world to me that he's being recognized. He would have been so honored."
Other award recipients are profiled online.
MEDIA CONTACT: Brian Brus | Agricultural Communications Services | 405-744-6792 | BBrus@okstate.edu