Research is finding solutions for human/black bear coexistence
Thursday, July 29, 2021
Media Contact: Alisa Boswell-Gore | Agricultural Communications Services | 405-744-7115 | alisa.gore@okstate.edu
Thanks to the research of Oklahoma State University professor and researcher Sue Fairbanks and her colleagues, there is a positive future for black bears in Oklahoma.
This summer, the team of researchers have been continuing their research efforts of tracking black bears to collect data on their movements in northeastern Oklahoma and to gather information on resource selection and the human impact of an expanding population in southeastern Oklahoma.
The information gathered by Fairbanks and her team is shared with the Oklahoma Department of Wildlife Conservation to help state officials make decisions on whether they want to move bears or consider creating habitat corridors. There is also the possibility of relocating nuisance bears — those getting into people's beehives, garbage, etc. — to new areas.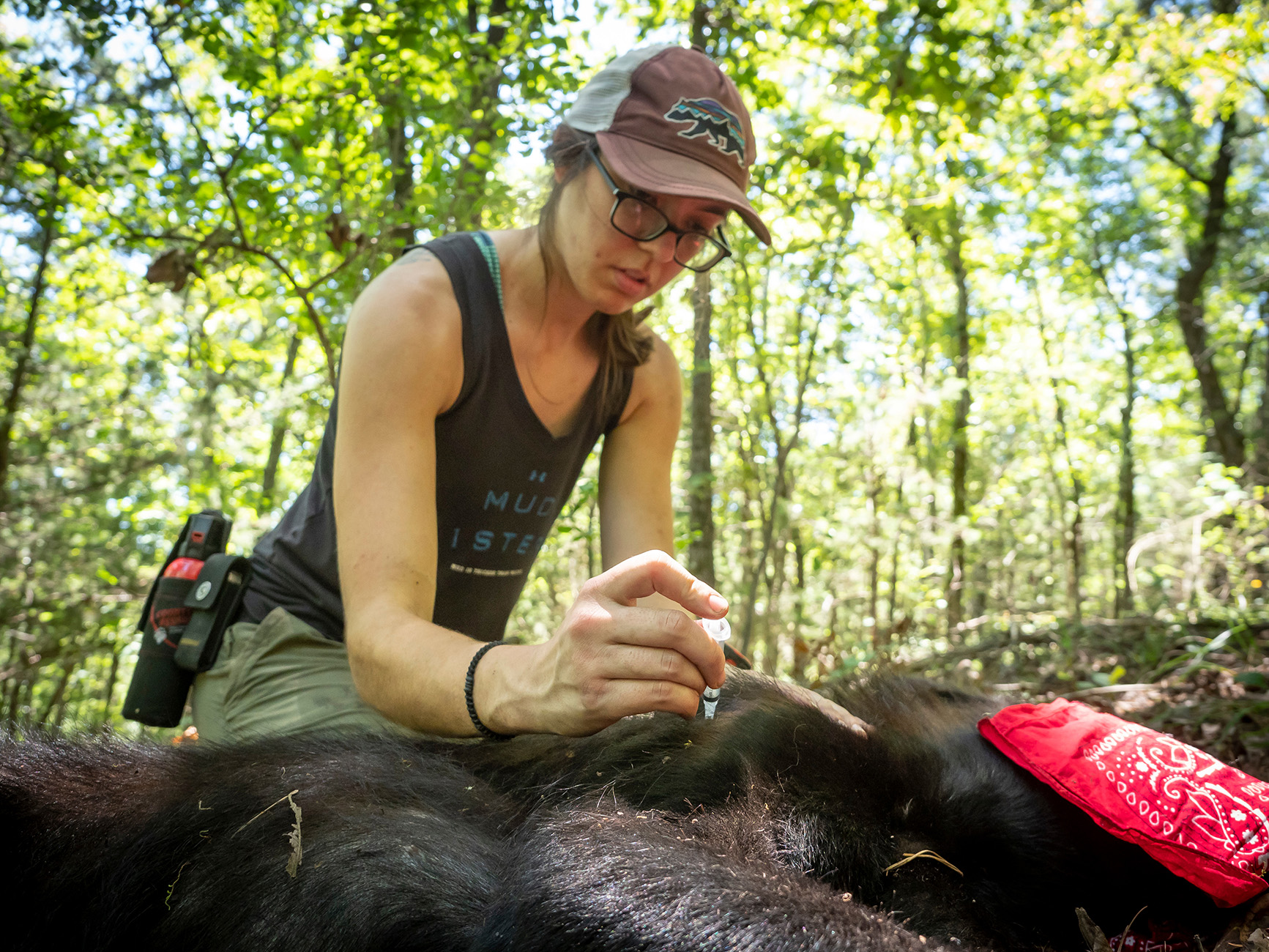 "Creating a landscape of coexistence means figuring out where bears can find forest cover and natural food sources within human-dominated landscapes," Fairbanks said. "Obviously, things changed a lot in the 100 years black bears were absent from Oklahoma."
Black bear populations returned to Oklahoma in the late 1990s after they were reintroduced in Arkansas in the 1950s and 1960s. They have established habitats in the Ouachita Mountains of southeastern Oklahoma and the Oklahoma Ozarks Plateau.
Fairbanks has spent eight years researching black bears as part of her work with the OSU Department of Natural Resource Ecology and Management, studying various aspects, such as their diets, reproductive patterns and resource selection, or where they choose to live.
With GPS collars, Fairbanks and her team create maps that indicate high- and low-density areas. This also allows them to predict where certain populations might spread.
Understanding where black bears live in a human-dominated landscape and how their populations grow or remain stable are important factors for wildlife managers who are trying to balance human needs with bear needs. Fairbanks is focused on learning what direction the bears move to recolonize.
The black bear population in the Oklahoma Ozarks is much newer than the population in southeastern Oklahoma, and two thirds of its population are males, making reproduction unsustainable.
"The interesting thing about the two study areas is how different the landscape is, especially regarding humans," Fairbanks said. "In the southeast, you have a lot of public land, and the private land holdings are large. In the Ozarks, you have a higher density of people. There's also a lot of outdoor recreation that goes on in those areas."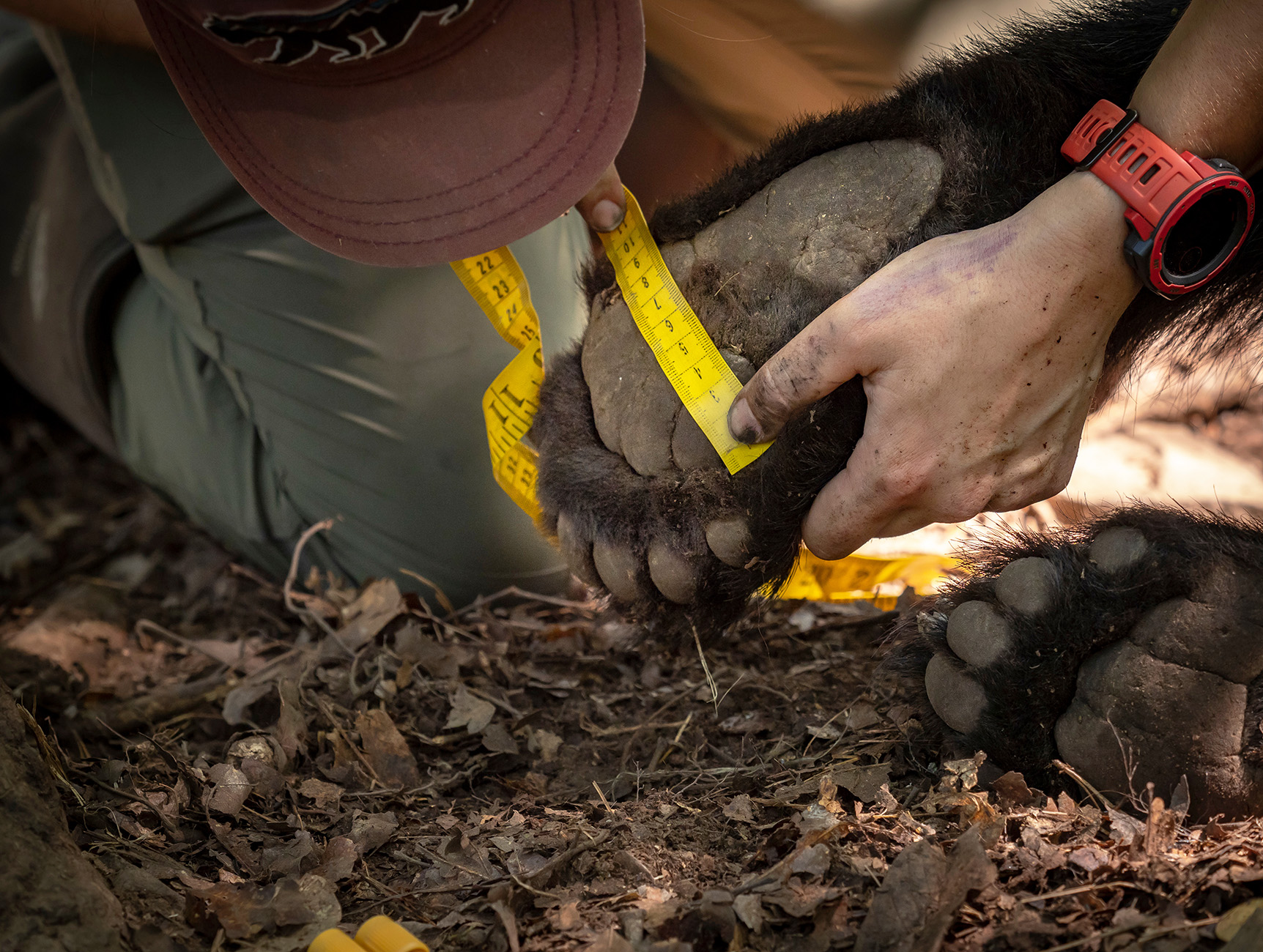 Through this OSU Ag Research, Fairbanks and her colleagues have discovered that male black bears are not shy about entering the fragmented, human-dominated habitat in the Ozarks area, while female bears avoid heavily populated areas and tend to live away from roads in more continuous habitat.
"The concern is whether female bears will cross unsuitable habitat to get to other suitable habitat," Fairbanks said. "If the females are not able to cross to other suitable habitat, then the Ozarks population will be supported only by the immigration of bears from Arkansas.
"It's something we're keeping an eye on, and we're actually doing a study now looking at the fine-scale movements of dispersing male and female bears who are leaving their mother for the first time. We look at what features they are avoiding and what features they're going through. That will allow us to see if there are existing corridors they can go through and what's blocking them, so we can determine how likely they are to get to the available habitat on their own."
Fairbanks and her colleagues are adding human dimensions to their research — attitudes, beliefs and behaviors towards bears — to help them determine where bears might fit in with the human-dominated landscape. What they have found so far is that Oklahoma residents overall have a positive attitude towards black bears; women tend to be more fearful of them and rural residents are often more bothered by them.
"This information can help the state wildlife agency design outreach programs to address areas of concern and educate people about living with bears and how to reduce conflict with them," Fairbanks said. "Oklahoma has a very positive attitude towards wildlife in general, so that is likely part of the reason they are more positive towards bears as well."