The Science of Teaching
Friday, November 18, 2016
Some people are born to teach, but Julie Angle just loved science.
Angle was on her way to becoming a veterinarian, enjoying the challenges the professional program track threw at her in upper-level science courses. But her classmates were struggling, and Angle found herself helping them along.
"I was mentoring my peers and helping them through their courses, and I realized I loved helping others understand science," Angle says.
Angle had been taught through the very traditional method of lecture and worksheets, but she soon realized that was not how she or most of her classmates learned best.
"I didn't learn best that way, and my friends didn't either. I began mentoring them through an inquiry approach, and it worked," Angle says.

The method continues to work for Angle, now an associate professor in science education, as she was recognized with the Oklahoma State University Regents' Distinguished Teaching Award for 2015. The award is given to one faculty member in each college each year. Recipients must have evidenced unusually significant and meritorious achievement in the instruction of students for a number of years.
Though Angle has received numerous accolades through her career, the Regents' award has a special meaning.
"This means so much to me because this is who I am. It's very special because I am a teacher. It's what I advocate for: the teaching of good science," Angle says.
Angle's first hurdle in her teaching career came early — in her first interview.
"The position was open as a male coach was retiring. I knew I was up against another male coach for the job, and I had no teaching experience," Angle recalls. "The school board was interviewing me and they asked, 'How do we know you can handle the classroom?' which was a legitimate question, but 
I fired right back with, 'How do you know I can't handle it?'"
Her spunk and teaching philosophy landed her the position and set her on a course of making a difference in students' lives.
"I gave [the school board] examples. I told them 
I would find out who my students are and teach to their interests. If a football player was not coming along, I'd make test questions personal to discovering the mass and density of a football," Angle says. "Later, my students would be disappointed if we had gotten too far into the year and they hadn't noticed a test question that was obviously about them."
This personal approach to teaching lasted through two years at Medford, Okla., and a 23-year career in Alva (Okla.) Public Schools.
In Alva, Stacie (Surface) Vincent was one of Angle's students.
"She definitely influenced my love of science," Vincent says. "I went to OSU as a chemical engineering major. I had no problem in college chemistry. I set the curve on every test because of her."
Vincent graduated from OSU in 1995 with a bachelor's degree in secondary science education and has gone on to an education career with Edmond (Okla.) Public Schools.
"[Angle] was always so excited. I integrated that in my own classroom. If the teacher is excited, then students are more apt to be engaged."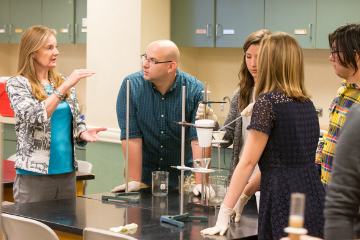 Becoming a teacher was a major shift for Angle. Her father had always wanted her to be a doctor, and she initially chose that path.
"When I gave up becoming a veterinarian and found myself in this very different career, there came the time when I needed a challenge," Angle says.
"I saw the Ph.D. program as the way to get 'Dr.' in front of my name. Unfortunately, my dad died in my first semester. I had the option of earning a doctorate in education (Ed.D.) or a Ph.D. I welcomed the challenge of a Ph.D. It was a personal goal."
Angle had become a single mom while continuing her education, which provided even more of a challenge.
"My children were so supportive. I would teach all day, then drive two days a week to Stillwater
 for class," Angle says. "On the days I was home, I committed I wouldn't work on things while my kids were awake."
Angle's commitment paid off, even with her own children.
"When I realized my children see me as a strong woman, it made all the sacrifices worth it," she says.
Angle's children include Crystal (Lohmann) Parker, an intellectual property lawyer in New York; David Lohmann, who lives in Dallas where he started a company that buys dental practices and forms co-ops; Heather Lohmann, a mathematics teacher in Alva; and Cale Angle, who farms with his father in northwest Oklahoma.
"I'm very proud of my kids. I pushed my kids
 and expected a lot from them and it took a lot of work, but now they are self-sufficient and I enjoy my freedom," Angle says. "My students are my daytime kids. I have expectations for them and know what they need to be a successful teacher. My program is rigorous, so they will succeed and not fail. There is
 a five-year teaching hump, and I want to make sure they make it over."
Angle sees her current role as her greatest challenge yet.
"My job is not to teach the content; that's what the College of Arts and Sciences faculty do. I really missed that at first, but my students rely on me to teach them the methods and practices of science — how science is conducted, the nature of science — all through the lens of research," Angle says. "I teach them how to teach through an inquiry approach.
 It's not neat and orderly and it takes a different time commitment to set up things for kids, but anyone can give worksheets and lecture."
Angle continues to inspire and prepare students for their next step.
"She has prepared me to teach science," says Joshua Encinas, a 2016 OSU science education graduate who took Angle's classes. "She runs a tough program with a lot of expectations, but she just pushes you to become the best teacher you can be. Her teaching style reaches the most students. Her classes have a lecture portion, of course, but she uses visuals, handouts and activities."
In 2013, Angle received the University Teaching Excellence Award presented by the Oklahoma Science Teacher Association. She served as co-chair for the National Board of Professional Teaching Standards — Science Standards Revision Committee in 2011-12, and on the executive committee for the development of the revised Oklahoma Academic Standards for Science in 2013-14. She also has received more than $5 million in grant money and been invited to present at more than 30 international, national and state conferences.
Angle achieved National Board Certification in 2003, the same year she was inducted into the Oklahoma Science and Engineering Fair Hall of Fame. She was selected as a finalist for the Oklahoma Teacher of the Year and the Presidential Award for Excellence in Mathematics and Science Teaching in 2007. Prior to her faculty appointment at OSU, she was selected as a 2008-09 Albert Einstein Distinguished Educator Fellow and worked in Arlington, Va., for the National Science Foundation in the Office of Cyber Infrastructure, where she led the learning and workforce development taskforce. Angle is a past president of the Oklahoma Science Teachers Association and currently serves on several executive boards and advisory committees in support of science education.