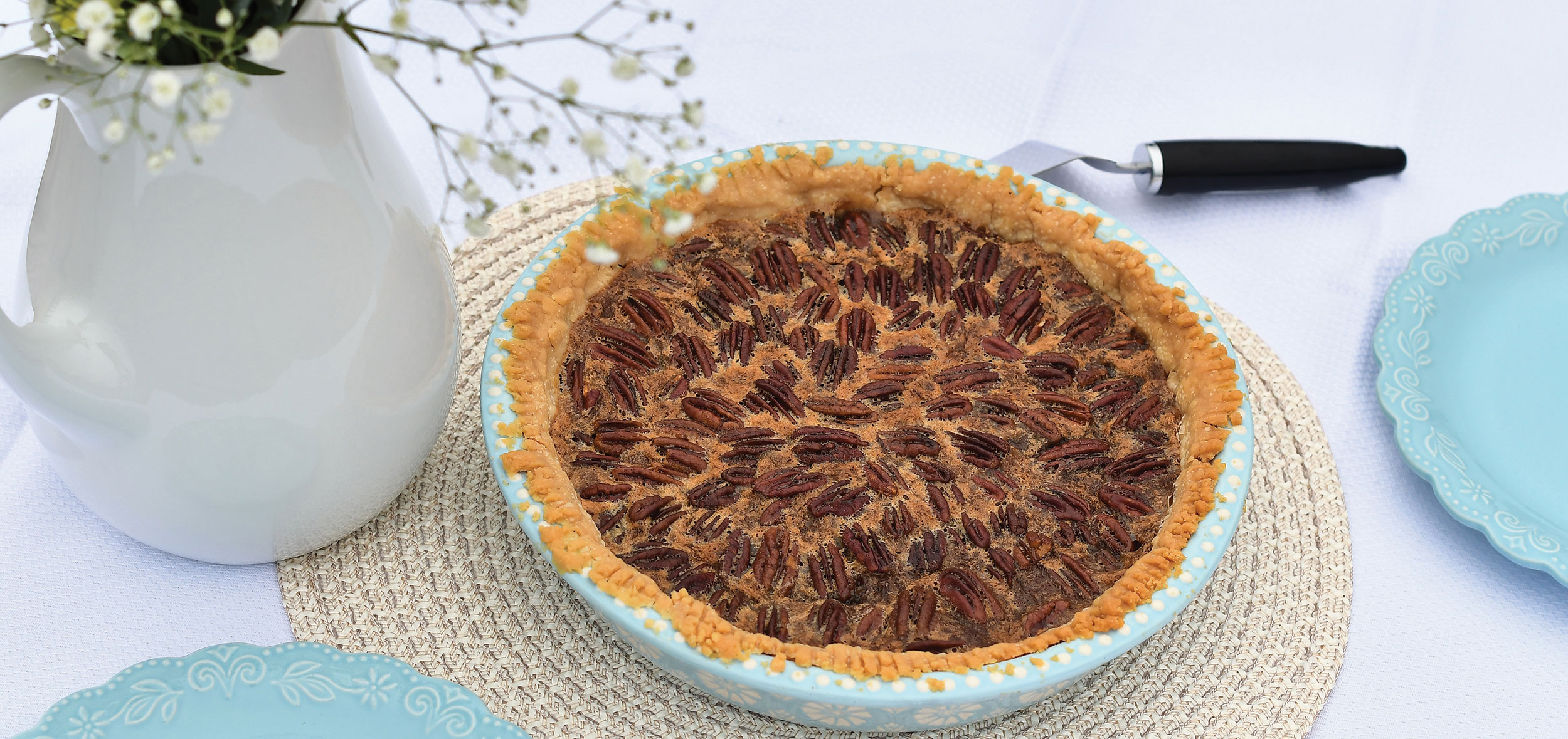 Pie, Anyone?
Friday, December 17, 2021
Media Contact: Samantha Siler | Communications and Marketing Manager | 405-744-2977 | samantha.siler@okstate.edu
The leaves have all fallen, and autumn is in full swing. The soft clinks and taps of a rich brown nut in harvest are prominent in the ears and eyes of Oklahoma pecan growers this time of year.
From pastries to pies, pecans are a staple in the kitchen. For William McGlynn and Ravi Jadeja, the safety of pecan consumers and producers is of highest importance.
Producers harvest the nuts off the ground after they shake the trees. Microorganisms on the ground can contaminate the outer portion of the nut. This leads to a concern for consumer safety about pathogens on the product, said Jadeja, an Oklahoma State University associate professor in the Department of Animal and Food Sciences and a food safety specialist at the Robert M. Kerr Food and Agricultural Products Center.
"One of the challenges we have when we talk about fruits and vegetables is potential contamination with harmful microorganisms," said McGlynn, a professor in the OSU Department of Horticulture and Landscape Architecture who also serves as a horticultural processing specialist in the FAPC. "There have been a number of food-borne illness outbreaks over the years associated with different types of pathogenic microorganisms that can be found throughout the environment."
McGlynn teamed up with Jadeja to develop a cleaning solution for pecans that is cost effective, environmentally friendly and more thorough, he said.
"Currently, two methods are being used to clean pecans — chlorine and hot water," Jadeja said. "Both of these methods are good methods, but there are many limitations associated with each of them.
"Chlorine is not organically approved," he said. "Heating a large amount of water takes a lot of energy and becomes very costly."
The two researchers developed a sodium acid sulfate solution, a naturally derived compound capable of cleaning pecans with less energy while being organically approved, making the product better financially and more marketable for producers, Jadeja said.
"Sodium acid sulfate is naturally derived and commonly used in the condiment industry to reduce the pH in certain products," he said. "When you use sodium acid sulfate, it kills microorganisms very quickly. It is much safer to use in comparison to chlorine."
In this method of sanitization, the water temperature is reduced from 170 degrees to 140 degrees.
The addition of the compound uses less energy while killing the same amount of, if not more, microorganisms, Jadeja said.
The adoption of the method requires no special equipment outside of the current cleaning machinery, only the addition of the new compound in place of chlorine, he added.
"The combination of mild heat and a low concentration of sanitizer gives you an optimum method that can be easily adopted by pecan processors even with limited resources because it does not require special equipment," Jadeja said.
Robert Knight, president of the Oklahoma Pecan Growers Association and owner of Knight Creek Farms located in Tulsa, Oklahoma, has produced
Oklahoma pecans for 36 years. His farm has used the chlorine method of pecan cleaning, but Knight said he is optimistic about the research being conducted by McGlynn and Jadeja.
"This solution would be far better than chlorine," Knight said. "Pecans are dirty, and one of the problems with chlorine is that as the nuts go through the water and chlorine solution, the liquid gets dirtier and dirtier, making the chlorine less and less effective."
In Oklahoma, 90% of pecans are produced by native trees, and a large portion of those pecan tree groves are grazed by cattle prior to harvest, Knight said. This means at harvest the pecans are in close contact with fecal matter and pathogens from the cattle once they hit the ground, calling for careful sanitation before reaching consumers' hands, he added.
Becky Carroll, associate extension specialist for fruit and pecan horticulture and landscape architecture at OSU, is familiar with pecan production and the sanitation process after working in the industry for almost 34 years. Like Knight, she understands the importance of food safety and the community of pecan growers involved in cattle production and how pecans must be cleaned effectively.
"Oklahoma's native pecan production goes hand in hand with livestock production," Carroll said. "Many native growers graze their cattle with their pecan trees to get double income off of their land."
Most native pecan growers sell their nuts wholesale, and before they are processed at a major facility they must be sanitized, Carroll said. The new process will be less sensitive to organic matter and less hazardous or toxic to the people working with it, she added.
"Having a safe food product is critical for our growers in the industry," Carroll said. "If there is ever some type of foodborne illness that is traced back to pecans, then it can really turn consumers away from the product."
Alongside pecans, McGlynn and Jadeja are testing the compound additive on other produce to gage its usefulness on additional agricultural products, Jadeja said. It has proven to be extremely effective in sanitizing hearty produce like cantaloupes, but consumer goods like leafy greens, spinach and lettuce might not be an ideal target for this method of sanitization, he said.
"This compound is commonly used in the food industry, but it hasn't really been commonly used as a sanitizing agent until recently," McGlynn said. "There seems to be a lot of promise in that it could be used for a lot of different things."
The research conducted by the pair is awaiting approval by the U.S. Environmental Protection Agency to be labeled as a sanitizing agent, Jadeja said. They are hopeful the pecan cleaning industry will adopt this innovative cleaning method in the next five years as it continues to prove to be more economical for producers and marketable to consumers, he said.
"There are lots of potential advantages, so if all of this plays out the way we expect and hope it will, then we would expect this new method to be pretty widely and quickly adopted into the industry," McGlynn said. "We would expect this method to become rather common for a lot of different types of commodities."
---
Story By: Caley Mayo | Cowboy Journal